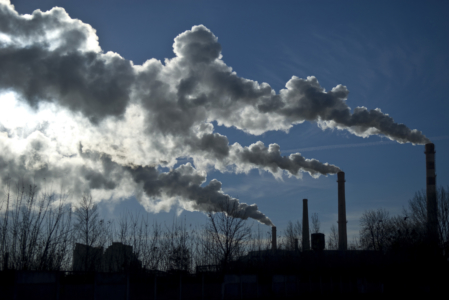 Last month as Senate Republicans passed two resolutions to strike down provisions of the Clean Power Plan, members of the Regional Greenhouse Gas Initiative (RGGI), a collaboration of nine Mid-Atlantic and Northeastern states, met in New York. Discussions centered on how the country's first carbon cap-and-trade market will approach compliance with the EPA's Clean Power Plan. Members even talked about expanding the program to states that want to participate in regional agreements as a cost-effective vehicle for reducing carbon emissions from electricity-generating units.
How exactly does the program work? RGGI summarizes it neatly like this:
"States sell nearly all emission allowances through auctions and invest proceeds in energy efficiency, renewable energy, and other consumer benefit programs. These programs are spurring innovation in the clean energy economy and creating green jobs in the RGGI states."
The initiative's history is short but successful.
Beginning in 2003, governors from Connecticut, Delaware, Maine, Massachusetts, New Hampshire, New Jersey (which later withdrew in 2011), New York, Rhode Island, Maryland, and Vermont, representing one-sixth of the population of the U.S and one-fifth of the nation's gross domestic product, began planning and developing the country's first regional carbon-emissions reduction program.
The participants developed a multi-state CO2 emissions budget, or cap-and trade program, whereby electric-generating units with a capacity of 25 megawatts or greater purchase a mandated amount of allowances as a function of their share of carbon emissions (one allowance = one ton). Parameters for CO2 allowances and offsets are set according to statewide carbon emission limits. The limited offsets under the program provide some flexibility in compliance. Each RGGI state also sets the timing and other logistics for participation in the regional auction platforms, in which 90 percent of the allowances are auctioned quarterly. The program has been tweaked periodically over the years to improve compliance standards and overall market integrity.
Its performance is worth noting:
First, the program has generated billions for the economies of the states that have participated in the program. From September 2008 to December 2013, RGGI raised $1.398 billion in 22 auctions and invested $1.016 billion in renewables, energy efficiency, consumer utility bill assistance, and greenhouse gas abatement. According to one study, RGGI funds will generate more than $2.9 billion in lifetime energy savings, creating a nearly 3-to-1 return on investment. Member states have cut power plant carbon emissions over 40 percent since 2005 and as of March 2015, RGGI allowance prices that have ranged from $1.86 to $5.41 per ton have generated over $2 billion in total proceeds.
According to a study by the Analysis Group, RGGI auction proceeds have provided millions for energy efficiency measures, community based renewable power projects, assistance to income customers to help pay their electricity bills, education and job training programs. Furthermore, auction proceeds have had a multiplier effect on the local and regional economies as money spent on energy-efficiency programs lead to the purchase of goods and services in the economy (such as engineering services for energy audits, more sales of energy equipment, labor for installing solar panels, dollars spent to train those installers and educators, and so forth).
Additionally, the carbon cap-and-trade market managed to operate across state lines and collaborate across several Regional Transmission Organization (RTO) and Independent Service Operator (ISO) regions. Electric-generating units that purchased the CO2 allowances since 2009 were able to include the cost of allowances in their offer prices in wholesale electricity markets in New England, New York and parts of the PJM region. The grid operators for NY-ISO, NE-ISO and PJM took the offer prices, including allowance costs, into account as they dispatched the electric-generating units on the system. As a result, consumers paid rates for electricity that reflected a price on carbon emissions without grid operators imposing any additional rules or procedures to take the carbon allowances into account.
Procedurally, RGGI also provides a framework for maintaining the integrity of a cap-and-trade market. RGGI's CO2 Allowance Tracking System records and tracks data for each state's CO2 Budget Trading Programs. The system provides for the tracking and transferring allowances and verifying offsets. Its transparency enables the public to monitor allowances, offsets and other program data. RGGI's market integrity is also supported by an independent market monitor, Potomac Economics, charged with protecting and fostering competition.
In other words, the nine states that chose to participate in RGGI have benefited enormously. By contrast, New Jersey, the state that pulled out of the agreement. has missed out on hundreds of millions of dollars of revenue.
To be sure, the cap-and-trade approach has critics, some of whom argue that it can concentrate emissions in politically and economically vulnerable communities, and this is an issue that should be addressed in designing any cap-and-trade system.
But as states develop their respective approaches to Clean Power Plan compliance, RGGI provides a wealth of instructive data and a potential model for participating in a multi-state and regional collaborative with a proven record for reducing carbon emissions in a cap-and-trade market.
Lisa Anne Hamilton is an IEEFA regulatory consultant.