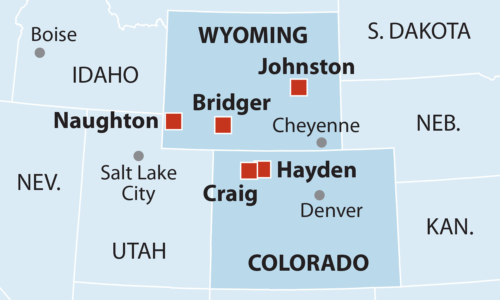 A harsh new reality is undermining the U.S. coal-fired electricity sector: Cleaner generation by way of utility-scale solar backed with storage is an increasingly cheaper option for utility companies than continuing to operate aging coal plants.
The most recent—and perhaps most detailed—example of this new paradigm can be seen in ongoing long-term resource planning by PacifiCorp, the Berkshire Hathaway Energy subsidiary that provides electricity to about 1.8 million customers in six western states (California, Idaho, Oregon, Utah, Washington and Wyoming). A telling analysis released by the company in late April points to an inescapable conclusion: Closing existing coal plants and replacing them with renewable capacity makes economic sense because it would save hundreds of millions of dollars.
The review plays out the effects of retiring various plants early, in 2023, either individually or in combination. The plants evaluated were:
Naughton Units 1 and 2 (Wyoming), which have summer net capacity ratings of 156 and 201 megawatts (MW), respectively;
Jim Bridger Units 1 and 2 (Wyoming), 531MW and 527MW, respectively;
Hayden Units 1 and 2 (Wyoming), 179MW and 262MW, respectively:
Craig Units 1 and 2 (Colorado), both 428MW; and
Dave Johnston Unit 3 (Wyoming), 220MW
The utility did not include its Naughton Unit 3 (280MW) in Wyoming or its Cholla Unit 4 (387MW) in Arizona in its analysis because those are already slated for closure, Naughton by the end of this year and Cholla in 2020.
Benefits to early coal plant closures were found in seven out of ten scenarios.
One takeaway from the analysis is that all 10 combinations studied showed that it would be economic for PacifiCorp to close the existing coal generation under question and replace that capacity with other resources, including new renewables, demand-side solutions, battery storage, gas peakers and open-market purchases. In all, three of the options were close to the break-even point, while seven indicated significant benefits from the early closures. The chart below shows the combinations studied and the savings associated with early retirement in each case.

A second takeaway from PacifiCorp's analysis is that the Naughton and Bridger plants, from an economic point of view, clearly need to be retired as soon as practical but certainly no later than 2023. The three most economically beneficial options PacifiCorp studied (C-35, C-40 and C-42) include retiring the two remaining Naughton units and Jim Bridger 1; Jim Bridger 2 is retired in two of those three cases.
THE MOST ECONOMIC OPTION, PACIFICORP FOUND, WOULD BE TO CLOSE BOTH THE TWO BRIDGER UNITS AND THE TWO REMAINING NAUGHTON UNITS. This move would yield a net present benefit of $248 million, the company said. The current generation cost at the four units comes to just over $85/megawatt-hour (MWh), according to PacifiCorp. In contrast, new generation would cost about $69/MWh if the utility built and owned it. Factoring other costs into the equation, including a future fee for carbon-dioxide emissions, the utility sees the total operating cost at the four units topping $98/MWh, compared to $84.38/MWh for replacement resources.
For PacifiCorp and the coal-generation sector, in general, the findings around Naughton and Bridger especially underscore a worrisome trend. In the past five years, the two Naughton units have posted an average capacity factor of more than 87% and the Bridger units have been above 64%. The problem—and it's a big one—is that even at those performance levels, the units can't compete with cheaper and cleaner alternatives.
The price declines for wind and solar generation during those same five years have been significant. And similar sharp declines in battery storage have occurred more recently, making it increasingly economic to pair variable renewables with storage at lower cost than existing coal-fired generation.
PACIFICORP IS NOT THE ONLY UTILITY RECKONING WITH THIS NEW REALITY, and its ramifications for coal. In Nevada, NV Energy is moving ahead with plans to close the 254MW North Valmy 1 coal plant in 2021 by contracting for 401MW of new solar capacity and 100MW/400MWh of storage in the same part of the state. The projects, being built by NextEra Energy and Cypress Creek Renewables, come with 25-year power purchase agreements in the low- to mid-$30/MWh range. In contrast, according to S&P data, operations and maintenance costs at the two-unit Valmy plant in 2017 were just under $66/MWh.
Similarly, in its groundbreaking 2017 bid solicitation in Colorado, Xcel Energy received proposals for 66 projects of either solar-plus-storage or wind-and-solar-plus-storage. In total, the proposals added up to more than 14,000MW of new capacity at a median price of $30-$36/MWh. Those responses drove Xcel's early closure plan for Units 1 and 2 at its Comanche coal-fired plant in Pueblo, which have a combined capacity of 660MW. That plan, approved by regulators this past August, will see the construction of more than 1,800MW of new wind and solar capacity plus 275MW of battery storage in Colorado. Even with the new construction, Public Service of Colorado, Xcel's operating unit in the state, says ratepayers still will save at least $211 million and perhaps as much as $374 million.
This activity in Colorado and Nevada is only the tip of the state-by-state development pipeline, with solar-plus-storage projects already online or being built now in Arizona, California, Hawaii, Indiana, Florida and elsewhere.
Each and every one of these projects is a reminder of a fundamental change taking root in the electricity-generation sector: Renewables plus storage, already demonstrably cleaner, are now increasingly, also cheaper. It is a combination that will be hard, if not impossible, for coal to beat.
Dennis Wamsted is an IEEFA analyst and editor.
RELATED POSTS:
IEEFA U.S.: In Cloud Peak Bankruptcy, reminder of what a slippery slope the American coal industry is on  
IEEFA U.S.: April is shaping up to be momentous in transition from coal to renewables
IEEFA update: Heartland U.S. utilities continue to move away from coal