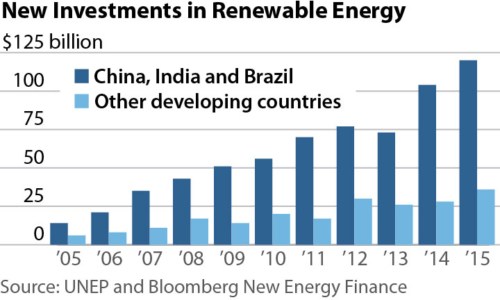 More than half of all renewable investment activity in the world last year occurred in developing countries.
And 2015 was no small year for renewables, as new investment set a record US$286 billion and total transactions (including refinancings) exceeded $US380 billion.
We're published a memo this morning — "IEEFA Update: Emerging Markets Lead Global Investment in Renewables"— that gets into some of the detail.
We note that broad interest in renewables auctions is spreading—and growing in more and more countries—a sure sign that the trend is gaining momentum. Electricity tariffs in recent auctions have achieved historic lows, and most of the auctions have been oversubscribed.
A few examples:
Auctions in Mexico and Argentina have yielded prices far better than initial expectations. In Mexico's recent auction yielded $33-35 per megawatt hour (MWh) for wind and solar compared with $39-45/MWh less than six months ago. A recent Argentina tender for $48-65/MWh for wind-powered electricity and $60-75/MWh for solar came in well below government expectations and was six times oversubscribed.
Chilean auction prices this past August averaged $50/MWh, less than half the auction prices seen in 2014 ($108/MWh) and below the cost of new imported-thermal-power generation.
Dubai Electricity & Water Authority received a record low bid at $29.90/MWh in May to develop 800 megawatts of solar-power projects, followed by an even lower bid at $24.20/MWh for a 350-megawatt (MW) solar photovoltaic (PV) project in Abu Dhabi in September.
Our memo asks (and answers) a few questions:
What Are the Key New Emerging Markets in Renewables?
Among developing nations, China, India and Brazil have drawn the most renewable energy investment, a trend that has been supported by strong, clear policy ambitions.
Chile, Mexico, and South Africa are emerging now, took, as important players as well, while Argentina, Jordan, the Philippines, Turkey, and Russia are cited increasingly as attractive renewable-investment countries relative to expectations, especially in solar.
On the wind-energy front, notable growth is occurring in Brazil, which has increased its capacity threefold in three years, from 2,788 MW in June 2013 to 9,810 MW in June 2016.
And cumulative wind installs have nearly doubled in the past three years in China, Poland and Turkey, according to the World Wind Energy Association.
Other players are emerging as potentially large solar and wind markets. Among them: Taiwan, which has just upgraded its renewables target to 25 GW by 2025, mostly from solar (from almost nil today).
Why Are Emerging Markets So Attractive Today for Renewable Energy Investors?
Some of the answers we include on this point included that fact that most developing countries are lucky in terms of "resource quality."
As the International Renewable Energy Agency (IRENA) has stated quite well: "Latitude is a key factor, and cloud cover also plays a role. The annual yield is up to three times higher in developing countries than in developed countries. This makes solar PV particularly compelling for developing countries."
We also think that the relatively high rate of GDP growth in developing countries compared with the developed world makes renewables in emerging economies and especially strong draw in the global hunt for yield.
New advantages are unfolding in developing market, especially where favorable policies and economies of scale have brought down total installation costs (in India, for example, solar tariffs have fallen 40 percent in just the past 18 months).
What Are the Policy Best Practices Driving Renewables Investment in Emerging Markets?
We see several common characteristics across a number of emerging economies where renewable energy is taking off.
Among them:
Governments committed to grid updates/modernizations and to policies that allow prioritization of renewables.
Stable and largely predictable public policy and regulatory regimes that are aligned with technology advances in renewables.
Open acknowledgement of renewables as more cost-effective—including in terms of environmental, public-health, and social impacts—than fossil-fuel-fired electricity.
Recognitions of the decline of traditional base-load arguments in favor of smart-grid management and storage.
Adoption of modern mechanisms that mitigate capital and currency risks.
An open embrace of global capital market's appetite for renewable energy investment.
To be sure, investing in developing-market renewables is not without risk, and in our memo we get into what some of those risks are.
But the risks, by our lights, is far outweighed by the upside.
Tim Buckley is IEEFA's director of energy finance studies, Australasia.
RELATED POSTS:

IEEFA Europe: As Global Climate Pact Takes Force of Law, a Bleak Outlook for Coal-Fired Power
IEEFA Update: The Global Energy Transformation Remains on Track
IEEFA Update: IEA, Still Behind the Curve, Nonetheless Indicates Rising Stranded-Asset Risk in Fossil-Fuel Holdings