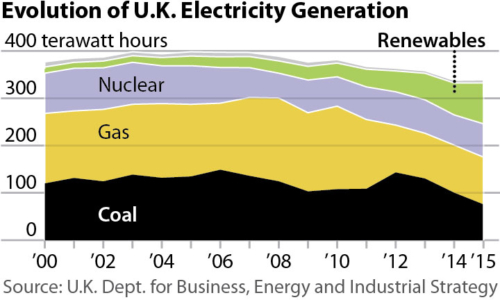 The U.K.'s capacity market is the weak link in the country's ongoing transition toward a resilient, low-carbon grid.
That is one of the core findings in a  report—"Electricity-Grid Transition in the U.K.: As Coal-Fired Generation Recedes, Renewables and Reliable Generation Can Fill the Gap —we published today. The report finds that the U.K. grid is coping well with a coal phase-out, but requires greater investment in reliable generation to back up renewable power than the country is currently making.
Four years ago, the government introduced electricity market reforms intended to drive some £100 billion ($122 billion) in private sector investment in electricity infrastructure, specifically in the construction of a reliable, low-carbon grid. The government has also since targeted a phase-out of coal power generation by 2025.
Change is already well under way.
Last year, coal generation plummeted by 60 percent in the U.K., a drop that was met mostly by more gas-fired generation and lower demand. The grid was resilient in the face of this change: while margins were narrow, National Grid took no emergency action, and made no use of a standby reserve.
Further, the country has a large pipeline of planned new renewable generation, including some 17 gigawatts of offshore wind. A pipeline of about 12 GW of new sub-sea cables with European neighbors will provide additional, low-carbon electricity (from Norwegian hydropower, for instance), while providing a cost-effective buffer for variable domestic wind and solar power .
BROADLY SPEAKING, HOWEVER, PROGRESS SINCE 2013 TOWARD A LOW-CARBON GRID has been stop-start. If true modernization is to occur, as our report explains, new flexible generation will be required, including from peaking gas, pumped hydropower, battery storage and demand-side response.
New investment over the past four years was supposed to be driven by the country's capacity market. But that scheme has instead allocated the vast majority of £3.4 billion ($4 billion) in capacity payments to date to existing gas, coal and nuclear generation, and is at risk of creating an increasingly unresponsive system defined by the best compensated, rather than most capable or efficient, technologies.
IEEFA recommends a more limited embrace of capacity auctions. A more targeted approach would invite auctions solely for new-build, flexible generation, rather than existing baseload, and thus lower the burden on ratepayers.
Traditional energy markets can still play a role in delivering electricity at least cost. Our report points to the U.S. experience in that regard, which shows how energy markets are delivering a rapid, low-carbon transition without capacity markets. Competitive U.S. markets have handled the transition from coal to renewables, while the number of scarcity hours in which energy market prices spike has decreased dramatically.
In Britain, reforms to the U.K. power-balancing market, specifically, can help, strengthen price signals and invigorate competitive energy markets.
While the jury is still out on how best to deliver a zero-carbon grid, such a grid can do without consumer subsidies for large-scale, baseload coal and gas.
Gerard Wynn is an IEEFA London-based Energy Finance Consultant.
RELATED POSTS:
IEEFA Europe: Can Power Market Reforms Curb U.K. Ratepayer Handouts to Gas, Coal and Nuclear?
IEEFA Update: A Rush to Subsidies as Power Plants in Europe Face an Existential Threat