FirstEnergy's announcement this week that it will close its two nuclear plants in Ohio, as well as one in Pennsylvania, came as no surprise.
The utility has been signaling for many months that it intends to get out of the power-generation business, and it has already closed all but one of its coal-fired power plants in Ohio. The company's generation subsidiary, FirstEnergy Solutions, is likely to declare bankruptcy next week, and its one remaining coal plant, W.H. Sammis, will probably be closed or put on the auction block as part of that process.
The utility has no one to blame for its ruin but itself.
Its long record of flawed nuclear projects is deplorable, but perhaps chief among its many missteps in recent years was its doubling down on coal by purchasing Pennsylvania-based utility Allegheny Energy in 2011—a deal it went forward with at a time when energy markets were clearly shifting away from expensive coal-fired power and toward gas and renewables.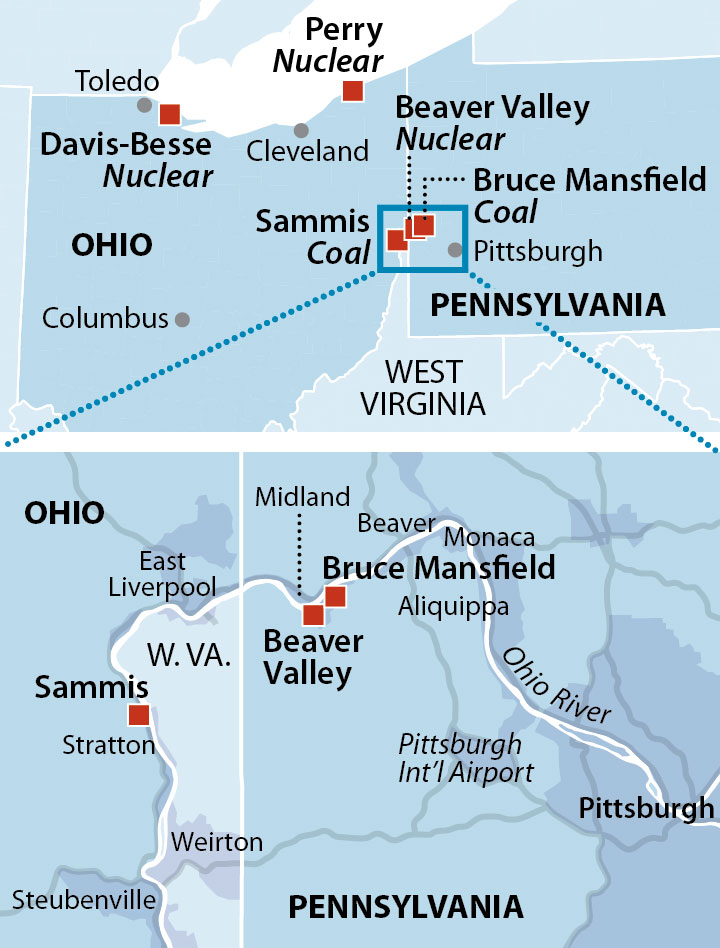 FirstEnergy also led an ill-advised charge to weaken renewable energy portfolio standards in Ohio as it tried to hold back the tide of competition. The company would have been much better off following the lead of such utilities as NextEra, whose growing bottom line is closely tied to its decision to embrace solar and wind power.
On its march to failure, FirstEnergy has tried time and again to get its ratepayers—both business and residential—to bail it out. The utility has been rebuffed in these efforts by the Ohio legislature, the governor, the Federal Energy Regulatory Commission, and in some cases the Public Utilities Commission of Ohio.
That hasn't stopped it from trying yet again. Yesterday, FirstEnergy filed a petition at the Federal Energy Regulatory Commission asking for a federal mandate to keep its failing coal-fired and nuclear plants open as "emergency" generators for the electricity grid, and it looks like another attempt may be made for a bailout at the legislature. It is not clear that any of these efforts will succeed.
THIS IS ALL COLD COMFORT TO THE COMMUNITIES who will lose significant pieces of their tax bases when the plants close, to the employees who lose their jobs, to the many Ohioans who stuck with environmental contamination if the closed plant sites are not properly cleaned up.
One thing is clear: Ohio's elected and civic leaders are going to have to devise and implement strategies to help communities and workers weather the storm as their local economies transition away from reliance on these plants. Ohio's leaders should address these closings in the same organized way the Department of Defense musters resources when it closes military bases.
Ohio's leaders should address these closings in the same organized way the Department of Defense musters resources when it closes military bases. 
As Cindy Winland of the Just Transition Fund has pointed out, the size and the number of closings of coal-fired and nuclear plants in Ohio makes the state an epicenter of energy industry disruption.  Ohio's two U.S. senators, Sherrod Brown and Rob Portman—both of whom come from regions of the state that have been particularly hard hit by the closings—are in a strong position to help local communities and labor unions marshal federal funds for the transition.
Gov. John Kasich and Ohio legislators have a crucial role to play too, and they can look to nearby New York State, which created the Electric Generation Facility Cessation Mitigation Fund in 2016 to help communities protect their tax bases when power plants close. The fund, originally set up with $30 million in annual revenue for five years, had been expanded and extended to provide $42 million annually for a total of seven years. Such revenue buys time for school districts and local governments to put forth a coherent vision for community transition, as civic leaders are doing in Tonawanda, N.Y.
Crucially, public officials and regulators must also insist that FirstEnergy, even if it goes through bankruptcy, fully fund the decommissioning and site clean-up of its plants, which it has thus far been reluctant to do. The Environmental Law and Policy Center of the Midwest pointed out in a petition to the Nuclear Regulatory Commission this week that the utility is underfunding its clean-up obligations to the tune of at least $350 million.
FirstEnergy must be held responsible for these costs. A good first step would be having the company train its current workforce in the skills needed to fulfill this massive obligation to Ohioans.
Sandy Buchanan is IEEFA's executive director.
RELATED ITEMS:
IEEFA Ohio: Damn Tradition, Bailouts Are Where It's At
IEEFA Update: FirstEnergy, Out of Step With the Times, Sells Gas and Hydro Assets to Shore Up Fading Coal-Fired Plants
IEEFA Report: FirstEnergy: A Major Utility Seeks a Subsidized Turnaround