As American Electricity Markets Modernize, an Ohio Utility Company Stays the Same
If there's a standout feature in today's fast-changing electricity-generation landscape, it's that coal-fired and nuclear power plants cannot compete with those that run on natural gas or renewable energy. This will remain the case for the foreseeable future, as gas prices are projected to stay low and renewable energy prices continue to drop.
Part of what that means is that any utility that says it wants to bring down costs for its customers and remain competitive will shed coal and nuclear plants and invest in renewables and gas.
Unless that utility is FirstEnergy.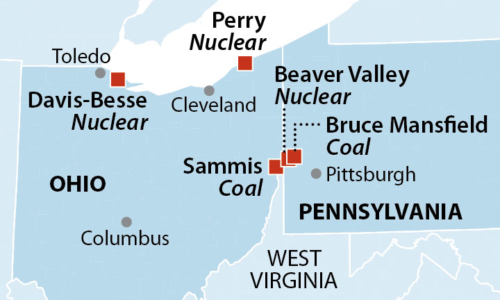 Earlier this month, the Ohio-based utility announced it had finalized the terms to sell units at five natural gas plants and one hydroelectric plant to LS Power for $825 million. The plants total 1,615 megawatts of generation capacity and are currently owned by FirstEnergy subsidiaries Allegheny Energy Supply Co. and Allegheny Energy Co.
As first reported by SNL, the energy trade publication, this month, "FirstEnergy said the proceeds of the sales will be invested in the company's unregulated money pool and may be used for the repayment of debt, among other corporate purposes."
A company loathe to modernize, even as the world around it changes.
These transactions come as FirstEnergy is seeking multiple consumer bailouts for its struggling coal plants and nuclear plants (see the map here). The West Virginia Public Service Commission will hear testimony next week on the company's proposal to shift its unregulated 1,300-megawatt Pleasants Plant to a regulated subsidiary—a move we estimate would cost consumers $470 million over fifteen years if the commission approves it.

FirstEnergy pulled off a similar deal in West Virginia four years ago, transferring the ownership of its Harrison Plant to a regulated subsidiary. Our research shows that customers paid $164 million over the market price of power during the first three years of that deal.

In Ohio, FirstEnergy continues to push for bailouts of its coal and nuclear plants at both the legislature and the Public Utilities Commission, and is in the midst of protracted legal battles on this issue with organizations representing consumers, manufacturers, and environmentalists.  Recently, it has even threatened that FirstEnergy Solutions, the subsidiary that owns the power plants, will file for bankruptcy if it doesn't get the bailouts.

AS WE SHOWED IN OUR 2014 REPORT "FIRSTENERGY: A MAJOR UTILITY SEEKS A SUBSIDIZED TURNAROUND," the root of FirstEnergy's financial problems is in its ill-advised decision to merge with Allegheny Power in 2011. At a time when the markets were clearly shifting away from expensive coal-fired power and toward gas and renewables, FirstEnergy doubled down on coal by purchasing the Pennsylvania-based utility.

As its operating losses built up after that, FirstEnergy made a series of more ill-advised decisions. These included the sale of three natural gas plants in 2011: the Fremont natural gas plant and the Richland and Stryker natural gas peaking plants. The Fremont sale in particular is worth noting. FirstEnergy bought the partially-built plant in 2008 from Calpine, which was in bankruptcy, then sold the 707-megawatt plant to American Municipal Power in 2011, when it was 98 percent complete. In a sign of the times, which FirstEnergy evidently still did not seem to understand, AMP bought the gas plant after deciding to cancel an expensive proposed coal-fired power plant in Southeast Ohio.

The Fremont plant has turned out to be one of AMP's best-performing assets. It provides power to AMP's municipal members at competitive prices in the $25-40/megawatt-hour (MWh) range, significantly less, for example, than the $60-70 MWh price of power from the coal-fired Prairie State power plant in Illinois that went online at around the same time, in 2012.  

FirstEnergy's Ohio customers would very likely have benefited if the company had held on to the competitive Fremont plant six years ago, rather than being saddled instead today with the high costs of FirstEnergy's coal and nuclear plants.

FirstEnergy's most immediate strategy is to get West Virginia customers to pay for coal-fired assets that no one else will buy, while it sells off its competitive natural gas and hydro assets that are actually worth something.

FirstEnergy is in financial trouble because of its own internal mismanagement, not because of anything anybody else did. And the fact is, it behind the times. The question is does it even want to catch up?

Sandy Buchanan is IEEFA's executive director.

RELATED POSTS:

IEEFA Report: A Cynical Re-Regulation Strategy in West Virginia

IEEFA Ohio: Damn Tradition, Bailouts Are Where It's At

IEEFA Ohio: FirstEnergy Throws a Hail Mary Pass in Its Campaign to Keep Aging Power Plants Alive


IEEFA Update: FirstEnergy Brings Its Bailout Show Back to West Virginia