As regressive policies are being pursued noisily in the U.S. and Australia in hopes of salvaging the fading coal-fired power sector, news has broken more quietly around China's persistence in moving aggressively toward a 21st-century energy economy.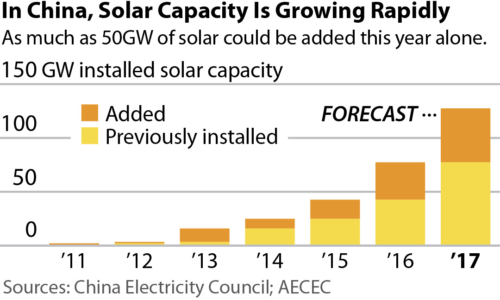 The most populous country on the planet is on course to install 50 gigawatts (GW) of solar-powered electricity production this year, according to a new Asia Europe Clean Energy Consultants (AECEC) report. As a point of comparison, that's more capacity than the entire Australian National Electricity Market has, and China is rolling it out fast. June and July alone this year saw the installation of 25 GW of new solar capacity.
AECEC notes also that while the renewable sector's share of China's electricity mix has increased by 8 percent since 2010, coal-fired generation's portion of the total has declined by 11 percent. With the boom in Chinese solar, this trend is set to continue.
Just this month, China's National Development and Reform Commission announced new subsidies for power-storage projects on a scale that will allow utilities to store electricity produced during low-demand periods and then put it on the market when demand is higher. China produces so much excess renewable-powered electricity that it has to trim production when supply exceeds demand. Under its new policy, it is aiming to largely eliminate renewable energy curtailment by 2020.
As China pilots new energy-storage technologies now with a view to bringing them to scale in the longer term, it has diversification in mind. Initiatives include more pumped hydro, more concentrated-solar thermal production that amplifies the sun's ray with mirror and lenses, and more compressed air storage.
Coal is being de-emphasized, and utility balance sheets are improving as a result.
In the meantime, the role of natural gas in China's electricity-production mix will likely increase. Gas has a tiny share of the electricity-generation in China compared to its footprint in other Asian economies that include Japan and South Korea. China's policy support for gas-fired power, and for district heating rather than residential coal-burning, will likely persist given the government's frequent reiteration of its commitment to reduce air pollution.
The government itself has begun reorganizing its state-owned power utilities with an eye toward making them less reliant on coal, and—as we outlined in a report we published in early October, "Global Electricity Utilities in Transition"—two of China's largest energy players are playing key roles in this shift.
OF SPECIAL NOTE IN THE CHINESE ELECTRICITY-SECTOR TRANSITION is the recent news that China's top coal miner will merge with one of the nation's "Big Five" power utilities. This merger, which has Shenhua Group Corp. absorbing China Guodian Corp., creates the world's largest power company as measured by installed capacity (225 gigawatts, give or take).
The new entity, China Energy Investment Corp., has an estimated combined payroll of 326,000 people, almost four times larger than the entire U.S. coal-fired power sector workforce.
By absorbing China Guodian, Shenhua is diversifying from its historic focus on coal, as Guodian brings significant clean energy assets with it. The generation capacity of the company will include 23 percent from renewable sources. Shenhua was dependent on coal for 90 percent of its generation capacity.
In addition to having its own thermal, hydro and renewables power generation portfolio, China Guodian is the owner of China Longyuan Power Group Corp, a Hong Kong-listed power generation company that for the last decade has been adding 1.5-2.0 GW of wind-generated power annually in China. China Energy Investment Corp. is now the largest single developer of wind power in the world.
Further mergers involving large Chinese power generators are expected. China Huaneng Group, for instance, is reported to be in talks with the State Power Investment Corporation, which is selling seven Chinese clean energy companies to its Hong Kong-listed subsidiary China Power International Development. This deal—like the Shenhua-Guodian merger—can be seen as a strategic move by state-owned power utilities to diversify their asset mix with more.
The role of coal is being de-emphasized, in a word, and utility balance sheets are improving as a result, a change that will facilitate capital redeployment toward even more renewable energy infrastructure.
THIS INCREASED EMPHASIS ON RENEWABLES BY CHINESE STATE POWER UTILITIES may also be a way to curb power-production curtailments that hurt renewable-energy portfolios. Some progress on wind curtailment appears to have been made already; utilization of wind power is up 8 percent over the first eight months of 2017.
President Xi Jinping has hinted strongly that he intends to lock in greater government control of the Chinese economy by pursuing policies that will make state-owned enterprises "stronger, better and bigger."
Put another way, state-owned power utilities are being prepared for a future in which coal will play a progressively smaller role. Additionally, China looks to these companies to lead the rollout of home-grown renewable energy technology and to invest capital overseas, processes that are already well under way.
China, by following this strategy, stands to drive transformation of electricity markets worldwide, a trend that governments in countries like the U.S. and Australia would do well to watch.
There's more here on the Shenhua-Guodian merger in our report, which includes companion case studies of 10 other global utilities affected by the transition occurring now across global electricity markets.
Simon Nicholas is an IEEFA energy finance analyst.
RELATED POSTS:
IEEFA Update: Are Investors in Asian Coal Starting to Think Twice?
IEEFA Report: Winners and Losers Among Big Utilities as Renewables Disrupt Markets Across Asia, Europe, the U.S., and Africa