Executive Summary
A major Indonesian coalminer, the Adaro Group, has been signaling an intention since 2020 to expand its business into aluminum smelting.
The plant complex will be located in Kaltara Industrial Park, North Kalimantan province. It is to be constructed in three phases, each phase building smelter facilities with an output capacity of 500 kilotonnes per annum (ktpa).
Adaro's Phase 1 aluminum smelter will have a supporting 1,100 megawatt (MW) coal-fired captive power plant to supply energy. Total capital expenditure of the project is US$2 billion. However, the financial case for the development is shaky at best as the payback period at US$2,800 per tonne of aluminum, the upper bound of the global price range in the last five years, is eight to 11 years.
Phase 1 will also add 5.2 million tonnes (Mt) of carbon dioxide emissions to the environment.   
    Weak Financial Case for Adaro Smelter Project
    From its research and calculations, the Institute for Energy Economics and Financial 
           Analysis (IEEFA) has arrived at the following findings:
The financial case for Adaro Phase 1's 500ktpa Adaro smelter and 1,100MW captive coal plant is weak as they will make losses under the current aluminum price of US$2,200/tonne.

The Phase 1 aluminum smelter needs prices to rise 30% to US$2,800/tonne, and to stay at that level for eight years, to get back the capex of US$2 billion.

The Adaro smelter complex aims to create value, but it appears that it may need high aluminum prices or very low costs to do so.

Financing has been difficult given the rejection from Standard Chartered and DBS Bank to support the project, despite five local banks subsequently stepping in to provide loans.

The issue of captive power plants looms large as those in the pipeline could add 21 gigawatts (GW), or 52%, to Indonesia's 2023 installed coal capacity of 40.5GW.

The smelter and captive coal plant could collectively produce 5.2Mt of CO2, which is close to 1% of Indonesia's 2021 total emissions of 619.3Mt.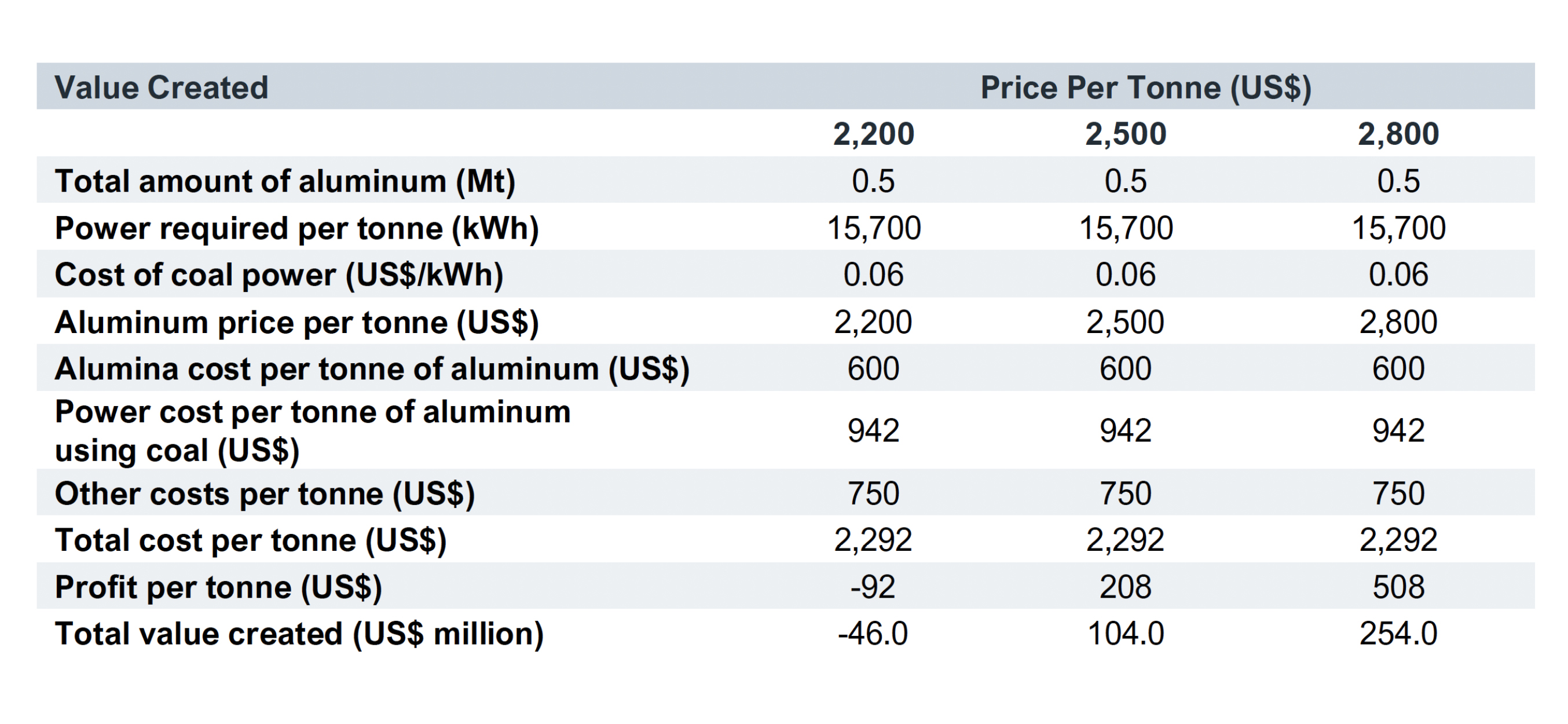 Source: Statista; Bloomberg; IEEFA estimates. Note: kWh/tonne = kilowatt-hour per tonne. 

In this report, IEEFA will demonstrate why the financial justification for this aluminum smelter project can be difficult and how we arrived at the aforesaid findings. In addition, beyond this project, IEEFA is of the view that planned captive power plants across Indonesia and their coal power capacity are worth monitoring, given especially that recent developments in Indonesia's green taxonomy may heighten greenwashing risks.