The first phase of the Adaro Group's planned aluminum smelter and coal power plant in Indonesia will take years to recoup its US$2 billion investment under a best-case scenario that assumes sustained high prices for the metal, the Institute for Energy Economics and Financial Analysis (IEEFA) says.
From the environmental angle, the coal-fired first phase might give off so much carbon dioxide as to be equivalent to nearly 1% of the entire country's 2021 CO2 emissions, IEEFA shows in a new research report.
"The financial case for the project is weak as Adaro will make losses under current aluminum prices," says Ghee Peh, the report's author and an Energy Finance Analyst at IEEFA.
"Funding support will only get trickier as more financial institutions adopt coal exit policies."
The emission of CO2 is also concerning because, more than just the amount per se, Adaro's coal plant can pass off as an environment-friendly power source. The plant will be captive in nature, meaning it is dedicated to meeting the energy needs of the smelter instead of being connected to the electricity grid.
"We may need to be cautious about the risk of greenwashing if the Indonesian government indeed considers captive power plants as green just because they support the production of materials such as nickel or aluminum in the name of energy transition," Peh adds.
Adaro expansion plans
In May 2020, Indonesia's coal-based energy company Adaro first proposed building a three-phase aluminum smelter complex at Kaltara Industrial Park in North Kalimantan. The Phase 1 smelter has a targeted output of 500 kilotonnes per annum (ktpa) and will draw its energy supply from the 1,100 megawatt (MW) captive power plant. Construction is underway.
Captive power plants are off-grid electricity generation facilities managed and used by the industrial energy user. In the case of aluminum production, its conversion from alumina is a power-intensive process which requires 15,700 kilowatt-hours (kWh) to yield one tonne of aluminum.
The justification for the Adaro project is to take advantage of the location's abundant bauxite and available coal and hydropower.
"The construction of additional aluminum smelting capacity in Indonesia can be attributed to two possible reasons: to ease the domestic shortfall and to use the country's bauxite resources to create more value for the economy," says Peh.
Questionable financial case and climate commitment
The challenge to recover the capital expenditure of Adaro Phase 1 is real as Peh, in his calculations, has arrived at financial losses for the project under the current global aluminum price of US$2,200/tonne.
"Under a best-case price scenario of US$2,800/tonne of aluminum, the Adaro Phase 1 aluminum smelter of 500ktpa and 1,100MW coal-based plant will need eight to 11 years to recoup its capex of US$2 billion, and with the assumption that prices will rise 30% from current levels," he says.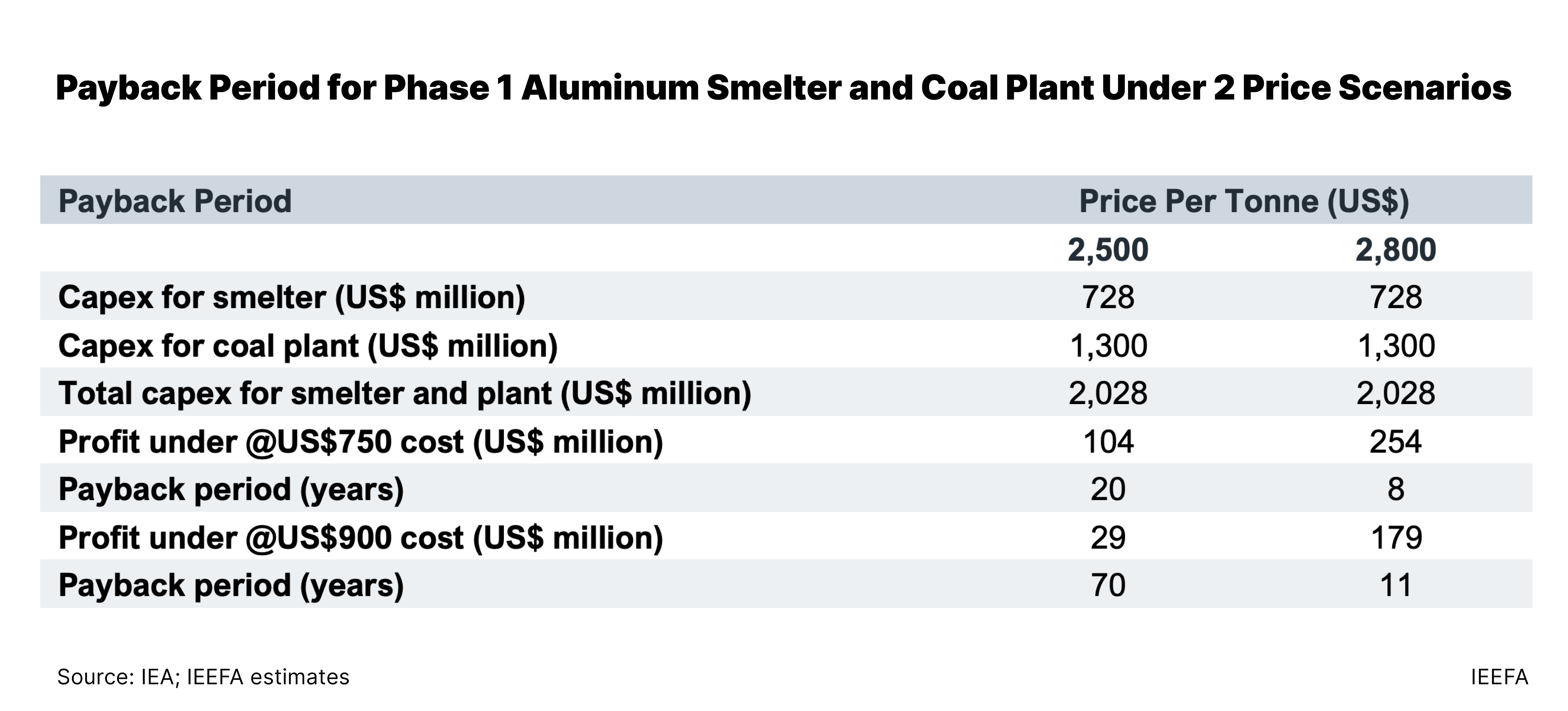 "In addition, Phase 1 could produce 5.2 million tonnes of CO2 when operational. This is equivalent to 0.8% of Indonesia's total CO2 emissions in 2021."
Green aluminum is made using renewable energy rather than fossil fuels, and its competitive edge lies in its production creating far lower greenhouse gas emissions.
However, the Adaro complex's first and second phases are expected to use coal-fired electricity. Only the third phase, also targeting an output of 500ktpa, will be supported by hydropower.
In February, Standard Chartered and DBS Bank were reported to have declined to fund Adaro Phase 1.
"This is not surprising given both banks' climate commitments, a trend that was reflected in an IEEFA report this year about 200 financial institutions and their coal exit policies," says Peh.
Adaro has since secured loans from five Indonesian domestic banks.
The smelter project is further complicated by news in August that Indonesia's Financial Services Authority would revisit the national green taxonomy to include newly built coal-powered generation as "green" as long as it was aimed at the energy transition.
"A recent IEEFA commentary has argued that this idea sends a bad signal to sustainability-focused investors and administrations who are counting on the Indonesian government for policy certainty and the country's seriousness in making the transition toward a clean energy future."
Need for monitoring
Peh points out that across Indonesia, captive power capacity of 21 gigawatts (GW) is being planned, equivalent to half of the country's 2023 coal-fired generating capacity of 40.5GW.
"Indonesia's captive power capacity already accounts for 13GW, and there is another 21GW in the pipeline, with nearly half under construction," says Peh.
He calculates that the 13GW already makes up 32% of this year's coal-fired capacity.
Once the 21GW facilities are fully completed, they could add a staggering 52% to 2023 coal power capacity and 17% to 2022 coal demand in Indonesia. The issue of captive power plants is therefore significant to the growth of coal demand in the country.
Read the report: The coal cost of aluminum
Read this press release in Bahasa Indonesia: Proyek smelter aluminium Adaro hadapi risiko finansial
Report contact:
Ghee Peh ([email protected])
Media contact:
Josielyn Manuel ([email protected])
About IEEFA:
The Institute for Energy Economics and Financial Analysis (IEEFA) examines issues related to energy markets, trends and policies. The Institute's mission is to accelerate the transition to a diverse, sustainable and profitable energy economy. (www.ieefa.org)