Contract between Southwest desert city and little-known energy company lacks specifics, ignores market realities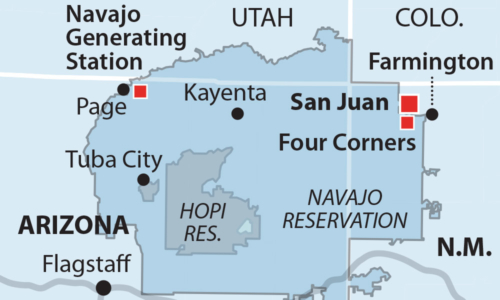 A deal between the city of Farmington and a company incorporated four months ago in New Mexico purports to be a viable plan to turn the aging San Juan Generating Station into a model national carbon-capture project. But it lacks too many specifics to be considered a serious proposition.
The contract, posted here, has Farmington Electric Utility System partnering with Enchant Energy Corp. on a purported makeover of the power plant, an 847-megawatt coal-fired station near the San Juan River in northwest New Mexico. The Farmington City Council voted last night to approve the agreement.
The deal was crafted by high-dollar lawyers at major out-of-state firms—Sidney Austin LLP for Enchant and Thomson Hine LLP for Farmington—but is framed as an essentially theoretical deal devoid of particulars around project funding, construction dates, regulatory approval timelines, operational dates and so on.
The Enchant-Farmington agreement seems written largely as a document to ensure that Enchant is approved for a $5.8 million research grant it is seeking from the Department of Energy. The city, in the meantime, is taking on major credit-rating and reputational risk.
The contract has no dates for establishing benchmarks that show progress toward the project's objectives. Although the agreement states that financial viability studies, financial projections and environmental studies will be provided, it attaches no performance dates for those requirements. Nor does it indicate what penalties would be assessed for failures by either party to perform contract requirements.
The agreement is subject to restrictions in the current multi-party ownership agreement, and perhaps to others as well.
The majority utility-company owners of the plant want to shut it down by 2022 and invest in more modern forms of electric generation . The Enchant-Farmington contract glosses over that fact and over a key point in the current San Juan ownership agreement—which includes Public Service Company of New Mexico, Tucson Electric Power Company, Los Alamos County, and Utah Associated Municipal Power Systems—that requires other owners to play ball. PNM, because of new state policies on electricity generation as well as larger market trends, may be especially disinclined to cooperate.
The Enchant-Farmington contract is not based on the financial feasibility of the project, which is all but nonexistent on a number of points that include cost, investor interest, pipeline constraints, transmission access and reclamation issues.
RECLAMATION LIABILITIES ALONE PRESENT COMPLICATIONS THAT INVITE LITIGATION, a huge expense for a city the size of Farmington, which is said to have already sunk hundreds of thousands of dollars in legal fees to Thomson Hine.
PNM and the other current owners of San Juan will be keen on legal protections for themselves, much as were the owners of Navajo Generating Station in Arizona, a circumstance that led to the failure of initiatives to keep NGS going.
New Mexico state regulators also may very well question an ownership transfer to Enchant, especially on the issue of whether Enchant has resources to pay for future cleanup obligations, which appears not to be the case.
The Enchant-Farmington contract is salted with many potential off-ramps that turn on details such as being able to renegotiate a new coal-supply contract with Westmoreland Mining and with obtaining financing for carbon-capture equipment.
The deal, which is being promoted as titanic in its ambition, is in truth taking float in a sea of market, regulatory and liability icebergs that will sink it in short order.
Karl Cates is an IEEFA analyst/editor. Tom Sanzillo is director of finance for IEEFA. 
Related items:
IEEFA report: 'Holy Grail' of carbon capture continues to elude coal industry; 'cautionary tale' applies to domestic and foreign projects alike
IEEFA update: High-risk carbon capture deal not in New Mexico city's best interest
IEEFA U.S.: Carbon-capture pitch raises 'false hope, fiscal risk' for New Mexico town