Company tied to New York vulture capital 'not a credible business partner;' Enchant Energy Corp. seeks $5.8 million federal grant for itself and associates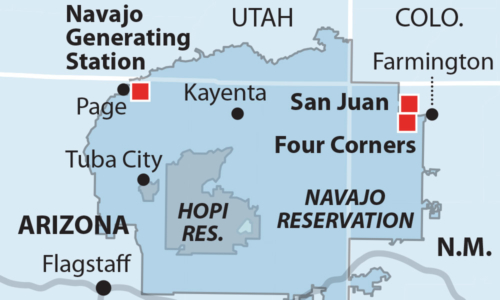 July 12, 2019 (IEEFA) — A novice company's push to create a partnership with the City of Farmington, N.M., that would attempt to turn a closing coal-fired power plant into a carbon capture experiment would put the town at financial risk, concludes a report published today by the Institute for Energy Economics and Financial Analysis.
The report details the lack of viability around the proposal, being pushed in New Mexico by Enchant Energy Corp., whose representatives are aiming mainly to create "a short-term taxpayer-funded windfall" for themselves, the report concludes.
"Enchant Energy has no known electricity-business experience, the value of its assets—if it has any—is not known, and the company only has two employees. Yet it is calling for the creation of a partnership with the City of Farmington for the purpose of raising $1.2 billion toward extending the life of the power plant, which its core owners, including Public Service Company of New Mexico (PNM), see no value under any circumstances in keeping online after 2022," the report states. "In short, Enchant Energy does not seem a credible partner for such a project."
The report—Novice Company's Carbon Capture Pitch Offers False Hope, Fiscal Risk to Farmington, N.M.—notes that Enchant Energy, incorporated a few months ago in New Mexico, has ties to Litespeed Capital, a New York hedge fund that follows a "vulture capital" model, specializing in flipping distressed assets.
The report also includes details from Enchant Energy filings that show the company seeking a $5.8 million Department of Energy grant whose proceeds would be distributed exclusively to Enchant Energy and its out-of-state associates. The City of Farmington, according to the proposal, would be assessed $10,000 for its participation in the deal, which would raise significant liability questions.
SEVERAL MAJOR FLAWS ARE APPARENT IN ENCHANT ENERGY'S SAN JUAN PROPOSITION, the report states:
It overlooks how the deployment of carbon-capture technology around coal-fired generation remains a mostly academic, unaffordable exercise;
It presumes that the project could commence within two years, avoiding regulatory requirements that typically take longer to complete, and that it could be done in a cost-effective way;
It banks on the unlikelihood of being able to find a market in the distant Permian Basin oilfield for the carbon dioxide it would capture;
It does not say where long-term project liabilities would lie;
It does not address the absence of customers, the probable limited transmission access for power from the plant beyond 2022, and the inevitable rise in electricity costs owing to the parasitic load created by the installation of carbon capture equipment;
It plays up the importance of using newly enhanced tax credits for carbon capture to finance the project, while leaving out the fact that the credits would be available only if and when the project is operational, a highly unlikely outcome.
Enchant Energy's business model is unworkable and appears to be largely self-serving
"While Enchant Energy has an alluring name and while it purports to have compassionate community intent—its business model is not workable and its San Juan Generating Station retrofit pitch appears to be largely self-serving," the report states.
It recommends that the City of Farmington, to ensure its interests, keep the following questions in mind as it considers Enchant Energy's proposal:
How would the project actually be funded? Who are the investors?
What happens—as is likely—if the project costs more than forecast? Would Farmington be made to cover the shortfalls?
What retrofits to the existing units, now 43 and 37 years-old, would be needed to ensure they continue operating going forward? Who would fund those upgrades?
Who will buy power from the retrofitted plant?
Is there a viable long-term market for the captured CO2?
Who would be liable for the ultimate requisite cleanup operations at the plant and how would the cleanup be funded? What, specifically, would Farmington's liability be?"
Full report here: Novice Company's Carbon Capture Pitch Offers False Hope, Fiscal Risk to Farmington, N.M.
Author contacts:
Karl Cates (New Mexico) [email protected], +1 (917) 439-8225
Dennis Wamsted (Washington) [email protected], +1 (703) 862-9324

Media Contact:
Vivienne Heston (New York) [email protected], +1 (914) 439-8921
About IEEFA:
The Institute for Energy Economics and Financial Analysis (IEEFA) conducts global research and analyses on financial and economic issues related to energy and the environment. The Institute's mission is to accelerate the transition to a diverse, sustainable and profitable energy economy.