Concerns Grow That Hinkley Point C Is an Overpriced Mistake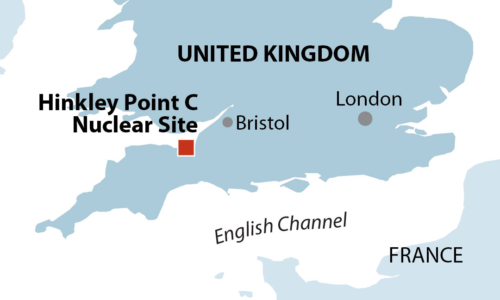 Two of the U.K.'s main public-spending watchdogs have now criticized the government's deal with French utility giant EDF to support completion of a new nuclear power plant, only just stopping short of saying the deal was an outright mistake.
The critiques highlight the risk in failing to heed the falling cost of renewables and serve as a warning for other countries planning to build new nuclear power plants. For outsiders, their comments also raise questions over why the U.K. government has ignored similar feedback over the past several years, and they draw parallels between the project, Hinkley Point C, and similarly costly nuclear projects that have faltered elsewhere, most recently in the U.S.
The U.K. Parliament's Public Accounts Committee (PAC) last week pulled no punches in saying that the economic case for nuclear power in the U.K. has "deteriorated" since the decision in 2008 to embark on development of a new fleet of nuclear power plants, the first of which was to be Hinkley Point C.
The Hinkley project was not given the green light by the present Prime Minister Teresa May until just last year.
"Estimated construction costs have increased, while alternative low-carbon technologies have become cheaper," the PAC panel said in its review of the Hinkley project, which is being built by a consortium in which the French state-owned utility, EDF, has a majority stake.
"Over the life of the contract, consumers are left footing the bill, and the poorest consumers will be hit hardest," the PAC panel concluded.
The report follows a finding by the National Audit Office (NAO) in June that Hinkley was "a risky and expensive project with uncertain strategic and economic benefits."
Both the National Audit Office and the Public Accounts Committee have called on the government to prepare a Plan B against the risk that EDF ultimately abandons the project or demands more public money to keep it alive, possibilities that loom large given the track record of delays and cost-overruns at similar projects.
THE VERY NOTION OF NEW NUCLEAR POWER IS AT ODDS WITH SOME OF THE MAIN GLOBAL TRENDS in power generation today: cheaper renewables (wind and solar), digitalization (smart grids and demand-side response), decentralization (distributed generation as opposed to centralized power plants), and flexibility (where nuclear traditionally performs worst, even lagging coal).
Indeed projects like Hinkley look untenable unless developers halve their investment-return expectations, as we explained in an IEEFA report published last month — "A Half-Built, High-Priced Nuclear White Elephant: How Should the U.K. Proceed With This Troubled Project?"
Cautionary parallels include construction delays of five to nine years and cost overruns of 79 to 250 percent.
Instead, the government should be redoubling its efforts to drive development of more practical sources of electricity generation, as outlined in a U.K. government "Clean Growth Strategy" plan published just last month.  It advocates for investment in renewables, interconnection, demand response, storage, electric vehicles and energy efficiency.
Our report last month advised the government against extending a proposed loan guarantee to EDF, as allowed under the Hinkley deal. If EDF were to exercise such an option and then were to walk away from the project, the government would be boxed into providing a potentially expensive bailout.
On this point, the PAC report—which suggests that the government consider taking equity stakes in future new-build nuclear projects as a way to curb capital costs—is at sharp odds with our conclusions. If the project were to fail, the government would have to choose between the lesser of two losing propositions: either writing off its investment or throwing more money at Hinkley to keep it afloat.
Expensive delays and cost overruns are risks in any massive infrastructure project and are especially acute in this case, considering the EDF's history with similar power plants in China, Finland and France. EDF this past July hiked its estimated Hinkley build cost by £1.5 billion (to £19.6 billion), an increase that comes less than a year after government go-ahead.
Similar red flags can be seen in recent U.S. failures., which include SCANA Corp.'s shelving of the $9 billion V.C. Summer expansion in South Carolina and Southern Company's struggle to keep its $25 billion expansion of  Plant Vogtle in Georgia on track.
Cautionary parallels between U.S. and European new-build nuclear projects include the fact that  all use untested technologies, all have seen big construction delays (of five to nine years), and all have seen vast cost overruns (of 79 percent to 250 percent).
These difficulties have caused huge financial distress for technology vendors Westinghouse-Toshiba and Areva, and have even given voice to internal doubts by those closest to the projects, including by former EDF's former chief financial officer, Thomas Piquemal, who resigned over the company's decision to push ahead with Hinkley.
Gerard Wynn is an IEEFA energy finance consultant.
RELATED ITEMS:
IEEFA Brief: U.K. Government at Risk in Over-Budget Nuclear Project That Stands Incomplete
IEEFA Update: The Nuclear Project Cancellation Heard 'Round the World
IEEFA Report: A Renewables Path to Japanese Energy Security in a Post-Nuclear Era