Government decision to slow Złoczew mine plan indicates possible course correction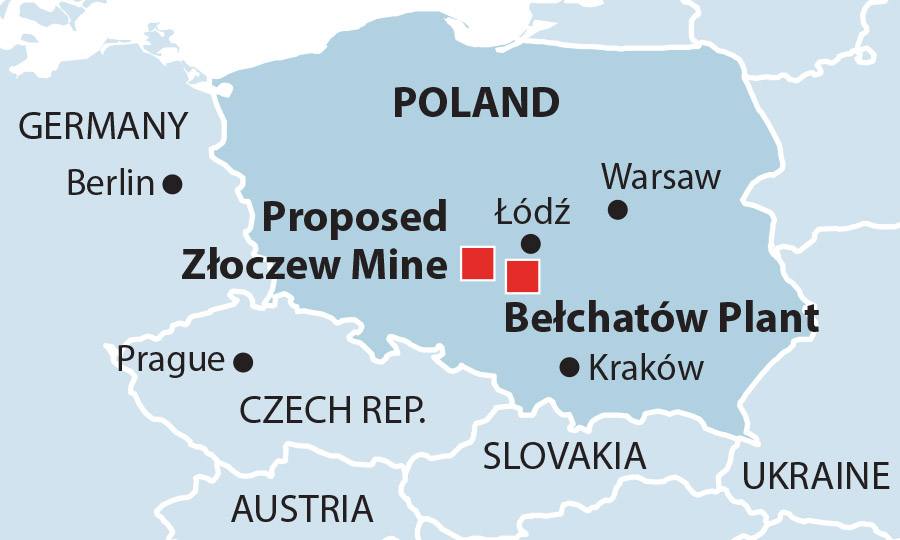 Poland's Parliament this week postponed considering a draft mining law aimed at fast-tracking new coal mines, putting pressure on the country's biggest electric utility, PGE, and the Polish government to prepare for the gradual closure of Bełchatów, Europe's largest coal-fired power plant.
To date, the owner-operator of the Bełchatów power plant, majority state-owned PGE, has faced a false choice between developing a new lignite mine, located far from the power plant, to extend its life, or else a new nuclear power plant to replace it.
At present, Bełchatów supplies nearly one-fifth of Poland's annual electricity demand but is on borrowed time as existing lignite mines run down, to be exhausted entirely by 2035.
Both a mine and nuclear power plant would be massive infrastructure projects that could secure baseload, round-the-clock electricity. They would both tick important political boxes of generating thousands of jobs in the near-term, and of guaranteeing energy independence.
BUT THEY WOULD ALSO BE HUGELY EXPENSIVE.
PGE estimates a new lignite mine to feed Bełchatów, at Złoczew, nearly 50 kilometres away, would cost around PLN 12 billion (€2.8 billion, US$3.1 billion), including associated infrastructure costs.
The proposed Złoczew mine without a doubt would become a stranded asset
At IEEFA, we are in no doubt that the proposed mine would become a stranded asset, meaning it would close prematurely, given the associated carbon emissions that would render it obsolete, probably before its first delivery.
A new nuclear power plant would take at least a decade to build, from a starting gun which still looks far off in Poland, given the need to raise substantial finance. In Britain, the £23 billion ($29 billion) Hinkley Point C nuclear project is probably the world's most expensive new power plant, and now slated for operation from around 2026, after a final investment decision in 2016. EDF's flagship nuclear project at Flamanville in France is now scheduled to begin generating power in 2022, 15 years after construction started in 2007. In other words, it is probably already too late to build a nuclear power plant in Poland which could start to replace Bełchatów in the early 2030s.
Last week, IEEFA published a report calling on PGE to abandon the proposed new lignite mine at Złoczew, pointing to the poor financial performance of the utility since it began investing heavily in new coal and lignite four years ago.
The problem for coal and lignite in Poland is that rising wholesale power prices have failed to keep pace with rising carbon costs. Going forward, it is likely that wholesale power prices will, if anything, fall, as more zero marginal-cost renewables enter the grid, both in Poland, and via interconnectors from neighbouring countries.
The government strategy appears to be to make way for uneconomic domestic coal and lignite
It would be best to welcome the reality of lower wholesale power prices, and plan accordingly. Instead, the strategy of the Polish government appears to be to delay or obstruct growth in local renewables and electricity imports, to make way for uneconomic domestic coal and lignite.
This week, however, the government placed on hold a new mining law, whose purpose was to fast-track Złoczew mine authorisation, by introducing "special purpose areas" that would by-pass local planning authorities on the location of new mines.
THE DRAFT LAW, AND THE GOVERNMENT'S PLANS FOR ZLOCZEW MAY NOW BE DEAD, and with it a fast-track to Złoczew, given the likelihood of various legal challenges to any new lignite mine.
Killing the project officially would open a much-needed debate on the real alternatives. Poland must urgently develop low-cost plans for the country's energy mix in 2025, 2030 and beyond. There is a broad prescription emerging, worldwide, for the future of electricity generation, including onshore wind (where Uruguay and Texas are world leaders), offshore wind (Denmark and Taiwan), solar power (India and California), new interconnection (Britain), battery storage (South Australia and Colorado), and a more sophisticated digital grid, coupled with demand-response, as in Nordic countries.
In Poland, a critical factor will be to exploit EU funds already available, and to lobby successfully for more funds, to ensure a changing electricity mix does not sacrifice jobs in regions such as Bełchatów, that have prospered under coal, to continue to prosper with cleaner air and more sustainable and cost-effective energy.
Gerard Wynn ([email protected]) is an IEEFA energy finance consultant.
RELATED ITEMS
IEEFA update: Poland's PGE should ditch plans for new lignite mine
IEEFA update: Poland's PGE utility delays energy transition