EU decision to end capacity payments is a blow to utility's plans
LONDON—The coal-heavy strategy at Poland's biggest utility, PGE, was hit this week by a provisional European Union agreement to end coal power capacity payments from 2025, adding to the utility's existing woes from rising carbon prices.
Across Europe, utilities have rushed for the coal exit door, driven by increasingly favourable economics for renewables and smart grid infrastructure, and the effect of new rules to combat climate change and air pollution.
That is with the exception of a small minority, including PGE, which has invested in a coal buying spree, power plant upgrades and two new-build projects.
It is not too late for the majority state-owned utility to roll back on its coal-first strategy, starting by cancelling plans to upgrade and extend the life of its ageing coal power plants and then accelerating diversification efforts into renewables including offshore wind, which it is now considering for the early-2020s.
Coal power upgrades are required to meet new EU air pollution rules that come into force in 2021. Analysis by the Institute for Energy Economics and Financial Analysis (IEEFA) shows that just four of PGE's 15 coal power plant smokestacks met the new air pollution standards, known as BREF, as of year-end 2017. PGE estimates required capital investment of PLN1.9 billion ($510 million), which IEEFA has calculated would raise coal power generation costs by 10-15%.
To date, Poland's pro-coal government has come to the utility's rescue, by introducing a capacity market that rewards power generators for being available; it was ostensibly intended to preserve security of supply. In the first auction last month, PGE won 5-year contracts for power plant modernisation at some 2.4 gigawatts of its total 14GW conventional capacity (mostly coal). Given a clearing price of PLN240/kW/year, that represents a windfall of nearly PLN3 billion ($800 million).
THE PROBLEM FOR PGE IS LOOKING FORWARD. As IEEFA pointed out in its research published this summer, the utility's coal-heavy strategy is exposed to two critical factors beyond its control.
In the case of the carbon price, this is a large exposure, given that more than 90% of PGE generation is coal-based. Little wonder that PGE's share price moves inversely to the carbon price (see Figure 1 below). The carbon price is driven by many factors beyond PGE's control, not least EU carbon market reforms that have seen prices rise 70% in the past six months.
Figure 1. PGE Share Price vs EU Carbon Price: Past Six Months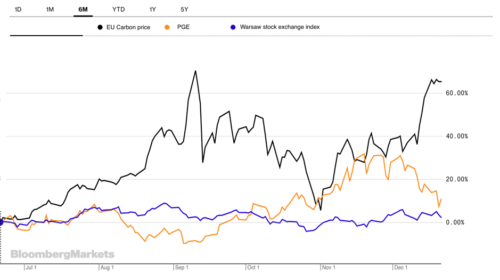 Source: Bloomberg
 In the case of the capacity market, PGE is similarly exposed to EU regulation, as shown this week. On Dec. 18th, European Union authorities provisionally agreed to end capacity payments to existing coal power plants from 2025. As a result, there will be no more five-year, modernisation contracts from next year.
In other words, PGE has done well to date, but if it needs many years of further capacity payments for its coal power plants to remain profitable going forward, it will be disappointed.
Gerard Wynn ([email protected]) is an IEEFA finance consultant.
RELATED ITEMS:
IEEFA Europe: Poland's PGE would do well to accelerate plans to diversify away from coal
IEEFA Europe: As risks mount, Poland's PGE struggles to break from its fossil fuel past
IEEFA Report: Decision Time at Poland's PGE: Why a High-Risk, Fossil-Heavy Strategy Doesn't Add Up