Worried supporters of HB6 are undermining the state's public referendum process in their desperation to keep the national energy transition at bay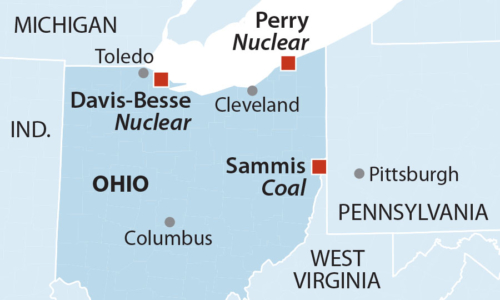 Just how far will one utility go to force its customers, workers, suppliers and host communities to pay for its own bad business decisions?
FirstEnergy, the electric utility that services the northern third of the Buckeye State, is using a host of increasingly desperate tactics to preserve a $900 million bailout from Ohioans for its uncompetitive nuclear plants.
FirstEnergy has made one costly error in judgment after another over the past couple of decades. It covered up a near nuclear disaster at the Davis-Besse plant in 2002, for instance, ultimately costing hundreds of millions in repairs and replacement power. It made an ill-timed purchase of the coal-heavy Allegheny Energy in 2011. It sold natural gas and hydropower plants at a time when they were economically competitive. And it has failed to invest in wind and solar while leading the charge to weaken Ohio's already-anemic renewable energy portfolio.
As a result, both the company and its subsidiary FirstEnergy Solutions—which owns the nuclear plants in question—sank into deep financial trouble, and FirstEnergy Solutions declared bankruptcy in April 2018. The company said it would close its two nuclear plants, Perry and Davis-Besse, and its remaining coal plant, W.H. Sammis, if it didn't get a bailout from ratepayers or taxpayers.
Political inertia has enabled a climate ripe for fear-mongering by coal and nuclear proponents
Over the course of several years, FirstEnergy proposed at least four legislative and regulatory bailout schemes in Ohio (and IEEFA issued several analyses showing why these proposals were such a bad deal for Ohioans). Most of these schemes were rejected in full or in part for being unfair to ratepayers and antithetical to Ohio's deregulated electricity marketplace. It also must be said that Ohio's elected leaders have shown little interest in supporting workers and communities harmed when uncompetitive electricity generation plants close. This political inertia has enabled a climate ripe for fear-mongering by coal and nuclear proponents.
The 2018 elections gave the bailout proposal new life, when FirstEnergy saw its chance to hit the jackpot by placing its bets in the form of  close to $1 million in strategically-placed campaign contributions on a new governor, Mike DeWine, and new leadership of the Ohio General Assembly.
This spring and summer, a fierce legislative battle took place over the latest scheme, known as HB6, which requires Ohioans to pay $900 million over six years to bail out FirstEnergy's nuclear plants, and another $500 million over ten years to bail out two 1950s-era coal plants owned by a consortium of utilities known as OVEC, one in Ohio and one in in Indiana.
Notably, the bill also effectively repeals Ohio's standards on energy efficiency and renewables.
HB6 pits coal and nuclear energy proponents from the beginning against the  natural gas and renewable industries. The chart here shows why the Ohio coal and nuclear interests are so worried, as they are swiftly continuing to lose their competitive edge to natural gas.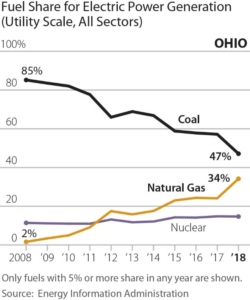 In late July, the Ohio General Assembly passed HB6 with only one vote more than the minimum required, and the governor quickly signed it into law.
That's not where this story should end. Ohio's constitution allows its citizens to collect signatures to place a referendum on the ballot for certain types of statutes, essentially allowing the public to vote a new law up or down.
It is important to note that signature requirements for a referendum are challenging to begin with — in this case, opponents of HB6 must collect more than 260,000 valid signatures in 90 days. That said, under normal conditions, a well-organized and well-funded signature drive can meet these parameters. The most recent use of the referendum was to overturn an attempt to limit collective bargaining laws in Ohio in 2011.
Opponents of HB6 began a referendum campaign as soon as the bill was signed into law. They must file the requisite signatures by Oct. 21, which is Monday. If the measure is certified for the November 2020 ballot, proponents of HB6 would have to somehow persuade Ohioans to vote "yes" on the bailout. This is a prospect FirstEnergy and its allies are in a frenzy to prevent. They  would very likely lose to a "no" vote simply because voters are naturally inclined to cast a ballot against a controversial issue rather than in favor of it.
For this reason, HB6 proponents are running a campaign the likes of which Ohio has never seen. Over the past two months, they have flooded airwaves and mailboxes with ads aimed at scaring people away from even signing a referendum petition. Frankly, the campaign is xenophobic and anti-democratic to its core. The ads include clearly racist "yellow peril" motifs showing Chinese troops on the march and falsely claim that if voters sign the petition, Beijing will gain access to Ohioans' personal information. The ads include sinister voices warning that "foreigners" are knocking on doors with petitions with the intent of gaining control of the state's energy supply.
The anti-referendum campaign is using unprecedented tactics in the streets, too, including the employment of counter-petitioners paid to stalk and intimate referendum petitioners. At least one instance of physical assault has been reported. HB6 proponents have used decoy petitions designed to draw both paid workers and signers away from the real, legally admissible petitions. They've also offered to buy up petitions and signatures to keep them from being further circulated and filed.
Just this week, FirstEnergy Solutions added a fresh last-ditch twist to the mix, threatening in bankruptcy court to close the nuclear plants if the referendum qualifies for the ballot, rather than submit to further scrutiny of its business practices in the year leading up to a November 2020 vote.
Collectively these tactics have poisoned the political atmosphere in Ohio and stunted the democratic process, reframing the mere act of collecting signatures as sinister and dangerous. Attorney General Dave Yost has received 22 complaints about anti-petitioner behavior and has rightly called for it to stop, noting that "this is not the way we do things in America."
Ohioans deserve a fair chance to vote on whether to reward FirstEnergy for its poor corporate decisions. If the company and its allies manage to kill the signature drive, they will have succeeded in a rank assault on the democratic process.
Sandy Buchanan is IEEFA's executive director and based in Cleveland.
RELATED ITEMS:
IEEFA update: Bailing out Ohio's nuclear and coal plants unnecessary for supply or rate stability

IEEFA Report: 'National Security' Argument for Saving 2 Power Plants Is a Red Herring Meant to Distract From an Ohio Valley Electric Bailout

Study Sees FirstEnergy Corp. Trying to Reverse Its Slide Through Regulatory Capture and Ratepayer Bailouts