Activists and experts from 33 countries strategize on how to accelerate the energy transition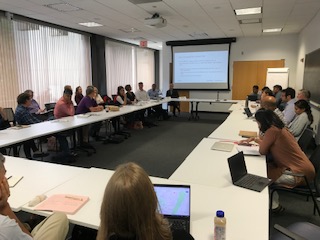 (NEW YORK) ̶ IEEFA's 2019 Energy Finance training brought together over 370 attendees from 33 countries to New York City June 17-19, to explore current energy trends, measure progress in transitioning to renewables, and suggest ways to accelerate the transition.
The conference drew experts from banking, insurance, asset management, legal, environmental and energy sectors as well as front-line activists, who offered insights, projections and action steps for creating policy and incentives that favor renewable over non-renewable energy sources.
The technology-led disruption of global energy markets is also being driven by the economic logic of renewables
Kicking off the conference, IEEFA director of research Tim Buckley said change was afoot: "Investors need to be aware of the magnitude of the technology-led disruption of global energy markets driven by climate change, energy security but also, the increasing affordability and economic logic of renewables."
Buckley said it was widely accepted that change was underway but that many observers and policymakers were unprepared for the pace of change.
On the same opening plenary panel, Kimiko Harata, international director of the Japanese environmentalist Kiko Network, said that in Japan, the cost of renewables was going down but not fast enough and that the government needed to reduce over-reliance on coal and natural gas. China and India were both contributing to new fossil fuel and coal plant construction as well as wider dissemination of renewable technology.
DURING THE SECOND PLENARY, IEEFA DIRECTOR OF FINANCE TOM SANZILLO EXPLAINED THE MANY FACTORS ACCOUNTING FOR FOSSIL FUEL'S FINANCIAL LOSING STREAK. He said there were six major trends in the oil and gas industry: 1) the oversupply of product due to fracking and the increasingly crowded field of competitor producers; 2) unreliable profits in a sector of high risk and low returns; 3) increased competition from new market entrants, like Russia, the U.S., and Canada; 4) the rapid advance of renewables; 5) fossil fuel's decreasing significance to the global economy; and 6) growing organized opposition.
"In other words, you can make a small fortune investing in fossil fuels, so long as you start with a large fortune," Sanzillo said.
"There is no room for expansion of fossil fuels in any 1.5 C-consistent scenario," said Tzeporah Berman, a prominent Canadian environmentalist and adjunct professor at York University echoing a recurring theme of the IEEFA conference.
Mine and plant closings offer employment for cleanup and remediation as well as installing and maintaining renewables
The fate of communities affected by coal mine and plant closures was another topic that surfaced at the conference. Nicole Horseherder, executive director of To Nizhoni Ani ("Water is Life"), described the situation on Navajo lands now that the Navajo Generating Station and Kayenta mine are closing. Horseherder cited the potential for renewables, particularly solar, as well as cleanup and remediation efforts, as generators of employment.
Kuba Gogolewski, leader of the Polish "Development YES – Open-Pit Mines NO" campaign, described a country where 30 percent of all energy still comes from lignite coal and where communities are seeking to prevent the building of a large new lignite mine "In the beginning, we approached it as a clean water issue, but now we're pushing for broader divestment," he said.
Adhityani (Dhitri) Putri, an energy policy researcher from Jakarta said Indonesia was the world's largest producer of coal. A coalition of 36 civil society groups joined forces to bring pressure on the government to adopt greener policies. One of the most effective tactics they used was "creativity," she said, citing the highly popular Sexy Killers (24 million views on YouTube) a documentary about coal in Indonesia, as an example of an effective use of art to influence public opinion.
IN KENYA, THE DE-COAL-ONISE CAMPAIGN IS TAKING A FOUR-PRONGED APPROACH: community mobilization, lobbying, litigation and communication, according to Omar Elmawi who leads the campaign. Very soon after the conference, a plan to place a new coal plant in Lamu, a World Heritage site, was blocked by an environmental tribunal, scoring a victory for the coalition.
Oil and gas encounter financial trouble
IEEFA financial analyst Kathy Hipple and Sightline Institute's Clark Williams-Derry confirmed that the fracking industry continues to bleed red ink, as noted in their recent IEEFA report. "Oil and gas have become a risky and speculative investment with booming production but disastrous financial results," said Hipple.
"In addition to flooding the market with cheap gas, the shale boom uses creative accounting practices, including overstating reserves, understating decline rates, underestimating cleanup costs, and using 'alternative' earnings measures," said Williams-Derry.
Plastics are by and large non-biodegradable with a longevity of 2,000 or more years.
In a session on the the petrochemical industry, Nick Fowler, owner of the Rextac polymers company, explained the value of natural gas liquids as feedstock in the production of plastics.  Producing plastics- which are by and  large non-biodegradable with a longevity of 2,000 or more years — requires enormous amounts of energy using temperatures of 1,500 degrees Fahrenheit (816 Celsius) in steam furnaces or crackers.
Puerto Rico's challenges delay transition
MEANWHILE, ADVOCATES FROM PUERTO RICO EXPLAINED THEIR EFFORTS TO PRESS FOR GREATER TRANSPARENCY FROM ELECTRIC UTILITY PREPA AND MORE INVESTMENTS IN RENEWABLES. They said they oppose ongoing attempts to privatize PREPA and pass a US$8.3-billion bond deal that would saddle island residents with decades of debt payments.
Ingrid Vila Biaggi, co-founder of CAMBIO, the Puerto Rican environmental organization that together with IEEFA is taking PREPA to court to discover more about the utility's plans, says time is of the essence. "Puerto Rico is still reeling from Hurricane Maria and the financial crisis that preceded it. We don't have billions of dollars to waste on legacy debt and paying for past mistakes."
Angel Figueroa Jaramillo, president of the UTIER electrical and irrigation workers union said his organization fully supported Puerto Rico's goal of 100 percent renewable energy by 2050.
The three-day conference concluded with a keynote from Bill McKibben, author and founder of 350.org, and rallying cries from John Hepburn (Sunrise Project) and Clara Vondrich (Divest Invest). Sandy Buchanan, IEEFA's executive director, thanked everyone in attendance, "now let's go out there and do what's required."
Vivienne Heston ([email protected]) is IEEFA's director of strategic communications.
Conference documents: Energy Finance 2019 agenda and speaker bios
Related items:
IEEFA annual conference 2019 draws global experts to track latest energy trends
Sightline/IEEFA update: U.S. fracking sector bleeds red ink in Q1
IEEFA India: Post-election, India must formalise energy reforms already long deliberated