Who will pay for cleanup and reclamation at sites in Ohio, Pennsylvania and West Virginia?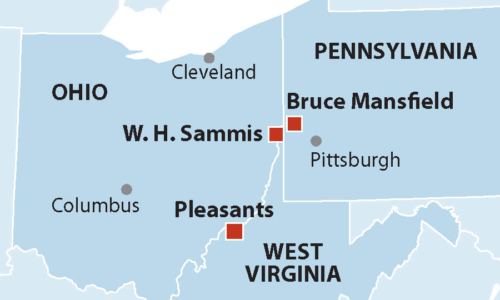 The overriding risk that remains from a federal court settlement this week around the FirstEnergy Solutions bankruptcy in Ohio is that taxpayers in three states will be left holding the bag on cleaning up after the company.
This is no small-ticket item.
It's impossible to say what it will cost to decommission and do the proper reclamation work on FirstEnergy Solutions' three coal-fired plants—one each in Ohio, Pennsylvania and West Virginia, and all of which are failing financially because they can no longer compete with cheaper forms of power generation. But it would most likely run into the hundreds of millions of dollars.
Under the terms of the settlement, which gives creditors $225 million in cash and $628 million in FirstEnergy Solutions promissory notes, nothing is set aside for cleanup—and it seems unlikely that those creditors, who were owed $2.1 billion, will spend the money for that.
As I detailed in testimony filed this week in the case, what's more likely, as it stands, is that 1) either the tab will be passed on to taxpayers or 2) the four sites in question will remain environmentally blighted.
Unanswered questions as to whether a big utility company will be held responsible for its environmental obligations.
A just outcome would have FirstEnergy Corp., the parent company of FirstEnergy Solutions, step up and pay for the mess it is leaving behind at the Bruce Mansfield plant outside Pittsburgh, the W.H. Sammis plant in eastern Ohio and the Pleasants Power plant in northern West Virginia.
All are facing imminent closure. FirstEnergy has announced already that Mansfield will be retired by June 1, 2021, Sammis in phases by 2022, and Pleasants at the end of this year.
The terms of the settlement don't place any restrictions requiring debtors to set aside and maintain any of the funds they receive through the settlement for decommissioning, cleanup or remediation of the plants. And FES debtors in any case are probably in no position to foot the bill, considering how much money they have lost with the company already.
Electricity-generation markets are undergoing radical change with the abundance since 2010 of cheap natural gas and the rise of zero-fuel-cost renewables wind, primarily wind and solar. All of the plants in question as a result have been uneconomic, producing large losses for FirstEnergy its creditors, a situation that is unlikely to change in the foreseeable future.
In any event, the actual costs of decommissioning and environmental cleanup and remediation are very plant-specific and highly uncertain, especially before detailed engineering and environmental studies of the Mansfield, Sammis and Pleasants coal plants have been conducted.  They depend on such factors as the volumes of the hazardous chemicals and wastes produced and left behind at each site, the volume of coal combustion residuals remaining site, whether there is a wet impoundment and whether there has been groundwater contamination.
AS I STATED IN MY TESTIMONY, DETAILED ENGINEERING AND ENVIRONMENTAL ANALYSIS OF EACH SITE IS REQUIRED before a reasonable estimate can be made of what it will cost to decommission and do the requisite cleanup and remediation. Often, as with power plant construction, the actual cost of the work may not be known until the project is started, or even completed.
But it should not be fobbed off onto taxpayers.
FirstEnergy Corp. came around very late to the realization that its core coal-fired and nuclear electricity-generation assets were fast-becoming uncompetitive, but that does not mean that the company is not responsible for its mistakes.
The company in its most recent annual report to investors acknowledged that it has missed the boat. An excerpt from its December 2017 10-K filing with the Securities and Exchange Commission is revealing:
"Based upon continued significantly low prices in the wholesale energy and capacity markets, peak demand for electricity and anemic demand forecasts along with the inability to obtain legislative or regulatory relief, FES' cash flow from operations may be insufficient to repay its indebtedness or trade payables in the near- and long-term. FES' near-term obligations and their impact to liquidity raise substantial doubt about FES' ability to meet its obligations as they come due over the next twelve months and, as such, its ability to continue as a going concern."
The company added this:
"FES will have many fewer customers to whom it will be selling electricity generated by its financially distressed coal plants and nuclear plants."
We said as much in a report we published four years ago that questioned the company's stubborn commitment to coal at a time when electricity markets were changing and when the shift to natural gas and renewables was gaining momentum.
FirstEnergy paid market trends no heed, however, which is why it is in the precarious position it is today but is no excuse for it to run away from its cleanup responsibilities at Mansfield, Pleasants, and Sammis — regardless of what those obligations cost.
Testimony in FirstEnergy Solutions bankruptcy
David Schlissel is IEEFA's director of resource planning analysis.
RELATED ITEMS:
IEEFA Ohio: FirstEnergy's Failures Require a Fierce Response From Civic Leaders and Elected Officials
IEEFA Update: In Ruling Against Another Bailout Scheme by FirstEnergy, FERC Strikes a Blow Worth Hundreds of Millions for Ratepayers
IEEFA West Virginia: If Power Plant Is So Valuable, Why Is FirstEnergy Seeking to Transfer All the Risk to Ratepayers?