State-owned oil interests hold back global progress on climate change
September 24, 2019 (IEEFA) – The recent bombings of Saudi Arabia's oilfields boosted energy stocks globally only to return to previous levels a few days later.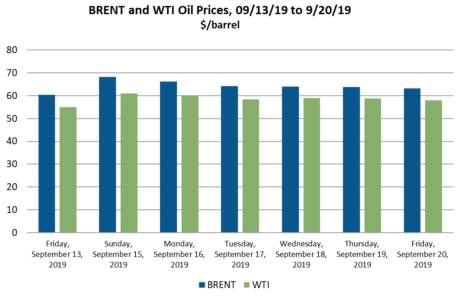 The fleeting jump in oil prices confirmed the over-abundance of supply as well as the need to reduce reliance on fossil fuels, according to a briefing note released today by the Institute for Energy Economics and Financial Analysis (IEEFA).
The note – Bombing Saudi Oilfields: The Risk to Collective Action on Climate Change from State-Owned Oil Interests – identifies three key takeaways from the bombings and their aftermath:
Current markets are oversupplied and likely to remain so for the foreseeable future.
The flow of oil and cash to governments is more important to political leaders than the flow of blood from armed conflict.
Consensus among oil producers to participate meaningfully in climate action is weak at best.
"The spike was temporary and only goes to show how glutted the market is," said Tom Sanzillo. "Consumer nations and private companies need to diversify their energy supplies to reduce price volatility and climate risk."
Brent prices were at $60 per barrel on Friday, September 13 before the bombing, rose to $68 by Monday, and reached $71 per barrel for a very short time. By Friday September 20, one week later, Brent prices had settled back down to the $64 per barrel range.
"Not a bad week for oil prices," said IEEFA financial analysts and co-author of the brief, Kathy Hipple, "Prices traded above $60 per barrel, and yet, in the stock market, the sector moved only from last place, to next to last place."
The industry news at the end of the week was business as usual – rig counts down, production rising, troubles in the Permian, oil field services hoping for new contracts, U.S. consumers expected to be hit by predatory gasoline price increases, and oil traders looking at the bombing in the past tense.
In addition, the analysts noted:
For armed conflict to have a substantial impact on supply and price, a conflagration would have to occur over a long period of time. Oil‑producing nations have preferred proxy skirmishes to avoid broad market disruptions.
Smaller and smaller amounts of market share will lead to greater offense being taken over slighter provocations.
The drive to stay committed to fossil fuels and opposed to collective action on climate change is tied to the political legitimacy of many ruling regimes in oil-producing countries.
"For cash‑poor, oil‑rich countries it is better to maintain demand at low prices than risk reduced consumption and political hostility from price hikes," says Sanzillo.
"Oil price spikes will ultimately lead consumers to find cheaper alternatives," says Hipple. "Renewable energy is gaining traction globally, and higher oil prices will accelerate this trend."
For investors looking at the energy sector and its leadership the message should be clear – 'run, don't walk away,' the note concludes.
Tom Sanzillo ([email protected]) is IEEFA's director of finance.
Kathy Hipple ([email protected]) is an IEEFA financial analyst.
Full briefing note: Bombing Saudi Oilfields: The Risk to Collective Action on Climate Change from State-Owned Oil Interests
Media Contact
Vivienne Heston ([email protected]) +1 (914) 439-8921
About IEEFA
The Institute for Energy Economics and Financial Analysis (IEEFA) conducts global research and analyses on financial and economic issues related to energy and the environment. The Institute's mission is to accelerate the transition to a diverse, sustainable and profitable energy economy.