Utility plan would provide significant benefits for Navajo Nation, Hopi Tribe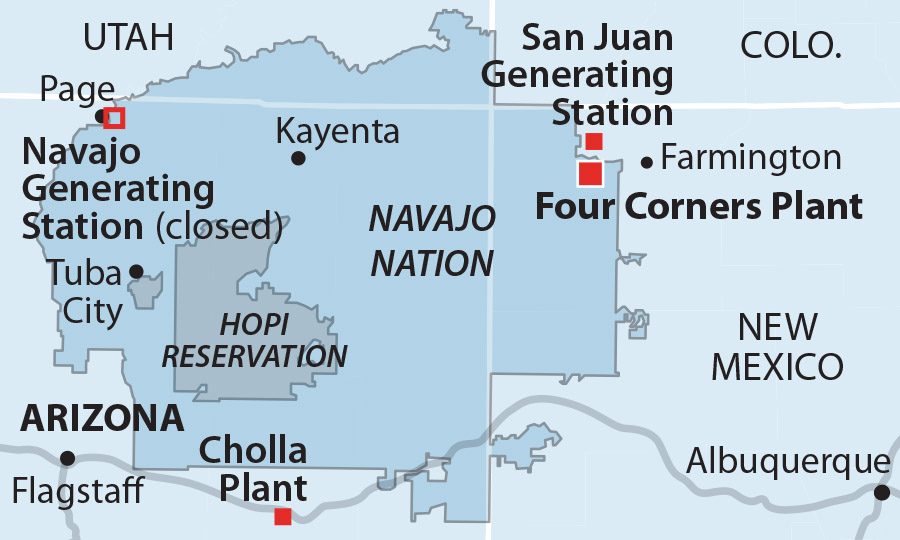 A coal community transition funding proposal pending before the Arizona Corporation Commission would provide much-needed financial support for the Navajo Nation, Hopi Tribe and other communities affected by the shift from coal to cleaner generation sources. The commission, which regulates electric utilities, should move quickly to approve it, especially given that two years already have elapsed since the closures of the Navajo Generating Station (NGS) and Kayenta mine.
The proposal is focused on the planned 2031 closure of the Four Corners coal plant that is majority owned by Arizona Public Service (APS). It would codify the need for utilities to plan for and support local communities affected by the transition from coal, as APS noted in its testimony:
"The strong economic foundation within APS's service territory, largely concentrated in Arizona's urban center, was fueled by electricity generated in the communities where APS's [coal community transition] support will be directed. This strong economic foundation in Arizona will help enable APS to transition from reliance upon coal-fired electricity generation to a carbon-free electricity future. APS firmly believes that this transition should not result in these rural communities being economically left behind as the coal-fired power plants in their communities close."
To facilitate the transition, APS is proposing a $144 million program that includes:
$100 million in direct financial support to the Navajo Nation, at $10 million annually over the next decade.

$10 million in funding to pay for electrifying homes and buildings on the Navajo Nation that are not connected to the grid.

$2.5 million annually in revenue sharing with the Navajo Nation for APS' transmission capacity on tribal land, beginning no later than 2031 and running through 2038, for a minimum of $17.5 million.

$250,000 annually for five years to assist the Navajo Nation with economic development efforts, starting several years before and extending several years after the final closure of the Four Corners Generating Station.

An agreement to extend free electric service to Navajo households within 2,000 feet of an APS distribution line.

At least $3.7 million to the Hopi Tribe and $12 million to communities near the Cholla power plant for transition support.

A commitment to buy power from 600 megawatts (MW) of renewable energy projects to be built in the Navajo Nation, with 250MW to come in the next two years.

Assistance to the Navajo Nation to acquire rights to roughly 10,000 acre-feet of water annually used in the operation of Four Corners Generating Station.
APS acknowledges that its proposal was "a direct response to transition funding proposed in this proceeding by intervening parties." The Navajo Nation, the Hopi Tribe and a number of organizations, including Díne C.A.R.E., Tó Nizhóní Ání, Black Mesa Trust and San Juan Citizens Alliance (collectively, the Citizen Groups) have been urging both the utility and the commission to act for years.
It is incumbent upon the commission to rapidly approve the proposal
APS deserves credit for developing a funding package and other provisions that are precedent-setting in size and scope. It should establish a template for future transition funding initiatives both in Arizona and across the country. Now, it is incumbent upon the commission to rapidly approve the proposal.
IEEFA has argued consistently in favor of transition funding and other measures for the Navajo Nation and the Hopi Tribe that have been hit the hardest by the closures of the NGS and the related mining facility at Kayenta. These communities also will be seriously affected by planned future plant closings at Four Corners and Cholla, among others. The APS proposal is a needed first step to ameliorate these impacts. 
The need for quick action is evident in IEEFA's latest research, which shows that just since March, the generating capacity of coal plants slated to retire or convert to gas from 2021-2030 has risen by 10 gigawatts (GW), to a total of 80.9GW—a 116% increase from March 2020, when utilities had only 37.4GW of coal capacity scheduled to close through 2030.
The change is equally pronounced for retirements from 2031-40. IEEFA data shows 35.3GW of coal capacity slated to retire in that decade, up sharply from the scheduled 19.4GW of retirements in March 2021 and almost triple the 13.7GW tracked in March 2020.
In other words, transition funding programs must be developed and put into place now, or many of the communities hosting the soon-to-be-retired coal plants are going to be left behind. 
Dennis Wamsted ([email protected]) is an IEEFA energy analyst.
Related items:
IEEFA U.S.: Where's the Beef? Enchant's San Juan Generating Station CCS Retrofit Remains Behind Schedule, Financially Unviable, May 2021
IEEFA U.S.: U.S. Power Sector Outlook 2021, March 2021
IEEFA U.S.: Virginia coal plant's future isn't bright: Preparation for transition should commence now, December 2020
IEEFA: Biggest Utility in New Mexico Moves Forcefully Toward Solar, October 2020
IEEFA U.S.: A Coalfield Reinvestment Formula for the Grand Canyon State, March 2020