Paringa Resources, Run by a Friend to the President, Aims to Add to an Oversupplied Market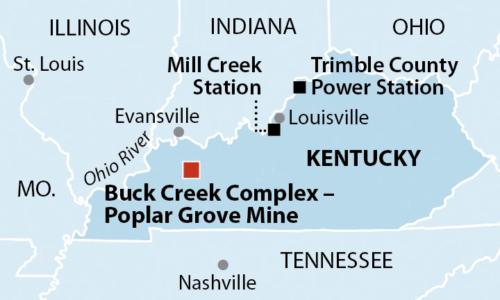 Word is that a new U.S. thermal coal mine—the first since the election of Donald Trump—will break ground in Kentucky in July. Paringa Resources Limited, based in Evansville, Ind., says it has raised enough money to start construction on the proposed Buck Creek Complex Poplar Grove Mine.
The company has announced also that it has hired Grant S. Quasha as CEO. Quasha is the former chief commercial officer of Kentucky-based Bowie Resource Partners, a struggling company created in 2013 with investments from Quasha's former employer, Trafigura Ltd.
Trafigura is an international commodities-trading firm based in Amsterdam that provided a cash infusion to Bowie this past April and—through a shake-up—gained greater management influence in a two-CEO arrangement in which one chief executive comes from within Bowie's ranks and the other represents Trafigura.
Trafigura's own bottom line has recently benefited from a number of lucrative deals with Rosneft, Russia's state-owned oil enterprise.
This is where it gets interesting.
Upon his appointment, Quasha praised "the pro-coal regulatory regime" of the new administration, acknowledging Trump by name. In cozying up so openly to the president, he called to mind the fact that his family has the requisite history of Trump dealings.
IEEFA QUESTIONED LAST YEAR WEATHER BOWIE WOULD BE ABLE TO DELIVER ON A PREVIOUS $400 million infusion from Trafigura, and whether the company could raise money independently. Perhaps not.
Quasha acknowledges that the new mine would be opening at a time when the market is already well supplied, and that part of his business strategy is to take market share away from other coal companies. He says that Poplar Grove will be able to compete because of its purportedly low costs, its use of equity financing, and the company's assumption that natural gas prices will rise by 25 percent from current levels, toward $4 mmbtu, making coal more attractive for electricity production.
Paringa has targeted 17 coal plants along the Ohio River as potential customers and says it wants to compete for growth in the Illinois coal basin. Quasha says utilities are looking for greater supply diversification in the wake of recent consolidations like that of Murray Energy and Foresight Energy.
He seems especially pleased that Paringa has a five-year contract to provide 4.75 million tons of coal to Louisville Gas and Electric. Among the utility's holdings are two large coal-fired power plants —Mill Creek Generating Station and Trimble County Generating Station—which buy 7 million tons of coal per year between them. Louisville Gas and Electric spreads its coal purchases among many mines in Illinois, Kentucky and West Virginia, having taken delivery over the past two years from mines owned by Arch Coal, Armstrong Coal, Alliance Resource Partners, Murray Energy, Peabody Energy, Rhino Resources and a number of smaller companies.
Paringa has scads of competitors, in other words.
Here's why we question its plans:
Paringa could indeed garner a competitive advantage from the highly flexible terms required by private equity investors. Trafigura has demonstrated a marvelous ability to kick the can down the road with Bowie Resources. Similarly, Gunvor Group, an international trading operation, has continued to support the Bull Mountain Mine in Montana even though the mine is in deep financial distress and even though one of its other owners, FirstEnergy, has written down the mine value to zero. (Gunvor has made no public disclosures on its view of the mine.)
Trump has touted new mines as a way to put mine workers back to work. This new mine may hire mine workers but it does so at the cost of weakening job security at some of the top (albeit financially distressed) coal companies in the nation.
As it happens, Trump is good friends with industry leaders Joe Craft of Alliance Resources Partners and Bob Murray of Murray Energy, who could lose business to Paringa.
This is where it gets more interesting.
The swamp grows crowded. What then?
Tom Sanzillo is IEEFA's director of finance.

RELATED POSTS:

IEEFA Report: Kayenta Mine Is Unlikely to Find New Customers Once Navajo Generating Station Closes
IEEFA Update: Two Sets of Data Tell the Same Tale: U.S. Coal Industry Continues to Shed Jobs
IEEFA Energy-Swamp Watch: Discord Within the Fossil-Fuel Industry Over What to Do Now