Japanese multinational's strategy is putting its global power business in jeopardy; Bigger and better opportunities in renewables
July 30, 2018 (IEEFA.org) —Japanese multinational Marubeni Corp.'s coal-fired power generation strategy has left the company dangerously exposed to rapid changes in global energy markets, concludes a report published today by the Institute for Energy Economics and Financial Analysis (IEEFA).
The company's renewable energy business, on the other hand, has the potential to drive profitability at Marubeni, one of Japan's biggest conglomerates.
The report — "Marubeni's Coal Problem: A Japanese Multinational's Power Business Is at Risk" — sees substantial global opportunity in renewable energy for Marubeni, especially in the fast-developing offshore wind markets of Taiwan and Japan and in the Middle East, where Marubeni already has a high-profile presence in solar voltaic power.
"That said, Marubeni's continued focus on the declining coal-fired power industry is creating needless reputational and financial risk," said Simon Nicholas, an IEEFA energy analyst and co-author of the report.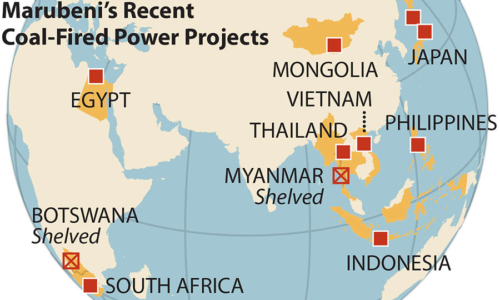 The report ranks Marubeni as the 11th-largest coal plant developer in the world by total planned coal plant expansion capcity (13.6 gigawatts (GW)). It is the leading Japanese coal plant developer, well ahead of Sumitomo (7.5 GW), J-Power (4.6 GW), TEPCO (4.6 GW) and Chugoku Electric Power Cop. (4.2 GW). Among other large Japanese conglomerates, by comparison, Mitsubishi has only 1 GW of coal-fired power expansion planned, and Mitsui has none.
Nicholas noted that analysts, broadly speaking, see trends favoring renewables.
"According to the International Energy Agency, renewables will capture two-thirds of total investment in generation capacity globally to 2040, with 160 GW of renewables installed per year compared to only 17 GW of coal-fired power installed per year," he said. "It is unwise to be on the wrong side of this trend and as coal becomes increasingly toxic in the eyes of investors, public opinion, and governments alike."
The report points out also that companies in the coal-fired power equipment sector that include GE, Siemens and Mitsubishi Heavy Industries have suffered serious financial consequences as a result of over-investment in thermal power.
Conversely, huge opportunities in renewable energy await Marubeni, and the company's substantial experience in that area leaves it poised to become a leader in the global energy transition.
"To succeed on this front, the company will need to abandon its strategically-challenged coal-fired power development business," Nicholas said.
The report notes that senior members of the Japanese government are questioning national  support for a both a domestic coal-fired power-build out and Japanese overseas activity that fails to meet expectations for action on carbon emissions.
"Japanese banks, insurers, and investors are joining global financial institutions in turning away from the coal industry as it confronts massive technological disruption caused by cheap renewable energy," Nicholas said. "Dai-Ichi Life and Nippon Life have added their names to a significant and growing list of insurers including Allianz, Zurich, Swiss Re and Axa that are distancing themselves from coal."
The report sees the trend as having special significance to Marubeni, since both Dai-Ichi and Nippon Life were among the top 10 lenders to the company as of March 31.
Among the many specifics working against Marubeni's coal-fired power business:

Increasing pressure on the Japanese government—internally and externally—to end its support for coal-fired power.
Growing criticism of Japanese export credit and development agencies for their support of coal-fired power in foreign markets.
Rising calls among global investors for action to significantly reduce carbon emissions.
A trend among global and Japanese banks alike—and among Japanese trading houses—to turn away from coal.
The growing expense and relative scarcity of insurance for coal-fired power plants.
Significant inroads by renewable energy in all of the power markets where Marubeni is planning or building coal-fired power plants, including Egypt, Indonesia and Vietnam.
Mounting public opposition to Marubeni coal-fired power projects across Asia and Africa, including in Indonesia, South Africa, and Vietnam.
Full report: "Marubeni's Coal Problem: A Japanese Multinational's Power Business Is at Risk"
Japanese translation of this press release.
Media contacts:
(Australia) Tim Buckley, Australia [email protected] +61 40 810 2127 or Simon Nicholas, [email protected] +61 405 831 614
(Asia)  James Lorenz [email protected] (WhatsApp) +61 400 376 021
(U.S.) Karl Cates, [email protected], +1 917 439 8225
About IEEFA:The Institute for Energy Economics and Financial Analysis (IEEFA) conducts global research and analyses on financial and economic issues related to energy and the environment. The Institute's mission is to accelerate the transition to a diverse, sustainable and profitable energy economy.