That Much-Cited Famous Mackenzie Analysis? Never Mind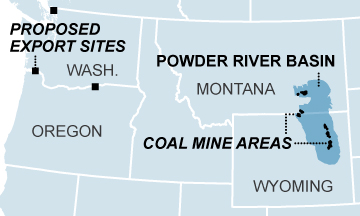 It was for good reason that Wood Mackenzie made headlines earlier this week when it reversed course on the viability of U.S. coal-export expansion.
Wood Mackenzie analysts had long been bullish on the prospects for Powder River Basin coal producers finding markets abroad through port-expansion proposals in the northwest U.S.  The Wood Mackenzie spiel, off base though it was, was trotted out time and again by almost every port developer or coal miner looking to increase exports.
The Wood Mackenzie had been that the U.S. would be exporting 500 million tons of coal by 2030, a huge increase over current numbers and a projection that gave the industry an enormously effective propaganda line (U.S. coal exports peaked in 2012 at 125.7 million metric tons.) We have shown that buildout of facilities like those proposed in the Gateway project at Cherry Point in Whatcom County, Wash., and the Millennium bulk terminal project at Longview in Cowlitz County makes no economic sense. Proponents have responded to our findings by pointing to Wood Mackenzie's numbers.
Now, Wood Mackenzie, whose course reversal we posted here a couple of days ago, is echoing what skeptics of the coal-port expansions in the Northwest have been saying all along. Independent analysts, it seems, have been either better informed or more willing to state the truth than analysts paid by the coal industry and the banks and investment houses that abet misguided coal-production expansion schemes.
AT ANY RATE, THIS RETREAT IS A BLOW TO COAL PRODUCERS, SINCE WOOD MACKENZIE WAS THE ONLY INDUSTRY CONSULTANT that had been so stubbornly bullish on West Coast exports. 
Indications are that they still think a coal-export expansion at the Port of Oakland works. Our analysis of that deal—constructed around a company called Bowie Natural Resources that is sustained by murky financing that raise more questions than answers—is that there's no reason to believe it's viable either.
All the project-by-project detail aside, the bigger picture is that global thermal coal market is in deep structural decline, regardless of what coal companies want to admit. U.S. producers look desperately to China, then to smaller markets—Korea, Japan, and Vietnam. And none of it is panning out.
Note also that one of the triggers for Wood Mackenzie changing its mind is the recent bankruptcy of Arch Coal, the second-biggest U.S. coal company (Peabody is the biggest, and it is teetering on bankruptcy as well). Arch a few years ago moved to focus on selling coal outside the U.S., and its failure since then is rooted ultimately in the demise of export markets.
The Wood Mackenzie turnabout is also suggestive of waning demand for coal exports on the East Coast and the Gulf Coast.

Tom Sanzillo is IEEFA's director of finance.