New Coal Mine Makes Even Less Sense than It Did Last Year; Hume Will Find it Hard to Compete with Higher-Quality Coking Coal
Despite the significant increase in coking coal prices that began in late 2016, the proposed Hume Coal project in the Southern Highlands of New South Wales seems no more likely to proceed now than it did when IEEFA reviewed it ten months ago.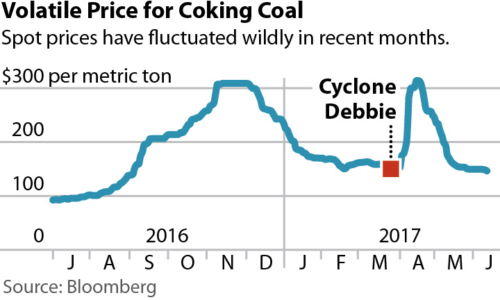 Hume Coal, a subsidiary of South Korea's largest steel maker POSCO, has promoted the new mine as a producer of coking coal. The developer would have hoped to take advantage of higher prices after the spikes in coking coal prices that occurred over the past year, caused by curbs in domestic coal production in China and a cyclone that tamped down production in Queensland, Australia.  But prices are now starting to moderate.
This month, IEEFA submitted a review, entitled "Hume Coal Update 2017:  Superior Alternatives are Available," to the New South Wales Department of Planning and Environment as part of the Environmental Impact Statement process.
Our original assessment of the project in August 2016 had assumed the mine would produce 80 percent coking coal and 20 percent thermal coal. But our recent review found that the project plans to produce 46 percent thermal coal – more than twice as high as our original estimates.  The thermal coal would be a low-quality product with high ash content.
This product split of the proposal exposes Hume Coal to the long-term decline in global thermal coal markets. Meanwhile, coking coal is forecast to see further price declines as world production increases, along with the prospect of declining demand in China.
Hume's coking coal product—which would be about 54 percent of its output — would be inferior to the higher-quality hard-coking coal produced at other mining operations in the Southern Coalfield. This lower-quality semi-hard coking coal would attract a lower price than its competitors, further eroding the financial viability of the proposal.
IEEFA's modelling, based on publicly disclosed information in the project Environmental Impact Statement and associated economic study, finds that the project has a negative net present value (NPV) of -A$344m, despite highly conservative capital expenditure assumptions.
UNDER THESE CIRCUMSTANCES IT IS DIFFICULT TO SEE PROCEEDING. Additionally, with no profits to tax, the proposal's economic contribution as laid out in the economic study seems highly questionable. The assumption of zero debt funding in the economic study also seems improbable—more likely, debt funding will result in interest deductions and lower taxable profits (if any).
It is possible that Hume Coal may seek to change the mine plan after approval is obtained. Hume may be able to increase the coal recovery rate beyond the current figure of around 35 percent if it moves away from the proposed pine-feather mining method. This would have an impact on the mine's financial viability.
However, with mining operations being subject to increasing public scrutiny and opposition, any attempt to move away from an approved plan is likely to open the proposal to further controversy, delay, complication and financial risk.
Meanwhile, the ongoing development proposal process is being overtaken by events back in POSCO's home nation of South Korea.
New president Moon Jae-in has initiated strong policy reforms to permanently lower the country's reliance on imported coal amid increasing concerns about emissions and pollution. Investment in a high-cost greenfield mine that produces such a high percentage of thermal coal would appear to be in conflict with this policy change.
Although the proposal may have seemed financially attractive at the beginning of the development process when coal prices were significantly higher, the energy markets of South Korea and the world are changing rapidly. This coal project proposal seems to have been left behind in a similar way to those of Adani and GVK in the Galilee Basin, Shenhua's Watermark, and Lanco Infratech's now insolvent WA Griffin coal project.
Given the financial risks and cost associated with the development of a greenfield mine project, it would seem prudent for POSCO to consider the alternative to developing the greenfield Hume proposal: the purchase of an existing, operating coking coal mine.
As a way to bypass strong community opposition and impossible-to-quantify water risks of the Hume proposal, this alternative is also likely to prove to be faster, simpler and better financial value.
Obvious targets for acquisition include Glencore's Tahmoor operation and Peabody's Metropolitan mine. Both are located within the same Southern Coalfield as Hume and have a similar level of output as the Hume proposal.
In addition, as producers of hard coking coal with relatively little thermal coal, both produce a higher-quality product for a significantly smaller investment than is required to develop Hume.
With additional coking coal operations also available in Queensland, acquisition appears to be a shrewder path forward than new development.
Simon Nicholas is an IEEFA energy finance analyst.
Related posts:
IEEFA Australia: The POSCO Hume Coal Project Has Little Chance of Proceeding
IEEFA Update: An Increasingly Cursed Australian Coal Project