Outdated Policy in Japan, the Philippines, South Korea, Thailand, and Vietnam
The rise in the international spot price of thermal coal over the past 12 months may have put smiles on the faces of a handful of coal-exporter CEOs, but for importing nations that include Japan, the Philippines, Thailand, South Korea, and Vietnam, the trend risks putting a multibillion-dollar dent in current accounts.
Since the beginning of 2016, the price of internationally traded thermal coal, based on the Newcastle benchmark, has doubled from about US$50 a ton to just under $100 a ton.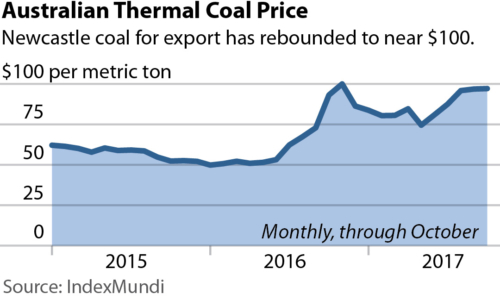 To take the case of Vietnam, the country imported a net 12 million metric tons of coal in 2016, up 131 percent from 5.2 million tons in 2015. If the International Energy Agency (IEA) Mid-Term Outlook 2017 is to be believed, this number will increase to 35 million tons per annum (Mtpa) by 2021. This will leave the country spending an additional $1.27 billion every year on importing foreign coal by 2021.
The IEA traditionally overinflates coal-growth projections. Even so, the outlook highlights the fiscal risk inherent in expanding domestic coal power plants fleets reliant on imports. What's more, the inflationary nature of imported coal is dangerous for rapidly growing economies like Vietnam's.
India has already recognized the huge risk in relying on imported coal, with Coal Minister Piyush Goyal repeatedly pledging to end coal imports and with the government moving to ramp up the development of domestic renewable energy.
The result in India has been a wave of record-breaking deals for solar, which remarkably is now cheaper than even abundant domestic coal. On the back of a doubling of renewable-energy installation activity in 2016-17, India's solar and wind tariffs have both fallen by nearly 50 percent since the start of 2016 to set wholesale electricity tariff records of as little as $38 per megawatt-hour. With price reductions consistently hitting 10 percent per year, renewable energy—in stark contrast to coal-powered electricity—is deflationary.
South Korea is also wising up as the world's fourth-largest importer of coal, a ranking that makes it particularly sensitive to both coal-power pollution and price fluctuations. With the IEA forecasting 102Mtpa of imports to South Korea by 2021, a doubling of the coal price would result in an additional $5 billion of expenditure per year.
A fire sale in which China, Japan and South Korea angle to offload old technology before it becomes obsolete or politically unacceptable.
This has sharpened minds in Seoul, and the recently elected government has taken steps this year to cancel proposed new power stations fueled by imported coal and to close highly polluting, end-of-life coal plants. The country has now embarked on an ambitious renewable-energy expansion with the target for a tenfold increase, to 40-60 gigawatts, of wind and solar infrastructure investments by 2030.
IRONICALLY, EVEN AS COUNTRIES LIKE SOUTH KOREA AND CHINA MOVE TO PHASE down reliance on coal, their domestic coal-plant manufacturers are trying to find  external markets as their own decline.
There is in effect a fire sale with China, Japan and South Korea angling to offload old technology before it becomes completely obsolete and politically unacceptable in target markets.
Lured by cheap finance subsidized by the export credit agencies of China, Japan and South Korea, some Southeast Asian countries are coming to the table.
Only last week, the government of Vietnam signed a $2.5 billion deal to build the Nghi Son II coal power plant, largely funded and constructed by Japan and South Korea. What's more, significant coal-development pipelines remain active in other Asian nations including the Philippines, Indonesia, Bangladesh, Pakistan and to a lesser extent Thailand.
These countries clearly need new power-generation capacity, but locking themselves into 40-year power plants fueled by imported coal is a path to inflation, current-account pressures, pollution and expensive, inflexible electricity supplies.
For countries experiencing significant sustained economic growth, diversifying the electricity-sector generation base to incorporate more alternative sources of domestic supply, namely renewable-energy infrastructure, is imperative.
The good news is that the burgeoning global green bond market is making international capital increasingly available for countries willing to set a clear policy direction toward transition. Embracing global trends in energy investment is one sure way to lock in deflationary energy-sector support for more sustainable economic growth.
Tim Buckley is IEEFA's director of energy finance studies, Australasia.
 RELATED ITEMS:
IEEFA Asia: As India Moves, Europe Follows
IEEFA Op-Ed: The World Is Watching as the Biggest Utility in the Second Most Populous Country Shifts Gears