Global coal price hikes can become Indonesia's pivot point to take lead in G20 presidency
23 August (IEEFA Asia): The opportunity to accelerate the energy transition for Indonesian coal companies is ripe, says Ghee Peh, an energy finance analyst at IEEFA. His new report analyses eight Indonesian coal companies, all of which have in their 2021 and 1Q22 operations, taken advantage of the historically high coal prices.
The first quarter profits and cashflows in 2022 for all Indonesian coal companies have been at new highs, which could accelerate a more radical shift to divest from any new mines and fulfil long-term climate commitments, according to Peh.
"It's high time to consider an equitable and sustainable spending of the US$6.8 billion with Indonesia's G20 presidency in 2022," adds Peh."The US$6.8 billion cash balance of the Indonesian coal companies at the end of 1Q22 could help repay financial debt and speed up the phase-out for the clean transition."
"In the event that there is conflict resolution, coupled with the EU's commitment to decarbonize, coal prices are likely to normalize from current levels longer term. Coal companies should not miss the opportunity now to diversify away from coal before the cost to transition gets higher."
As countries stop purchasing Russian coal amidst the Russia-Ukraine conflict, phasing out Russian coal imports effectively removes 18% of the global coal supply. IEEFA has found that Indonesian coal companies have benefited from the surge in coal prices at an average price of US$92/tonne for 1Q22, which is 29% higher than the average price realized in FY2021.
Global coal prices are likely to stay elevated due to the change in trade flows arising from the Russia-Ukraine conflict. While Japan, Korea and Taiwan start to phase out Russian coal imports in 2H22, coal will be sourced from countries further away, including Indonesia and Australia.
"Shipping routes to North Asia will become longer from Australia and Indonesia, compared to Russia. Also, India buying more coal from Russia will result in delays to shipping routes as Indonesia is closer," says Peh.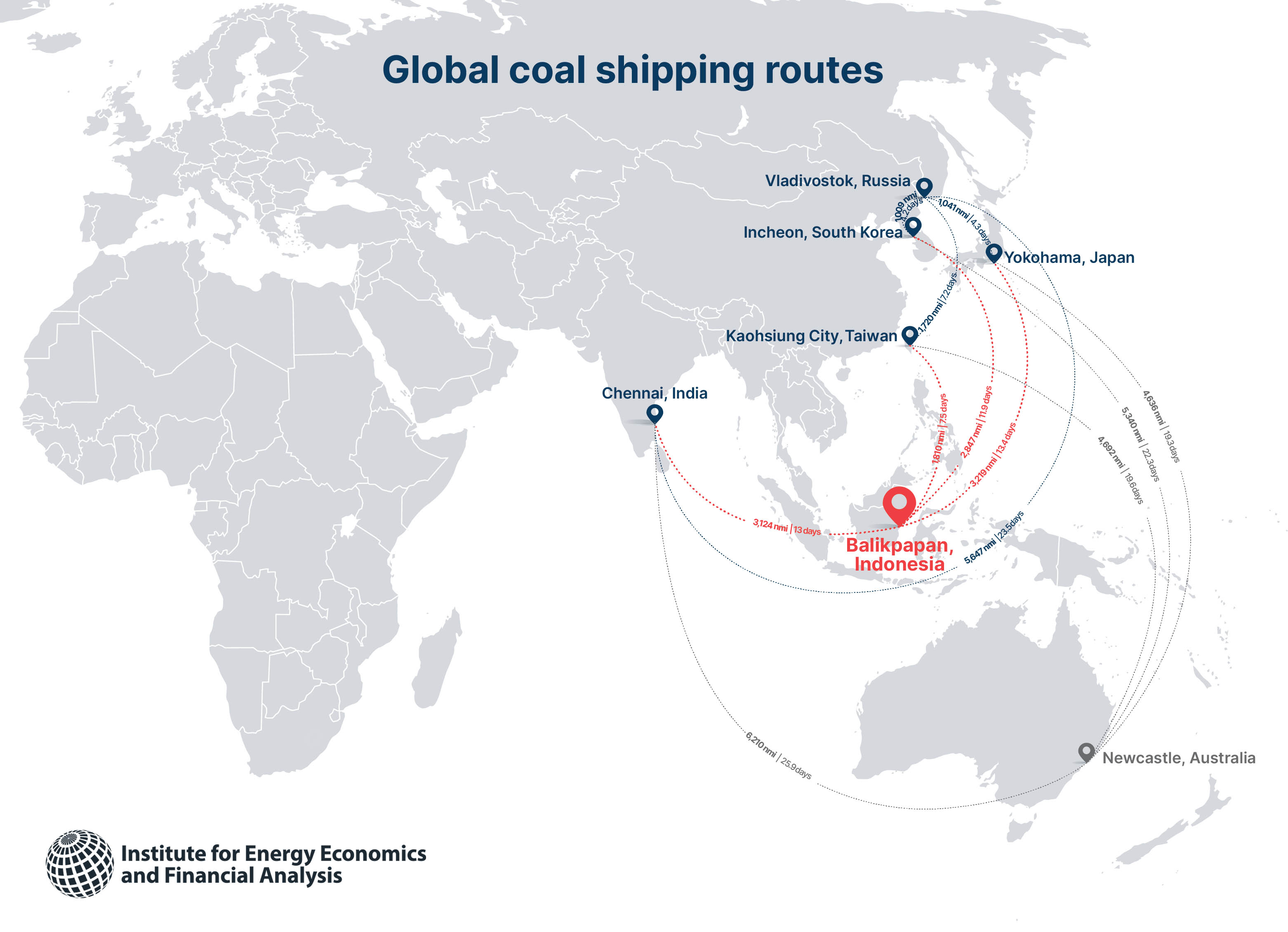 Strong cash balance and relatively low capex
For 1Q22, the total coal sales volume of the eight Indonesian coal companies was 25% of FY2021 levels. While the Indonesian export ban has helped to keep sales volumes down, this also means that these companies have not significantly boosted production capacity.
The eight companies are also financially strong, with high profits and operating cashflows in 1Q22.
"Apart from their low debt and high cash levels, their capex plans have been modest with no large coal capacity planned. Indika Energy, a coal mining group has proposed plans transitioning to renewable energy," says Peh.
These companies have also further lowered their debt levels, incrementally since 2020. The total combined debt position declined from US$4.1bn in FY20 to US$3.7bn for 1Q22. Two companies Bayan Resources and Geo Energy Resources have reduced their debt to zero.
"This financially conservative strategy makes sense in light of an increasing number of financial institutions withdrawing from financing new coal projects," says Peh.
The eight companies have only invested 15% of their combined cash balance in capex for 2020 and less than 10% for 2021. In 2021, the eight coal companies' combined capex was US$624m. Most of the capex was on infrastructure such as roads and machinery.
Opportunities for transition
Based on their capex for 2021, IEEFA finds that most of the eight companies invested in infrastructure and other types of businesses, with the exception of ABM Investama and PTBA (Tambang Batubara Bukit Asam), which focused on new coal-related projects.
"We find that ABM Investama is boosting higher coal volumes with plans to acquire a new coal mine, while PTBA is outlining plans for the downstream coal DME (dimethyl ether) plant," says Peh, author of previous reports focused on the DME project. "The financial justification for the DME project is tenuous at best."
Indika Energy, however, has sold its coal contracting arm. The company is aiming for US$32m capex in its gold project, and holds a 51% stake (US$21m) in its solar power company, Empat Mitra Indika Tenaga Surya (EMITS), a joint venture with Fourth Partner Energy.
"While Indonesian coal companies have become one of the biggest beneficiaries of coal price hikes, we recommend further coal divestment and transition acceleration out of the high realized coal prices, net profits and operating cashflows for 2021 and 1Q22."
From April 11, the Indonesian government has also imposed a progressive coal royalty rate based on Indonesia thermal coal's benchmark price, known as the Harga Batubara Acuan (HBA).
According to the Ministry of Energy of Mineral Resources, the new high royalty rate of 28% applies when the coal benchmark price is over US$100/tonne. The average HBA price for Jan-May 2022 is now at US$222/tonne, so the new higher royalty rates will apply.
"The new royalty scheme of 14-28%, higher than the previous 13.5%, is likely to discourage new coal capacity investment further," says Peh.
"Together with their combined US$6.8 billion cash balance, the time is ripe for Indonesian coal companies to accelerate their transition."
Read this press release in Bahasa Indonesia: Dengan saldo kas sebesar AS$6,8 miliar, perusahaan batu bara Indonesia memiliki kesempatan emas untuk berinvestasi ke transisi hijau
Read the report: High Coal Prices Could Boost Indonesia's Energy Transition
Report contact:
Ghee Peh ([email protected])
Media contact:
Alex Yu ([email protected]) Ph: +852 9614 1051
About the author:
Financial Analyst Ghee Peh has worked in investment research since 1995, including at Jefferies, BNP Paribas, and UBS. He has covered Asian coal, cement, and metal companies.
About IEEFA:
The Institute for Energy Economics and Financial Analysis (IEEFA) examines issues related to energy markets, trends and policies. The Institute's mission is to accelerate the transition to a diverse, sustainable and profitable energy economy. (www.ieefa.org)