Electricity Companies in the Lone Star State Have Changed Fuel Preferences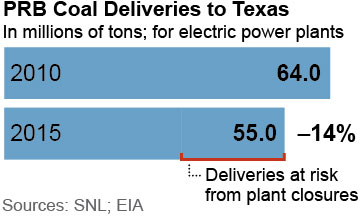 As Powder River Basin coal producers try to work their way out of bankruptcy they are waging an uphill battle against a market that continues to decline internationally, nationally, and regionally.
Nowhere is this conundrum better illustrated than in what's happening in the power-generation industry over a thousand miles away in Texas, which burns more PRB coal than any other state.
Power-plant operators in the Lone Star State curtailed purchases of Powder River Basin coal by 48 percent in the first five months of this year compared to the first five months of 2015 (the Energy Information Administration on Monday released the latest figures, which run through May). This drop is precipitous, to say the least, and punctuates a substantial decline in Texas demand for PRB coal that appears to be gaining momentum. Sales of PRB coal to Texas declined by 14 percent from 2010 to 2015, and the potential—even likely—loss of an additional 40 percent of PRB sales to Texas this year will likely keep downward pressure on prices and will increase pressure for coal companies to close PRB mines.
We've detailed this relationship in a paper we published today ("Texas' Outsize Role in the Decline of the Powder River Basin Coal Industry") that shows how plant-by-plant numbers in Texas are affecting specific mines in the Powder River Basin (this is the first in a series of papers by IEEFA on changes in the Texas electricity market).
All PRB producers are feeling the pinch, including Alpha Natural Resources, Arch Coal, and Peabody Energy, all of which are in bankruptcy, and Cloud Peak Energy, which has not filed for bankruptcy but is showing signs of deep financial distress.
Some specifics from our research:
The hardest-hit PRB mines are those that produce PRB 8400. Texas consumption of this coal dropped by 29 percent from 2010 through 2015 and continues to fall. Peabody's Caballo and Rawhide mines lost 20 percent of their Texas business. Cloud Peak's Cordero mine has lost 50 percent of its business, and a smaller producer, Western Fuel Associations, has lost 100 percent of its Dry Fork mine business.

Spot PRB coal prices for both 8400 Btu and 8800 Btu coal are at their lowest ever: $7.15 and $9.60 per ton, respectively, and current spot prices do not cover the cost of production for any PRB producer.

Contract prices for PRB coal, while higher than spot prices, are producing at best modest, unsustainable operating margins for PRB coal producers.
OVERALL, WE SEE TEXAS DEMAND FOR PRB COAL CONTINUING TO FALL, AND TO FALL FURTHER THAN WIDELY ACKNOWLEDGED as the state replaces its aging coal fleet with wind- and natural-gas-powered generation and as it develops a robust pipeline of solar energy projects.
This trend is part of a larger national pattern in which coal-fired power has lost a significant share of the U.S. electricity-generation market over the past decade, going from 51 percent in 2007 to 33 percent today.
Texas is important, of course, not only for its size but for its stature—as a national leader in energy policy and energy development. As the state continues to turn its electricity grid into a model for renewable energy and as a proving ground that shows the affordability, reliability and abundance of alternatives to coal, it will most likely continue to serve as an example others will follow.
And as more coal-fired plants in the Lone Star State face financial distress,  Powder River Basin coal producers will lose more business, complicating how these companies will emerge from bankruptcy and raising questions about whether they can honor reorganization promises to investors, regulators and the public. 
Tom Sanzillo is IEEFA's director of finance. 
RELATED POSTS:
A Top Industry Advisor, Long Singing the Coal-Export Anthem, Follows a New Tune
Wyoming's Coal Miners Are Worthy of Better

The Federal Government's Coal-Leasing Program Is Broken: Here's How to Fix It