Diversifying away from Russian gas has become Europe's top priority following the outbreak of the war in Ukraine. However, two liquefied natural gas (LNG) terminals sitting thousands of kilometres apart, El Musel in Spain and Zeebruggee in Belgium, tell the story of how a lack of coordination across EU member states continues to benefit Russian gas exports at the expense of European consumers.
The EU is betting on efficiency measures and increased LNG imports from non-Russian sources as part of a strategy to cut its dependence on Russian gas by at least 155 billion cubic metres (bcm) well before 2030. Additional LNG volumes will be handled via Europe's vast infrastructure network, which consists of 29 operational LNG terminals, 33 LNG import terminal projects that are currently under construction or in the planning stage, and one that has been mothballed.
The case of El Musel and Zeebrugge suggests that increased coordination among member states is needed to handle LNG volumes promptly and efficiently, and to avoid incurring unnecessary costs for the construction and maintenance of redundant gas infrastructure.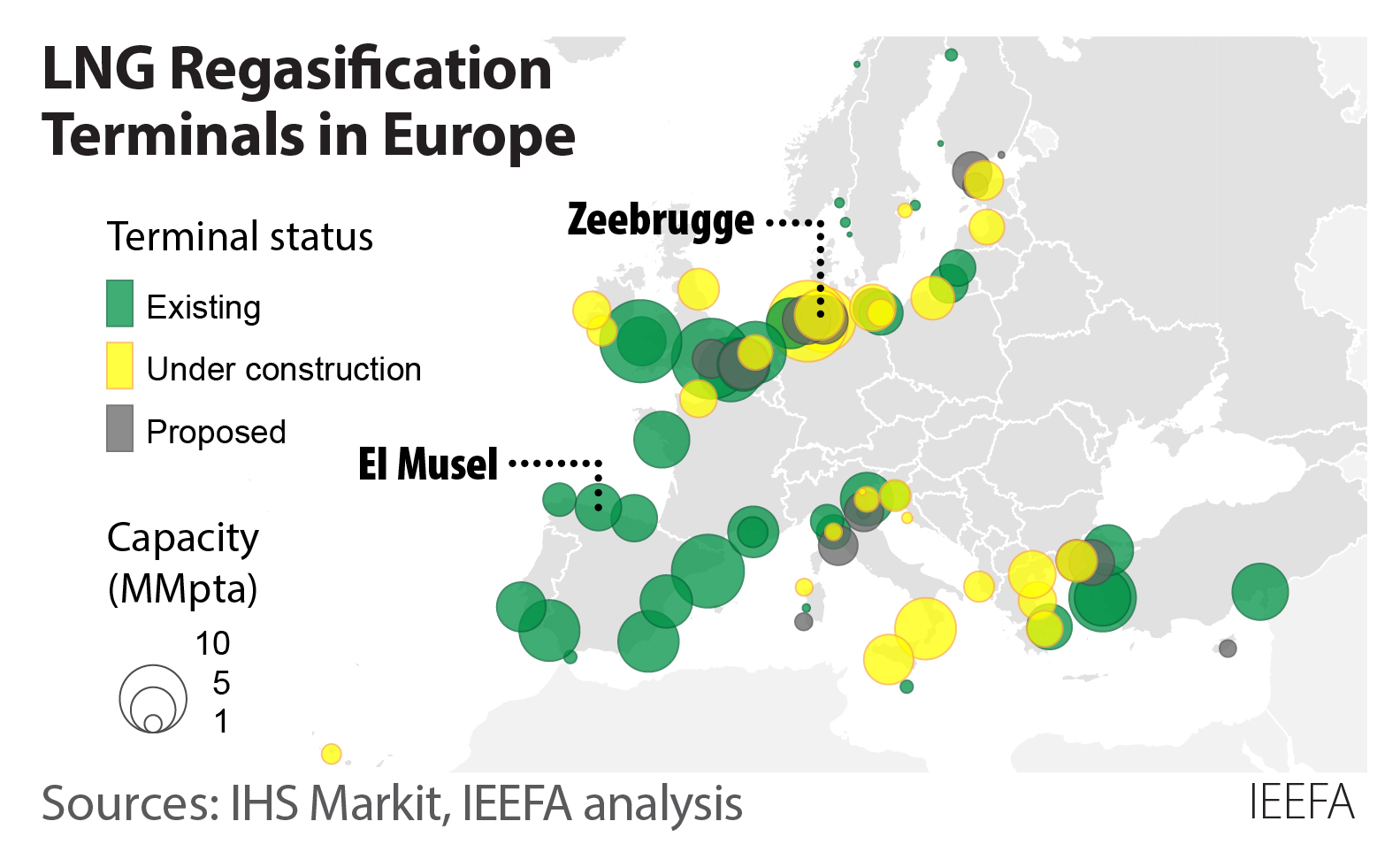 El Musel LNG Terminal
El Musel LNG Terminal in Asturias, Spain, has the capacity to store 300,000 cubic metres (cbm) of LNG, divided into two tanks of 150,000 cbm each. The terminal was completed in 2013 and was immediately mothballed due to lack of gas demand. Over the course of almost 10 years, Enagás, Spain's monopoly gas transmission system operator (TSO), has been receiving an annual fee for maintaining El Musel, so that the terminal could be swiftly brought into service if required. Since 2021, the revenue allowed has been €24.9 million per year.
In April 2022, the Spanish government announced plans to re-open El Musel and help ease Europe's energy crunch. The terminal is expected to receive LNG cargoes and store the LNG for re-export to other countries in Europe, mainly Germany, without entering Spain's gas network. In July 2022, Enagás received an administrative authorisation from the Ministry for the Ecological Transition and the Demographic Challenge to activate the terminal. El Musel is set to become operational in early 2023, with the first tank expected to come into service in January and the second one in March.
Bringing a plant into operation that has been mothballed since 2013 will require significant investment. However, neither Enagás nor the Spanish regulator Comisión Nacional de los Mercados y la Competencia (CNMC) have disclosed how much it will cost to reactivate El Musel.
El Musel constitutes Spain's only mothballed LNG terminal. There are six terminals that are currently in operation: Barcelona, Huelva, Cartagena, Bilbao, Segunto, and Mugardos. Their total combined LNG storage capacity is 3,371,000 cbm LNG. All six terminals in Spain have continued receiving Russian LNG in 2022.
Over the last 2.5 years, the utilisation rate of the LNG storage tanks in Spain has been around 50%, peaking to 77% in October 2021 and 72% in June 2022. This shows Spain still has storage available in its operational LNG terminals, and it calls into question the wisdom of reactivating a mothballed terminal mainly due to its storage capacity when there is available LNG storage capacity elsewhere.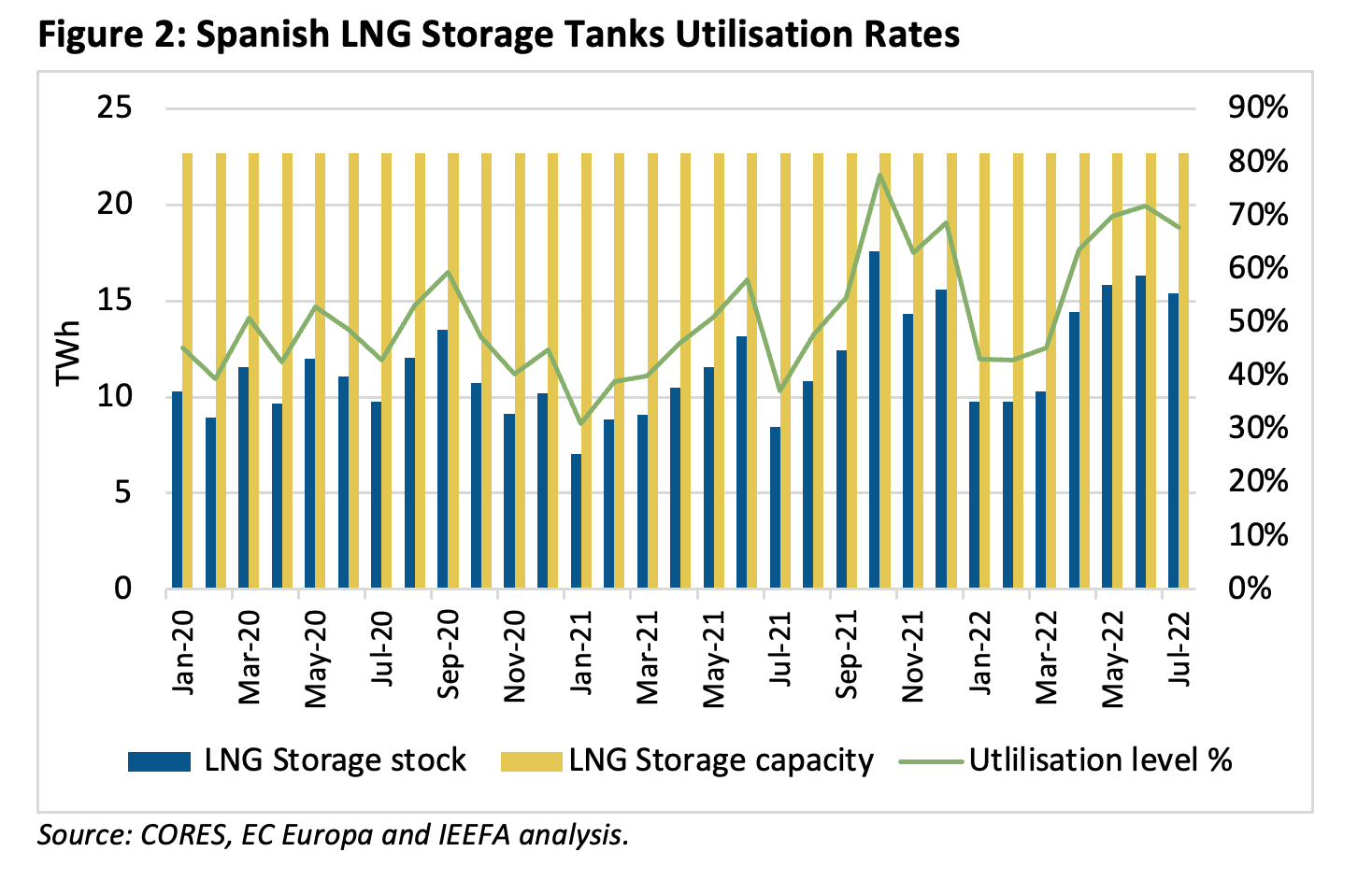 A recent IEEFA report has highlighted that Enagas' strategy might be driven by remunerative motivations rather than technical system needs. The company continues to bet on a stream of underutilised gas infrastructure projects to secure revenues, leaving Spanish consumers with some of the highest energy bills in Europe.
Zeebrugge LNG Terminal
As detailed in a previous IEEFA report, gas pipeline operator Fluxys Belgium invested €91.3 million in infrastructure projects in 2019. Almost 80% was spent on LNG infrastructure projects, mainly on the construction of a fifth LNG storage tank at the Zeebrugge LNG terminal serving the 20-year transshipment contract with Yamal LNG, whose shareholders are Novatek (Russia), TotalEnergies (France), China National Petroleum Corporation, and the Silk Road Fund (China). LNG transported by icebreaker LNG carriers from the production terminal in Sabetta in Yamal is transhipped to conventional LNG carriers at Zeebrugge to be sent to other markets.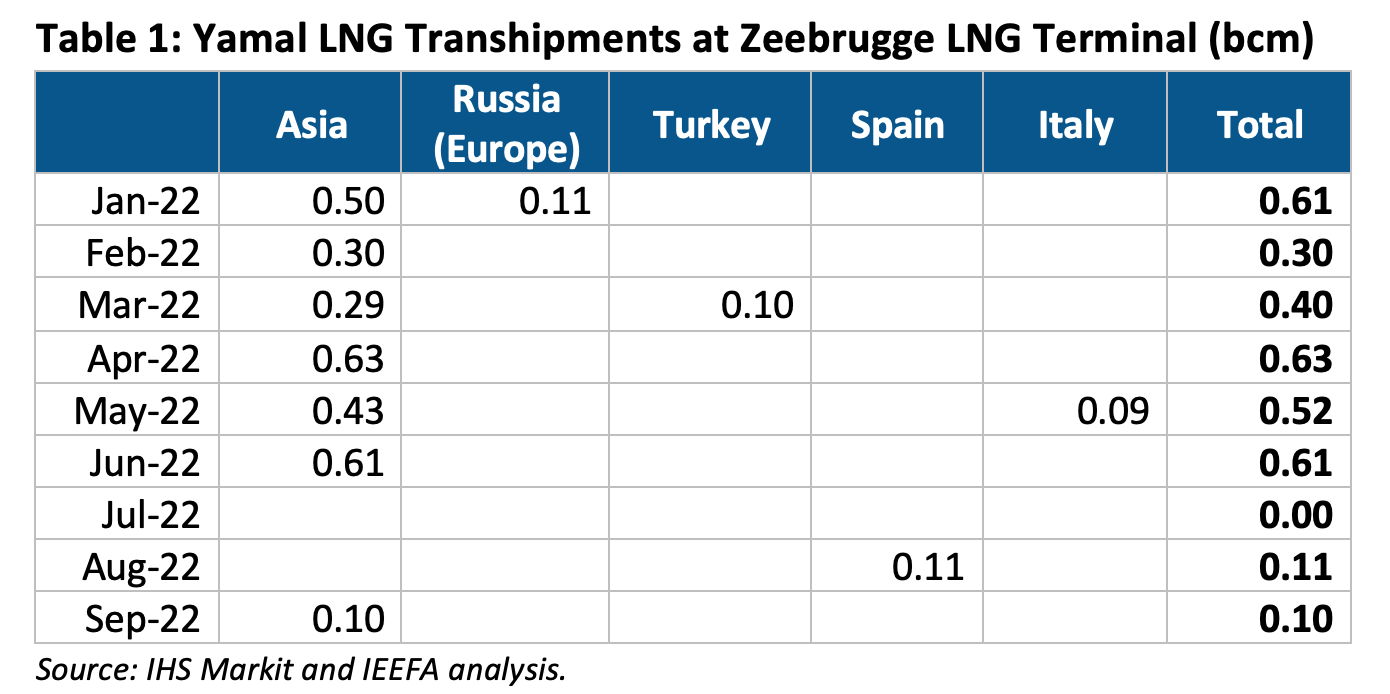 Yamal LNG uses this route via Zeebrugge mainly during the winter months when icy waters make it difficult for LNG tankers to reach Asian customers located to the east of Russia. As illustrated in Table 1, the majority of transhipped cargoes are sent to Asia and few to Turkey, Spain and Italy. During the summer months, the 180,000 cbm LNG storage tank utilisation rate is low or none. There were no transhipment operations in Zeebrugge in July 2022, and few transhipment operations taking place in August and September 2022.
The storage space of the fifth tank is reserved by Yamal LNG for a 20-year period and is therefore not currently being utilised for security of supply purposes. Furthermore, information concerning the utilisation ratio of the fifth tank is not publicly available. It is very possible that even though the storage tank is reserved, it is not being utilised at all and is sitting idle for large periods of time.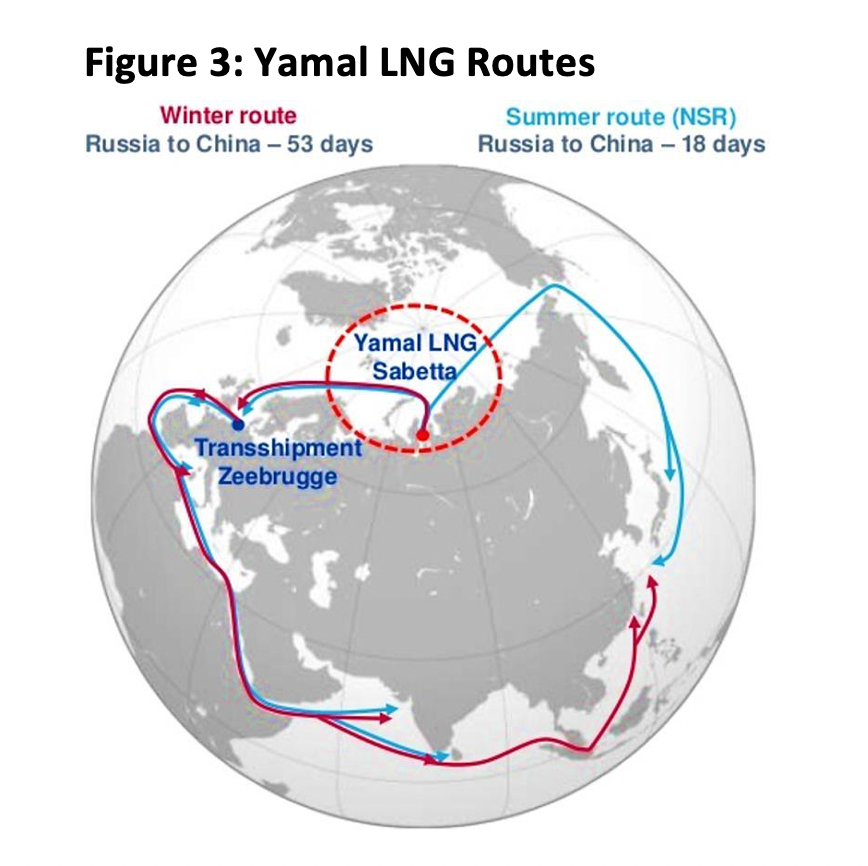 Source: TeeKay LNG
Russia is still providing around 12% of Europe's LNG
Despite efforts to curb its reliance on Russian gas, Europe still relies on Russia for about 12% of its LNG imports in 2022. Belgium, France, the Netherlands, and Spain have been the biggest importers of Russian LNG this year.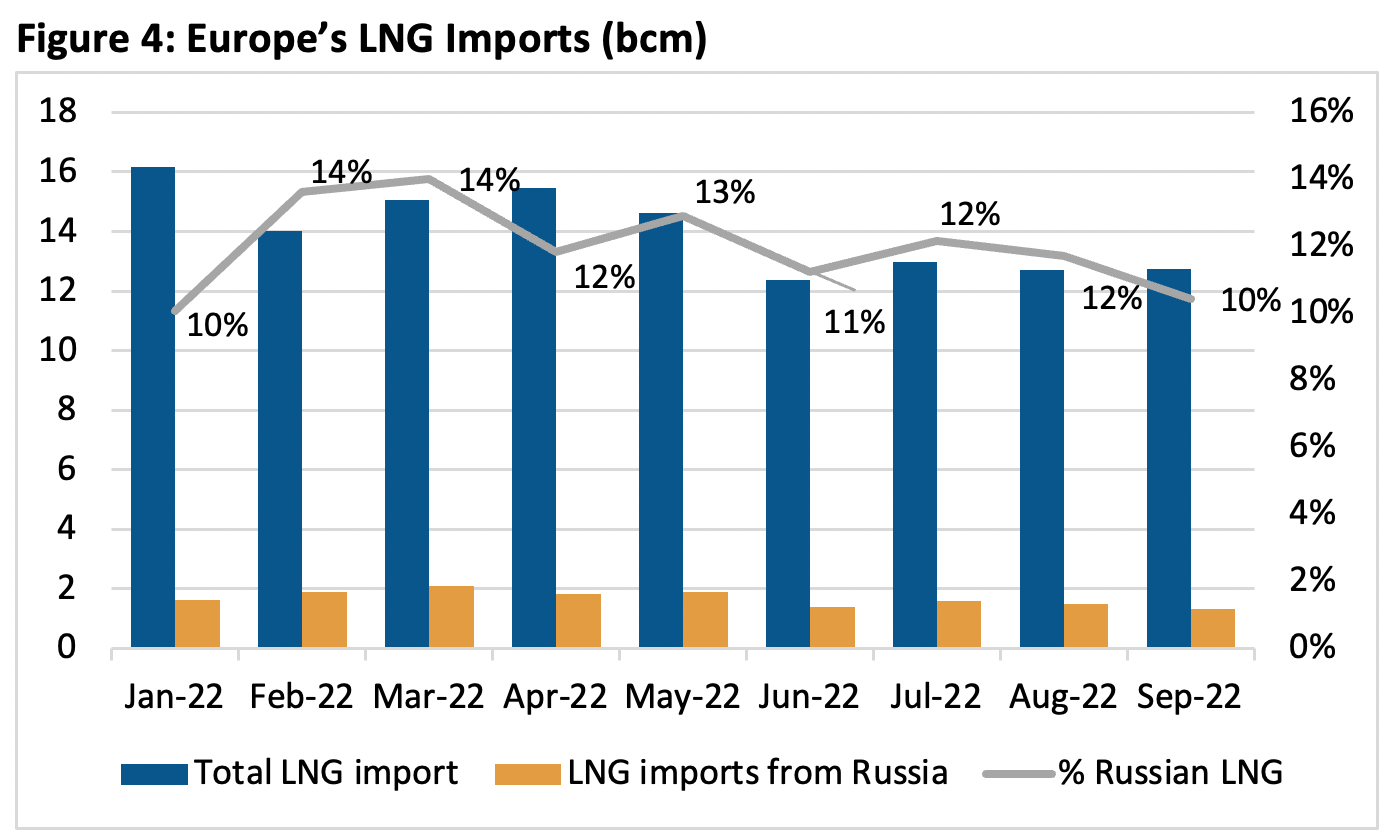 Source: IHS Markit and IEEFA analysis.
The biggest volume of Russian LNG imports to Europe was recorded in March 2022, mostly serving French and Belgian markets. From January to September 2022, France imported 5.62 bcm of Russian LNG, followed by Spain with 3.76 bcm, the Netherlands with 2.19 bcm and Belgium with 2.16 bcm.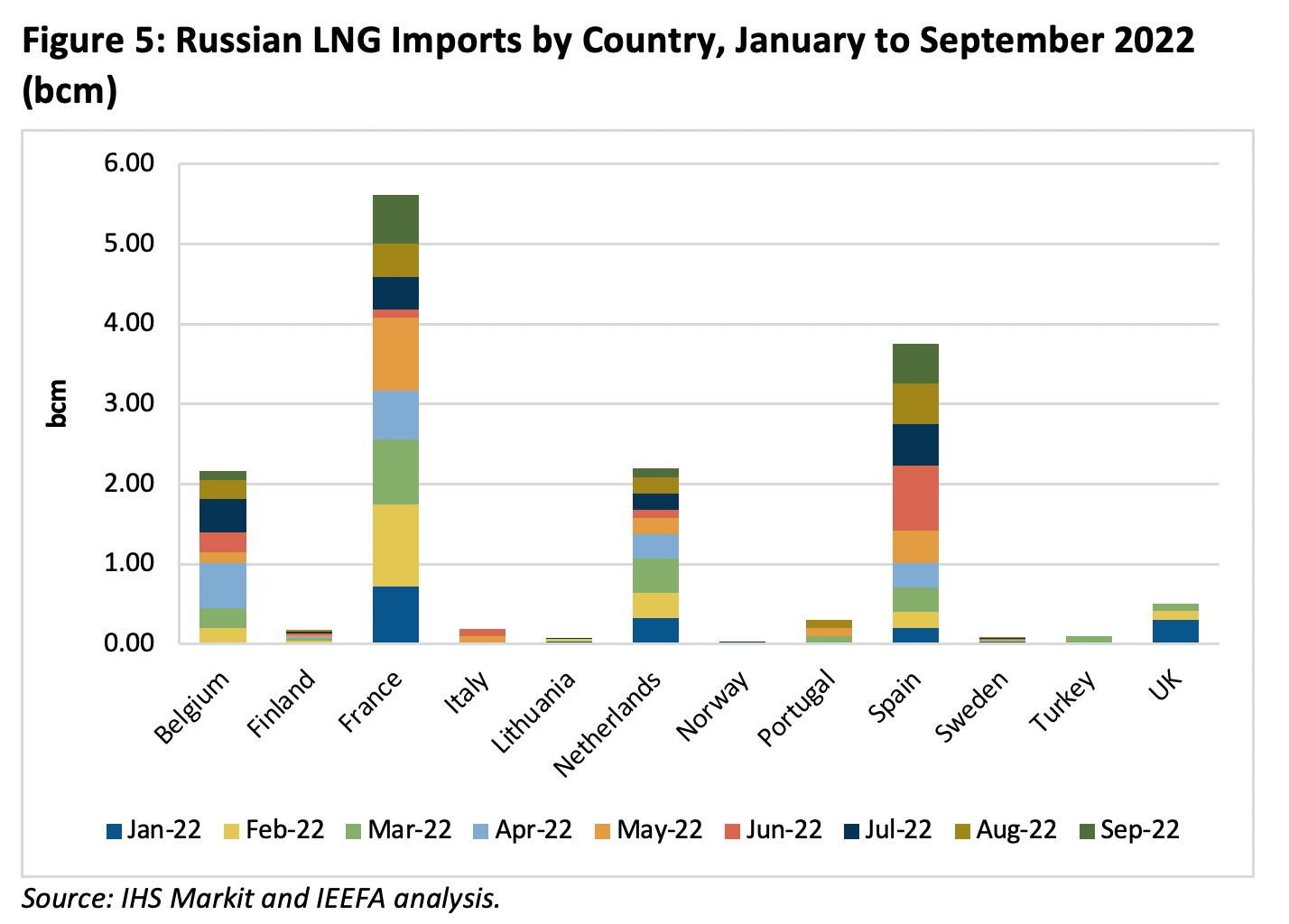 This year so far, the highest single-month volumes of Russian LNG imports to countries in Europe were recorded in Belgium (0.57 bcm in April), France (1.03 bcm in February), the Netherlands (0.43 bcm in March), and Spain (0.82 bcm in June). The UK imported 0.31 bcm of Russian LNG in January but stopped importing from April onwards.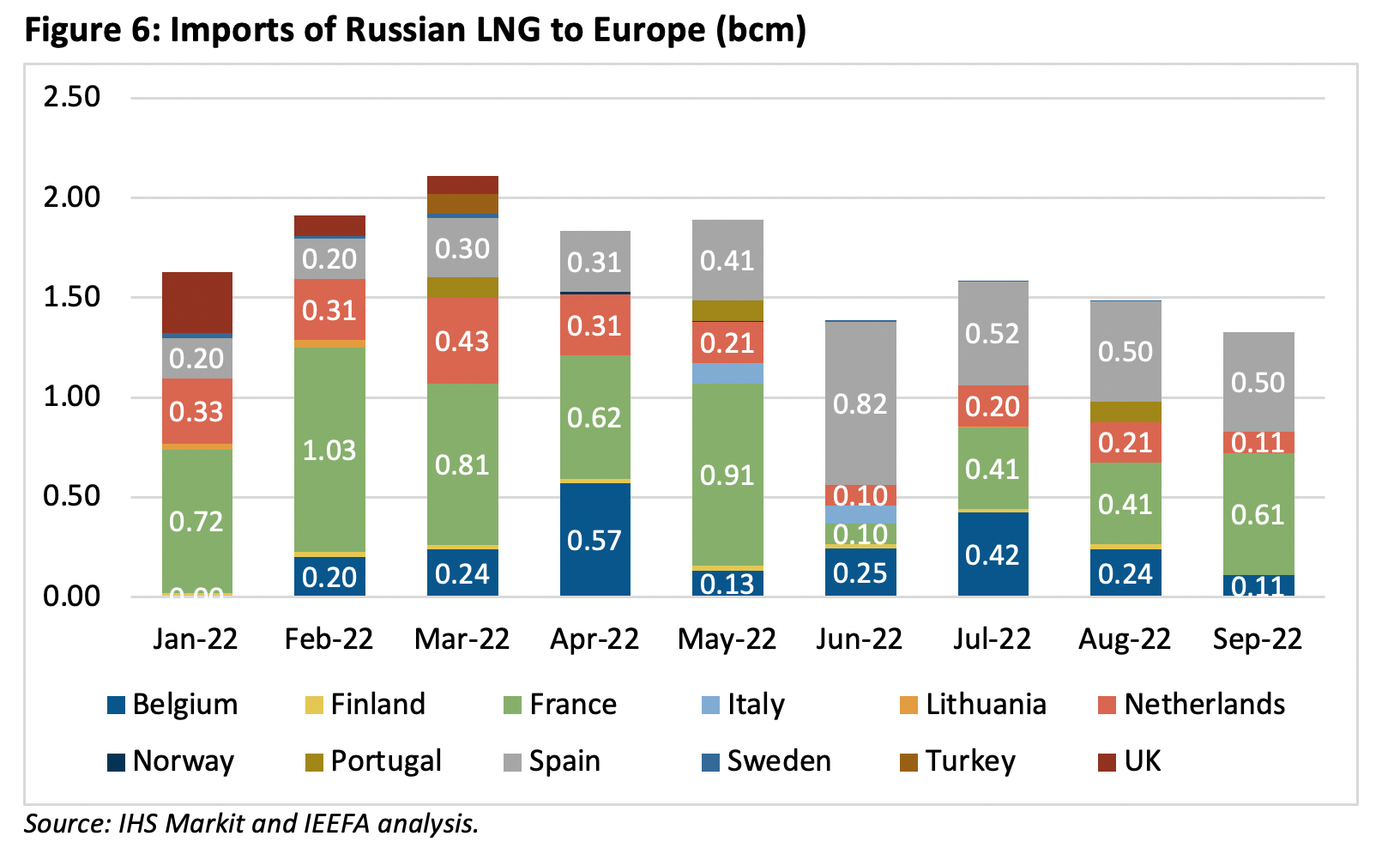 In June 2022, the terminals of Bilbao and Mugardos alone imported more Russian LNG than Belgium, France or the Netherlands. The volume of Russian LNG still passing through Spain's terminals contradicts Spain's call for reactivating El Musel under the premise of helping Europe diversify away from Russian imports.

A coordinated European response is needed
Europe is facing three intertwined challenges: Achieving diversification and security of energy supply, keeping costs low for consumers, and making progress on its energy transition goals. Making smart choices about the deployment of LNG infrastructure can help meet all three objectives.
On the one hand, the case of El Musel and Zeebrugge show the consequences of bad planning. El Musel was built and immediately mothballed due to lack of demand, and Zeebrugge has worked against Europe's energy security by facilitating LNG trade from Russia, mainly to non-EU countries. And while El Musel is set to come into service in early 2023, Zeebrugge's fifth storage tank might remain underutilised.
Using Zeebrugge's fifth LNG storage tank instead of reactivating the mothballed El Musel to handle additional volumes is not only a more time-sensitive solution, but could also shield consumers from unnecessary costs. Zeebrugge's fifth tank is already operational and has the great advantage of being closer to Germany, the source of additional demand.
There is a lesson to be learned here about how increased coordination among EU member states can help Europe handle additional LNG volumes efficiently, while cutting unnecessary costs for the construction and maintenance of redundant gas infrastructure. The stakes are high for European consumers, who are burdened with untenable energy prices, and for the entire EU as it lays the foundation of a future without Russian gas.