A new report by IEEFA India and JMK Research and Analytics demonstrates why Australian metallurgical coal miners shouldn't get overexcited by the outlook for exports to the subcontinent.
India is seen by coal miners as the key future export destination, with steel demand set for significant growth as Chinese demand enters permanent decline. Much of India's planned increase in steel making capacity is based on coal-consuming blast furnaces.
But India's energy security concerns will steer it towards making steel using domestically produced green hydrogen as it gets cheaper. India's National Green Hydrogen Mission aims to make it one of the world's leading producers, reducing reliance on imported fossil fuels.
According to IEEFA India and JMK, green hydrogen will be used in 12% of Indian steel making by 2030 as coal's share of steel production drops to 70%, down from 92% in 2021.
The report finds that by 2050, green hydrogen will account for 42% of steel production and coal 29%. Scrap steel recycling is the next biggest route at 16%. By 2070, no coal will be used in Indian steel making according to the report (Figure 1).
Of course, overall steel production will expand significantly over this period. IEEFA India and JMK see Indian steel production doubling to 227 million tonnes a year (Mtpa) by 2030 and then more than doubling to 515Mtpa by 2050. Despite coal's declining share of steel making, this means that coal will be used in 159Mtpa of steel production in 2030, up from 105Mtpa in 2021.
However, increasing use of green hydrogen after 2030 means that coal will be used in only 149Mtpa of steel production in 2050. Although there will be an increase in coal demand for the Indian steel industry, that uplift looks like it will be significantly limited.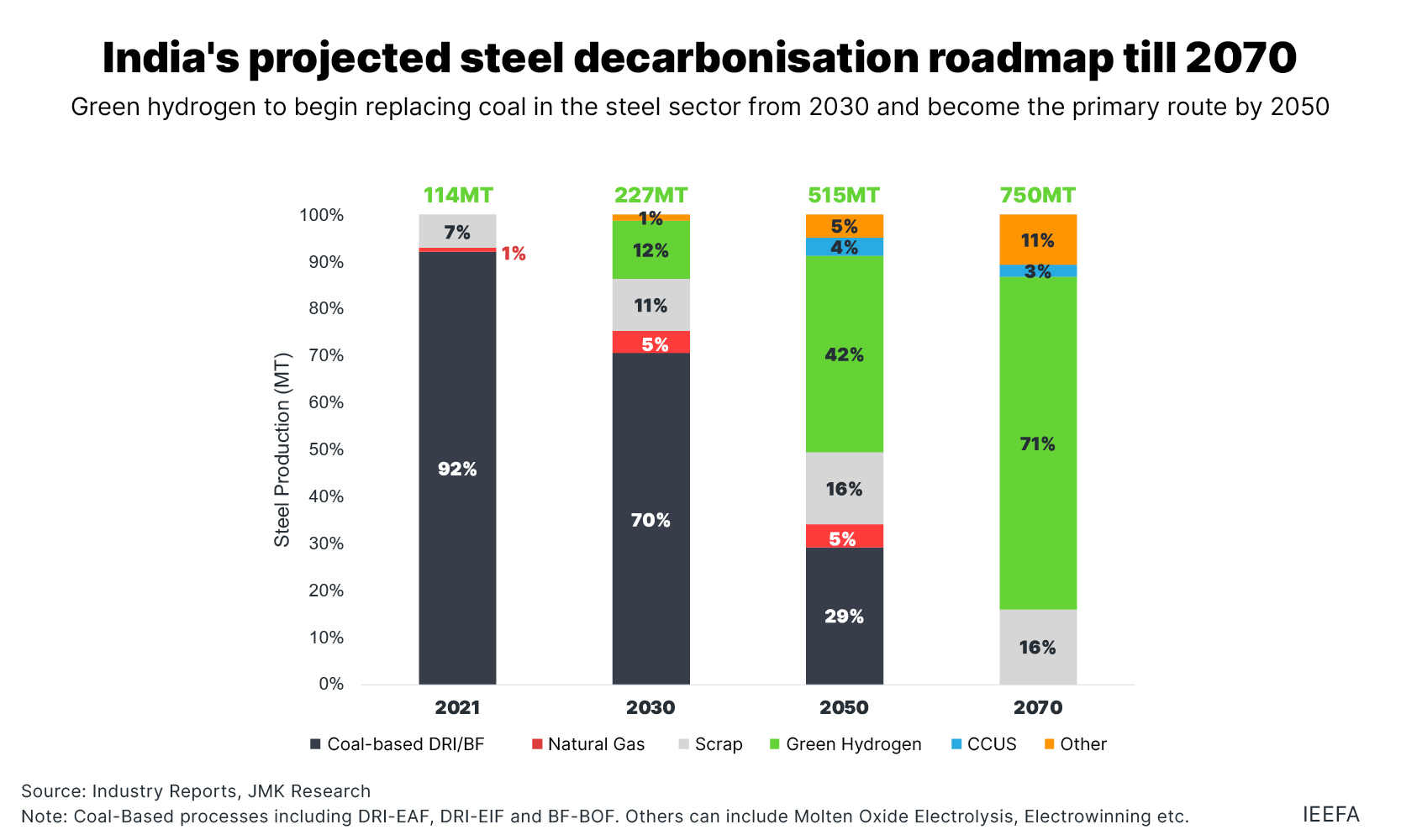 Bloomberg New Energy Finance concurs that India's steel production growth will peak in the 2030s and 2040s, when the cost of green hydrogen and hydrogen-based steel making will have fallen significantly following earlier deployment in places such as Europe.
Having scrapped plans for carbon capture and storage (CCS), Tata Steel is transitioning from coal-consuming blast furnaces towards green hydrogen-based steelmaking at its Netherlands site, and has already begun experimenting with hydrogen at its Indian operations.
Uptake of hydrogen in the steel industry will also be driven by a likely roll-out of carbon border adjustment mechanisms (CBAM) globally. Wood Mackenzie has found that the European Union's CBAM "could increase the cost of delivered steel to the EU by about
56% for India and about 49% for China in 2034".
India to replace China as the key steel growth market
India is already the world's second-largest steel producer but is far behind China. However, Chinese steel production will decline significantly in the long term as its economy continues to mature. 
Rio Tinto CEO Jakob Stausholm recently stated China's rapid steel consumption growth over the past two decades was ending and that steel demand was nearing its peak. However, analysts at Capital Economics suggest that China reached peak steel back in 2020, a view IEEFA shares.
As a result, China's metallurgical coal requirements will drop significantly. China is also increasing domestic coal production, and aims to recycle more scrap steel, which will further depress demand for metallurgical coal imports from the likes of Australia. 
China Baowu – the world's largest steel maker – plans to exit Australian metallurgical coal, and has paid A$300m to settle obligations for take-or-pay port and rail it has never used.
In a further sign that Chinese metallurgical coal demand will decline, China Baowu is considering a major green steel investment in Western Australia, and has signed agreements with Rio Tinto and Fortescue to explore non-coal-based steelmaking options using Pilbara iron ore.
Australian metallurgical coal exporters are depending on India to push up demand as China's steel production declines but the accelerating steel technology transition will likely leave them disappointed.
In its March 2023 Resources and Energy Quarterly report, the Australian government's Department of Industry, Science and Resources forecast both world trade in metallurgical coal and Australian metallurgical coal exports would peak in 2026 at 317Mtpa  and 176Mtpa respectively, before declining out to 2028. India's demand over the period and beyond
is forecast to increase but, in the Department's medium-term forecast, this is outweighed by declines elsewhere by 2027.
India diversifying metallurgical coal sources away from Australia
A further problem for Australian metallurgical coal miners is that India intends to diversify its import sources.
In FY2022 India sourced 70% of its 57Mt metallurgical coal imports from Australia. So far
in FY2023 this has dropped to 50%. India has no qualms about importing more metallurgical coal from Russia, and is investigating importing from Mongolia as it ramps up its output. Indian steelmaker JSW Steel hopes to pick up a stake in the metallurgical coal unit of Canada's Teck Resources, although diplomatic tensions between India and Canada may slow this process.
In addition, India intends to produce more of its own metallurgical coal to trim imports. India's Mission Coking Coal aims to more than double metallurgical coal production
to 140Mtpa by 2030.
It's been widely thought until now that the metallurgical coal trade is not as challenged
by new technology as thermal coal. However, the quickening steel technology transition away from coal will significantly limit metallurgical coal import growth into India. 
Australian coal miners can also expect to get a reduced proportion of the smaller than expected opportunity.