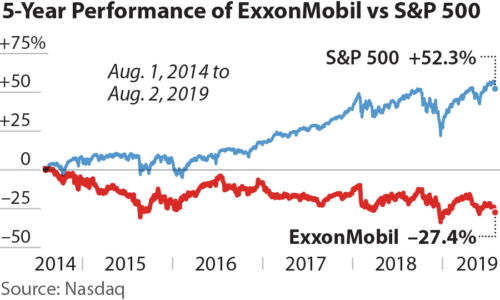 ExxonMobil's second quarter earnings report contained more red flags than usual (IEEFA update: Exxon's Q2 report marks another signpost on the long road downwards). Its market capitalization is declining even as the bull market thunders on and it now appears all but certain that the company will fall out of the S&P 500's top ten, a spot it has held for at least four decades.
Here are 11 facts the company would like investors to forget
Oil prices went up by 11% in Q2 2019 but ExxonMobil revenues could not cover its dividend payment. The amount the company received for a barrel of oil increased by 11% to $57.95 per barrel in the second quarter. Despite the rise in oil prices during this period, ExxonMobil's revenue from operations could not cover dividends to shareholders.
ExxonMobil borrowed to pay for the second quarter dividend. ExxonMobil borrowed $4.4 billion and paid $3.7 billion to shareholders during the second quarter. The money increased company indebtedness by 11%.
Company claims of profitability at $40 per barrel of oil are not credible. ExxonMobil has stated repeatedly for almost half a decade that it would be profitable at $40 per barrel. The company's Q2 2019 earnings call now places the benchmark at $60 per barrel.
Asset sales have been slow to materialize. There were no significant asset sales during the second quarter. ExxonMobil's plan calls for $15 billion by end of 2021. The company terms the $15 billion a "risk number," and some analysts have suggested Exxon's asset sales price is no longer realistic.
ExxonMobil's contract with Papua New Guinea is being challenged as one-sided and unfair. ExxonMobil's plans for Papua New Guinea are a company priority. However, questions have emerged about these plans and the changing political landscape could result in new projects coming forward that compete with the current ExxonMobil/Total deal.
ExxonMobil's contract with Guyana is being challenged as one-sided and unfair. Exxon Mobil's plans for Guyana are a company priority. The terms of Guyana's contract with Exxon were negotiated with prior governments and contain terms that appear to be more favorable to the company. During the Q2 earnings call, there was no mention of this as an emerging issue.
Recent announcement of expansion plans in Argentina are vague. ExxonMobil announced plans to expand its production in Vaca Muerta in Argentina. But the Vaca Muerta investments were not included as part of the company's priority listings in its second quarter statement.
Exxon's "different approach" to the Permian masks high, enterprise-wide risks. ExxonMobil states that its approach to the Permian Basin relies on the company's size and asset base. This sets it apart from smaller competitors that do not possess deep pockets. The "different approach" ExxonMobil will take in the Permian is reminiscent of the company's "different" approach to Canadian tar sands that led to an SEC investigation in 2016.
Profitability in its fracking operations are under pressure due to production costs and an oversupply in the market. The company acknowledges challenges related to reducing drill times in the Delaware Basin. It also points to a supply glut as a reason for its reduced margins. Overall during the last five years, earnings from ExxonMobil's U.S. upstream operations have been anemic.
ExxonMobil has stated it does not need to acquire any more acreage in the Permian Basin, yet it continues to spend aggressively. Over the first half of 2019, ExxonMobil put one-third of its projected $30 billion capex budget into its U.S. upstream operations, which contributed only 8% of the quarter's earnings. This imbalance has been a consistent trend going back as far as 2014.
ExxonMobil's chemical and plastics segments are stalled even though the conditions are good for positive growth. The company's petrochemical business ‒ plastics and chemicals – performed poorly in Q2. The company attributed this to a surplus of global capacity and said it expects the soft results to continue for as long as another year.
Full briefing note: Exxon Mobil's Q2 2019 Earnings: Eleven Facts the Company Would Like Investors to Forget
Tom Sanzillo ([email protected]) is IEEFA's director of finance.
Kathy Hipple ([email protected]) is an IEEFA financial analyst.
RELATED ITEMS:
IEEFA update: Exxon's Q2 report marks another signpost on the long road downwards
IEEFA update: ExxonMobil's drill, drill, drill strategy earns a "D-"
IEEFA update: ExxonMobil rebooking Canadian oil sands reserves