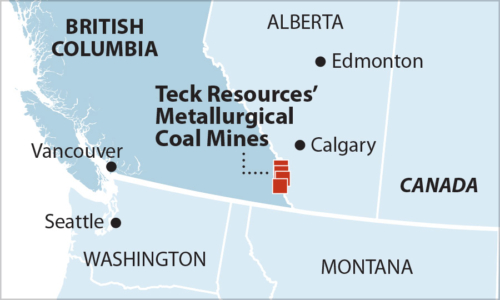 Teck Resources, the Canada-based copper, zinc and coal mining company that is one of the biggest exporters of steelmaking coal in the world, is considering selling or spinning off its metallurgical coal operations, according to a Sept. 14 Bloomberg report.
Any divestment of its big coal mines in British Columbia could be a signal that the company sees its coal operations as an increasing hindrance to its ability to attract investors, maintain access to capital at low interest rates, get insurance, or raise its share price as financial firms increasingly distance themselves from doing business with coal companies.
Teck may also sense an opportunity to cash out while overseas demand and prices for its coal, particularly from China, are high. The company is also among the world's major producers of zinc and copper, which were responsible for the majority of its revenue and gross profit in 2020— a reversal with its coal segment compared with recent years. The company would presumably continue to focus on those materials, since future growth appears strong because of their use in electrical and industrial components.
The news is significant because metallurgical coal has been regarded by some big U.S. coal companies as less vulnerable to the energy transition sweeping through power markets, which use thermal coal. Arch Coal and Alpha Metallurgical Resources, for example, have completely shifted their business strategies over the past three years to get out of thermal coal and focus instead on the met coal market. The strategy shift is so recent that Contura changed its name in February to "Alpha Metallurgical." Arch is still in the process of lowering its thermal coal exposure, but it now calls those mines "legacy" operations.
Teck's proposal signals that metallurgical coal may not be a safe financial haven, either. While steelmaking is still highly dependent on coal, that is likely to shift as companies seek to develop less carbon-intensive energy inputs in response to more restrictive government policies and public demand. The company has also reported that gross profits from coal plunged from more than $3 billion Canadian (about US$2.4 billion) in 2018 to just $277 million Canadian (US$216 million in 2020.
Teck is no stranger to the challenges of investing in fossil fuel production. The company's proposed C$20 billion (US$15.6 billion) Frontier Oil Sands Mine Project in northern Alberta, which was supposed to produce as much as 260,000 barrels of oil daily, was cancelled last year amid persistently low oil prices and strong public opposition. The decision forced the company to take a C$1.13 billion (US$881 million) writedown. An IEEFA analysis of the Frontier project found it to be economically unviable, and noted that the initial governmental approval for the project showed a "reckless disregard for financials" by basing that approval on overly optimistic oil price forecasts.
Metallurgical coal may not be a safe financial haven
When Teck withdrew its application to the Canadian government for the Frontier project, CEO Don Lindsay wrote, "global capital markets are changing rapidly and investors and customers are increasingly looking for jurisdictions to have a framework in place that reconciles resource development and climate change . . . This does not yet exist here today."
This attention to how quickly investor sentiment is shifting may be leading the company to reconsider its coal operations, which Bloomberg said could be valued at as much as $8 billion. Companies with fossil-fuel assets are being increasingly shunned by investors, lenders, and insurers.
Other large, diversified mining companies have recently been working to shed or spin off their coal, oil, and gas businesses. Rio Tinto, the global mining behemoth with US$44.6 billion in 2020 revenue, successfully finished selling off its coal assets in 2018—a playbook Teck may be seeking to emulate. Anglo American, another big global mining company, whose US$31 billion in 2020 revenue came primarily from iron ore, copper, platinum group metals and diamonds, exited the thermal coal sector this year, spinning off its South African operations and selling its stake in Colombia's Cerrejón mine. At present, the company still controls significant metallurgical coal assets in Australia. 
Teck may sense that strong recent commodity prices and other global trade factors provide an opportunity to cash out of met coal when asset values are high. This would shield the company from growing investor concerns over coal, as well as future coal-market downturns, and enable it to focus on materials with rapidly growing demand from the energy transition. That could be a bad sign for the U.S. coal companies that have staked their future on met coal.
Seth Feaster ([email protected]) is an IEEFA energy data analyst.
Related Items:
U.S. Power Sector Outlook 2021, March 2021.
Teck Resources' Frontier Oil Sands Project Shows Reckless Disregard for Financials, January 2020.
Significant Financial Risks Confront Teck's Frontier Oil Sands Mine Project, August 2018.