The drop in U.S. coal production reported by the Energy Information Administration for 2015 marks the biggest annual decline since 1958 and continues a trend that began a decade ago. The total amount of coal produced in the U.S. sank to 900 million short tons, the lowest level since the mid-1980s, according to the EIA's preliminary estimates.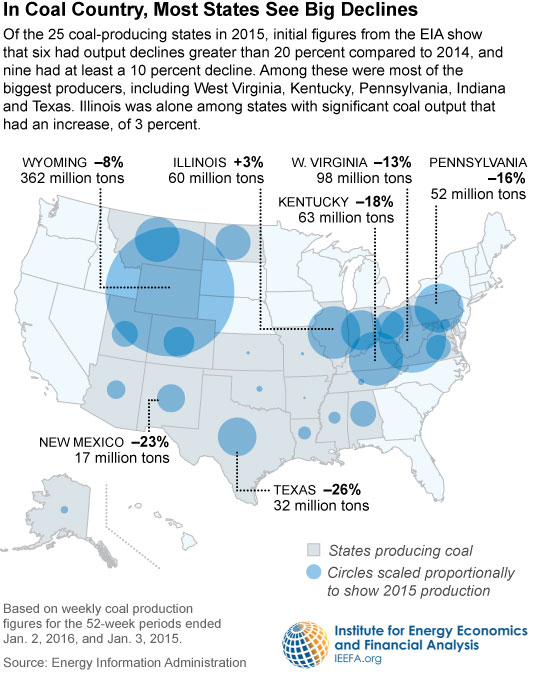 Other initial figures, for the 52 weeks ended Jan. 2, show that output fell in 21 of the 25 coal-producing states and in all three major coal-mining regions as cheap natural gas, retirements of coal-fired electric plants and rising renewable energy generation cut into demand. Almost 93 percent of coal consumed in the U.S. goes to power generation.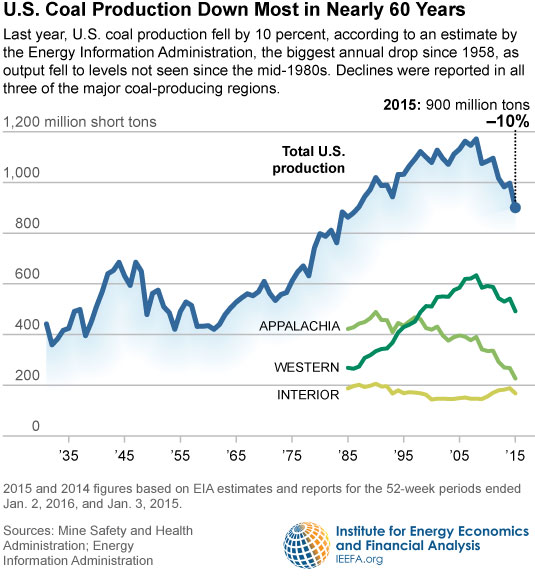 Appalachian production dropped the most in 2015, down 15.3 percent, to 227 million tons—less than half of what it was in 1990, when the region's output led the nation. The EIA data shows also that many of the biggest coal-production areas in Appalachia—which faces some of the industry's highest extraction costs—recorded some of the steepest declines: Eastern Kentucky (down 21 percent), Southern West Virginia (down 19 percent) and Pennsylvania (down 16 percent).
Across the Midwest and the Great Plains, where production had been growing, output reversed course, falling by nearly 11 percent in 2015. Sharp declines of 26 percent in Texas, 21 percent in Ohio and 11 percent in Indiana all contributed. The only significant coal-production state to show any increase at all was Illinois, now the country's fourth-largest producer, where output was up 3 percent*.
Production was down by more than 9 percent in the West, where lower extraction costs have helped buffer the impact of low prices. Wyoming, the largest-producing state by far (with 362 million tons of production last year), saw a decline of over 8 percent. Decreases were much more pronounced in other western states: New Mexico (down 23 percent, Utah (down 19 percent) and Colorado (down 16 percent). Output in the West is now down to about three-quarters of the region's peak of 634 million tons in 2008.
Meantime, the coal industry faces a myriad of obstacles:
Since June 2008, natural gas prices have dropped dramatically. The U.S. has had 31 consecutive quarters of low natural gas prices, a condition that is likely to continue and further displace coal while making coal a less desirable capital investment.
More coal-fired electric plant closures are planned and others are scheduled for conversion to natural gas.
Continuous innovation, competitive bids and the recent extension of tax credits for renewable energy will help drive prices lower for generation from wind and solar, cutting further into coal's competitiveness.
Growth from exports appears increasingly unlikely with port projects stalled as demand for U.S. coal from China and India withers.
The Clean Power Plan, which regulates carbon emissions, is moving forward. The regulatory process, when combined with other risks, will slow investment in the coal sector
Seth Feaster is an IEEFA energy-data consultant.
* Illinois production figures include an estimated six million tons of coal from the Lively Grove mine, which serves the Prairie State power plant. The mine produces coal that is significantly inferior in heat content to all other coals produced and counted from Illinois and other states in the EIA's calculation. It is IEEFA's view that this coal does not meet EIA standards for bituminous coal, nor is there a marketable standard for the coal by Platts. Without such disclosure, Illinois' otherwise relatively strong performance is diminished by this distortion.