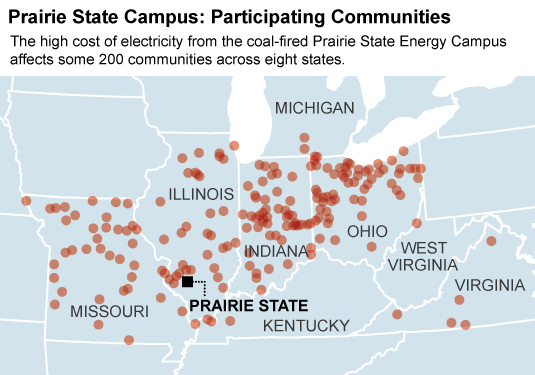 Question: Does Peabody Energy really have a right to the proceeds of its $57 million sale of its stake in the Prairie State Energy Campus boondoggle?
Peabody developed the project a decade ago, and then talked municipal power agencies with members in eight states—representing about 200 communities—into issuing $5 billion in bonds to buy into the deal.  
Take a gander at the map here: it looks like a pox upon the land.
The power agency with the largest single share in Prairie State is American Municipal Power (AMP), which has member municipalities and agencies in Ohio, Virginia, Michigan, and West Virginia that are stuck with contracts for power from this plant.
While the city council of Martinsville, Va., an AMP member community, is quite astutely asking the Federal Energy Regulatory Commission to review Peabody's sale—which essentially is an abandonment of the project by the very company that spawned it—AMP is digging its heels in.
AMP executives have responded by saying that Peabody is free to sell its interests for however much it can get for it and that Prairie State's board doesn't have to approve Peabody's actions. AMP executives deny also that Peabody's share, which amounted originally to a $246 million investment and is being shed now for only about one-fifth of that sum,  amounts to an appreciable writedown of the core asset value. AMP, in other words, wants the communities still tied to Prairie State to believe that Peabody's apparent 80 percent loss, in a sale that was consummated after a competitive bid, says nothing about questionable worth of the $4.75 billion in debt that all those many communities across the map are on the hook for the next 30 years.
We think AMP has some explaining to do around some very specific language included in Prairie State bond documents that says this:
"Certain PSEC agreements require that Lively Grove Energy, or another affiliate of Peabody Energy, retain an aggregate undivided interest of at least five percent of the PSEC, until the fifth anniversary of the substantial completion date of the second generating unit of the PSEC, unless such minimum ownership is waived by a majority of the non-Peabody affiliated owners or other conditions related to mine operations have been met. Unit 1 of the PSEC commenced operations in the second quarter of 2012 and Unit 2 of the PSEC commenced operations in the fourth quarter of 2012."
Note to AMP: The fourth quarter of 2017 isn't here yet.
We understand perfectly well why the Prairie State board would want to be rid of Peabody, a now near-bankrupt coal company. Peabody, after all, has created tremendous ill will after promising a decade ago that the price for Prairie State electricity would be far lower than what the plant has actually produced. (The 200 communities that get power from the plant are now paying well above market price for the electricity, and will likely continue to do so.) We understand also why Peabody would want to flee this horrible investment.
But after all of the vast costs that the many Prairie State communities have incurred thanks to Peabody, it seems only fair that the money from the sale should go to them—not to Peabody.
By our estimates, $57 million would cover the costs for about 21 days of electricity from the plant. I cannot think of any of the city budget directors we have talked with over the past several years, or any of the consumers who have contacted us on this issue, who couldn't benefit from getting a three-week reprieve from this financial albatross.
Prairie State's  board needs to step up here and now and say that the price for allowing Peabody to get out will be, oh, $57 million. Allowing Peabody to walk off with that money at the expense of customers left holding the bag would be an outrage and a fiduciary failure.
Let's name some names of those in the driver's seat while we're at it: Marc Gerken. Kevin Gaden. Raj Rao. Duncan Kincheloe. Don Gulley. Dan Westin. Jacob Williams. (The spread below, from the Prairie State Generating Co. 2014 annual report posted at PrairieStateEnergyCampus.com, notes each man's municipal affiliation; it includes Jay Bartlett, who is no longer with Prairie State, having moved on, interestingly enough, to the Wabash Valley Power Assocation, which is buying that piece Peabody is selling).
Do the right thing Mssrs. Gerken, Gaden, Rao, Kincheloe, Gully, Humphries, Westin, and Williams.
Take a stand for your ratepayers. Give your customers a break.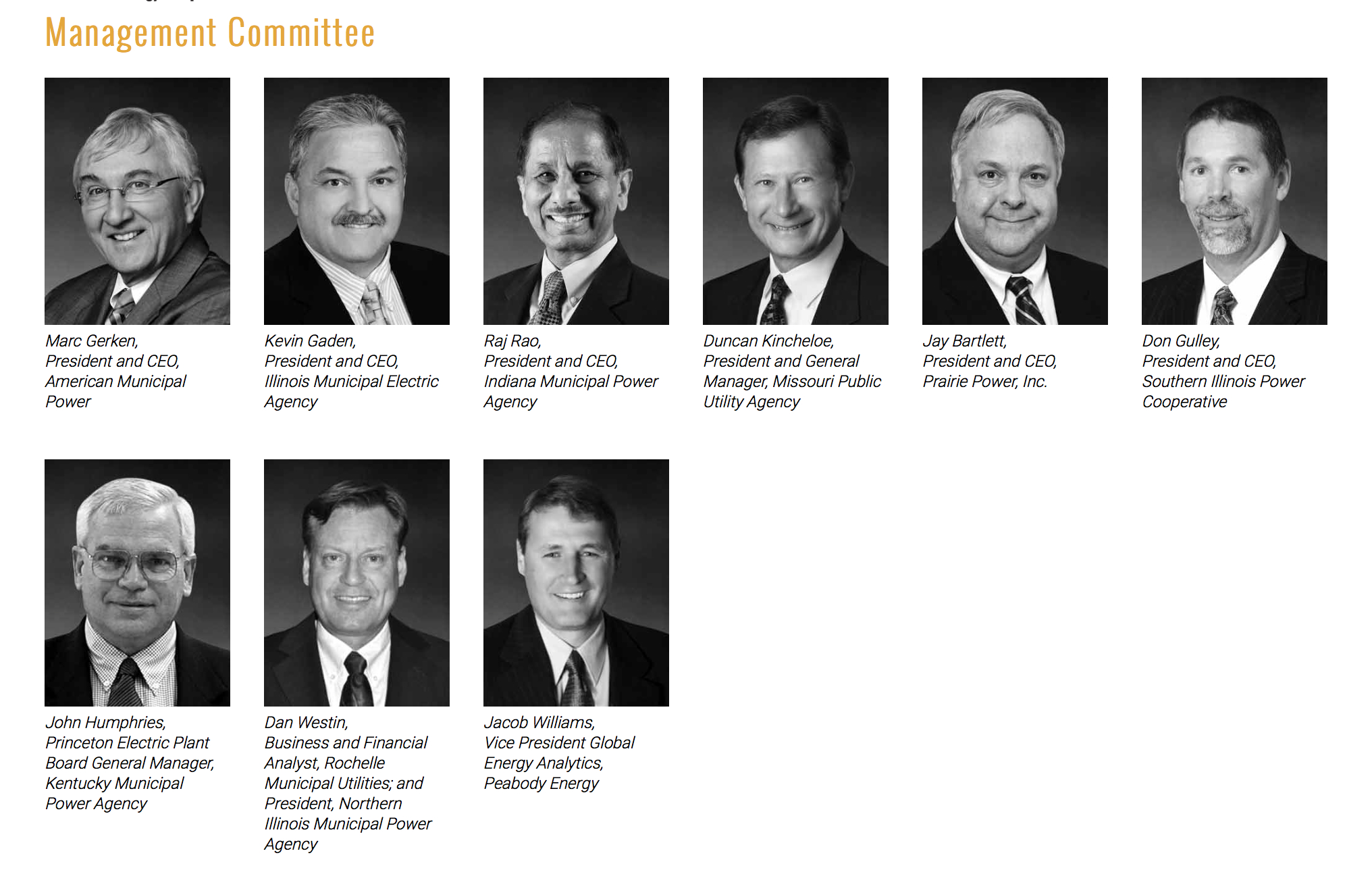 Tom Sanzillo is IEEFA's director of finance.