Increasingly Expensive to Operate and a Drain on Ratepayers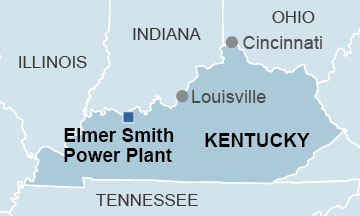 We've published a memorandum today explaining why the aging coal-fired Elmer Smith power plant in Owensboro, Ky., must be retired soon and how Owensboro Municipal Utilities would do well to invest in renewable electricity generation instead.
Our memorandum describes how the plant—whose two units date from 1964 and 1974—has become increasingly uneconomic to operate and in all likelihood will continue to be a drain on ratepayers for as long as it remains in operation.
Our findings show that the facility is long past its prime, that it cannot compete with other sources of generation, and that, as a result, ratepayers in Owensboro are needlessly subsidizing a large portion of the cost of the power from Elmer Smith that is being sold to wholesale customers.
While our review was prepared at the request of the Ohio River Valley chapter of the Sierra Club Beyond Coal Campaign, it is a wholly independent analysis of the faltering economics of Elmer Smith. It emphasizes that tens of millions of dollars of new investments will be needed to keep the plant running and, using the utility's own analyses, shows that retail rates will increase by 20 percent by 2018 and 80 percent by 2025 if both units at Elmer Smith are not retired.
It encourages the managers of the Owensboro Municipal Utility to follow through on plans to shut down Elmer Smith Unit 1in 2019. It urges closure of Unit 2 by 2022 at the latest and advocates for greater transparency at Owensboro Municipal Utilities.
Our recommendations, in addition to timely closure of both units of the plant, include the following:
That OMU avoid any commitment now or in the near future to building or buying an equity investment in any existing or new natural gas-burning plant

in order to avert

being tied into long-term commitments to gas-fired capacity as prices for renewable wind and solar resources continue to decline;

That OMU analyze the benefits of including significant investments in solar, wind capacity and energy efficiency as parts of its electricity portfolio;

That OMU makes its integrated resource plans and any supporting analyses available to the public.
The Elmer Smith power plant is an example of a dying vestige of the U.S. utility industry—coal-fired generation that is dirty, expensive and no longer viable in the new energy economy.
David Schlissel is IEEFA's director of resource planning analysis.

Full memo here.
RELATED POSTS:
Closing of Two Coal-Fired Units in Montana Is an Acknowledgment of Their Failure to Compete
Emblematic of a Sector in Distress, Homer City Power Station in West Pennsylvania Is on the Ropes
A Darker Day Has Just Dawned for Two Long-Outdated Ohio Power Plants