Energy Transition Openings Now in the Four-Corners Region of Arizona, Colorado, New Mexico, and Utah
The great swath of high plains that run from Texas to the Canadian border has been rightly nicknamed in recent years the Saudi Arabia of Wind.
A drive through the region on any major interstate yields daytime vistas dappled with giant wind farms that stretch so far into the distance that they look like CGI movie effects. At night, these landscapes dissolve into waves of glowing pinpoint-light matrixes that warn low-flying aircraft away. The effect is simultaneously bewitching and futuristic.
Of course the boom in renewable energy electricity generation is neither magical nor sci-fi.  It is happening in the here and now and is driven by fast-moving real-world technology gains and major shifts in energy-capital investment. Wind is on the rise across the U.S., and really not just out west. Eight U.S. states generated more than 15 percent of their electricity in 2016 from wind, and three of them, Iowa, South Dakota, and Oklahoma, generated more than 30 percent.
Solar is coming up fast, as we noted in a December research brief we published with DinéHózhó, the first low-profit limited liability company ever incorporated inside the Navajo Nation's boundaries. California generates more than 10 percent of its electricity from the sun, and states as geographically and politically disparate as Massachusetts, North Carolina, and Utah are showing sharp increases in solar energy uptake.
It turns out that the sun shines everywhere, but nowhere with such intensity and regularity as in the Southwest. Our report — "Window of Opportunity: Navajo Solar (A Fast-Track Community-Driven Development Approach)" — gets at the potential for solar energy generation especially in the Four Corners region of Arizona, Colorado, New Mexico, and Utah. It includes a few pictures worth a thousand words, including a map that shows immediate locally-owned development opportunities in Arizona Navajo communities Black Mesa, Cameron, Coalmine, Dilkon, Hard Rock, Kayenta, LeChee, Leupp, Shonto, and Tuba City.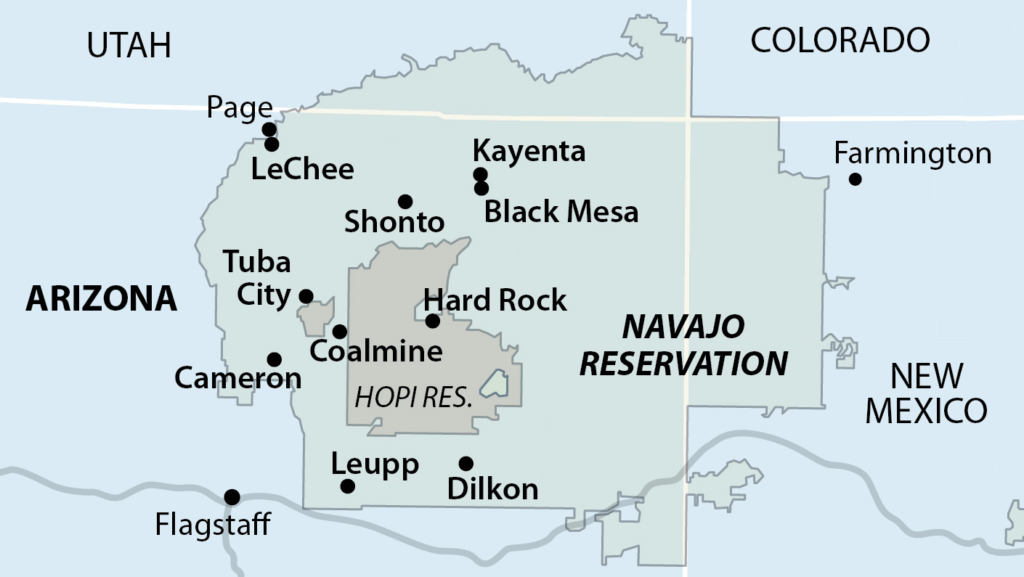 There's also an image courtesy of the National Renewable Energy Laboratory that illustrates in striking burnt-orange relief how Navajo tribal lands are at the very heart of an area well-situated to become the Saudi Arabia of Solar.
WHILE OUR REPORT NOTES THE BROAD PROMISE OF U.S. SOLAR, it zeroes in on possibilities in northeast Arizona, which is crisscrossed with grid-transmission lines that are tied in now to the aging Navajo Generating Station, a coal-fired 2,500-megawatt power plant near Page that is the main feature for miles around.
The plant is slated for closure next year, which means transmission-line capacity will open up, presenting an immediate opportunity now for community-owned utility-scale solar farms.
Financiers and developers from far and wide are parachuting into the area in hopes of securing quick-sign solar deals that favor outsiders. We think — as do our friends at DinéHózhó — that Navajo tribal communities have a leg up on the competition and can negotiate agreements that are more inclusive than what some operators have in mind.
As Tony Skrelunas, vice-president of DinéHozhó, said in a press release we put out with our report, "These communities have a built-in predevelopment advantage in that many of these areas have been studied already for project feasibility — solar assessments exist already, as do environmental, topography, and transmission analyses. This advantage is crucial in the current marketplace."
Our report also describes a development strategy that would ensure community ownership of utility-scale solar by including chapter-house equity positions in deals that would be built around partnerships with the Navajo Nation central government in Window Rock, Ariz., and would leverage capital from private developers and financiers who have national or even international heft.
CRUCIAL TO WORKABLE AND FAIR DEALS ARE NEGOTIATIONS THAT ENSURE AND PROTECT local tribal-community benefits and that clearly state partnership requirements.
Investors and developers should be able to demonstrate the following:
A substantial and proven track record with transparent economic modeling that earmarks revenue-sharing and protects local interests from liability.
Strong financing that is open to community scrutiny and can withstand due-diligence review.
Cultural compatibility that includes suitable presentations, straightforward communication, ability to work with others, and a willingness to listen to chapter-level representatives and engage in necessary modifications and annual reviews.
More detail on these points is in our report, which shows also how utility-scale projects can come online fast, and how the Saudi Arabia of Solar need not be wholly owned by outside interests.
Karl Cates is IEEFA's editor.
RELATED ITEMS:
IEEFA Arizona: Fast-Track Opportunities Now in Navajo Community-Driven Solar Electricity Generation
IEEFA Report: Kayenta Mine Is Unlikely to Find New Customers Once Navajo Generating Station Closes
IEEFA Report: 'Payment for a Job Well Done,' a Transition Plan in Anticipation of Shutdowns of Navajo Generating Station and Kayenta Mine