Initiative to Limit Job Losses and Community Disruption; Investing in Economic Growth Rather Than Subsidizing Northern Arizona's Failing Coal Industry
June 6, 2017 (IEEFA.org) – The Institute for Energy Economics and Financial Analysis (IEEFA) today published a report outlining an economic- growth strategy for a region that stands to be set back severely by the closure of the Navajo Generating Station and the Kayenta coal mine.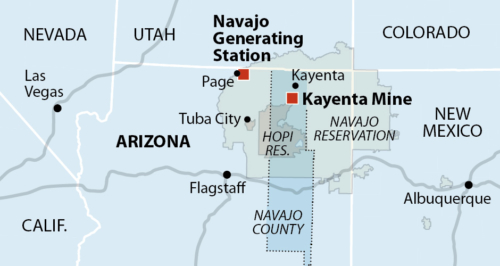 The proposal—"A Transition Plan for Communities Affected by the Closings of Navajo Generating Station and Kayenta Mine"—describes a three-year transition initiative that would support economic growth, job creation and local-government budgets.
Published in partnership with Navajo Nation-based Diné Innovative Network of Economies in Hózhó (DinéHózhó L3C), the plan follows recent research by IEEFA concluding that billions of dollars of subsidies would be required to keep the failing electricity plant in northern Arizona and its supplier mine open.
"Public and private funds alike are far better spent on transition," said Tom Sanzillo, IEEFA's finance director and lead author of the report. "Well-planned programs like the one we envision limit job losses, public-income losses, and community disruption and can lay the groundwork for further economic development."
The plan proposes a three-part initiative:
A "well-resourced focus" on the short-term needs of existing businesses and longer-term economic growth strategies.
Immediate new jobs and income for laid-off workers.
Revenue replacement for tribal governments affected.
"The alternative is to bail out the plant and the mine, at an estimated cost of $2.4 billion through 2030," the report states. "This plan can be implemented in a considerably shorter amount of time and at one sixth of the cost—roughly $128 million in the first year and a total of $380 million over five years."
Tony Skrelunas, vice president of DinéHózhó L3C, said the proposal is timely and sorely needed.
"This plan sets out a workable vision for a transition that can begin now with major leadership of the local communities," Skrelunas said. "It shows also how strong leadership, buy-in, and fair and respectful partnership among communities and governments will be required to create a new economy for a new century."
Sanzillo, the report's lead author, said the initiative aims to spark additional investment and contribute to long-term economic stability.
"This is payment for a job well done," he said. "Resources are available now to help workers find new livelihoods, to support communities by providing fiscal relief, and to build local economies anew."
CORE RECOMMENDATIONS FROM THE REPORT:

Adoption of an economic growth framework that offers a clear structure for long-term growth based on local entrepreneurial, labor and organizational assets and that addresses the immediate needs of existing businesses that will lose customers and revenue from the plant and mine, and new large-scale economic growth projects in the renewable energy and infrastructure areas and beyond.
Guarantees of new jobs for 643 workers who will be laid off from the plant and mine and for others employed by supporting businesses.
Fiscal Support totaling $55 million in annual replacement revenues for the Navajo Nation and Hopi Tribes for at least five years.
Professional administration of a transition initiative with an annual budget of $3.5 million overseen by a board that includes members of tribal governments, Arizona business leaders, federal government representatives, and employee leaders.
Full report: "A Transition Plan for Communities Affected by the Closings of Navajo Generating Station and Kayenta Mine"

Related report: End of an Era: Navajo Generating Station Is No Longer Economic
Media contact: Karl Cates, [email protected], 917.439.8225
_________________
The Cleveland-based Institute for Energy Economics and Financial Analysis (IEEFA) conducts research and analyses on financial and economic issues related to energy and the environment. The Institute's mission is to accelerate the transition to a diverse, sustainable and profitable energy economy.
Diné Hózhó L3C seeks to enable western Navajo communities to restore, capture, innovate, and interconnect to create sustainable tribal economy that is richer than the sum of its parts.