A Midwestern sign of more change to come
It's hard to overstate the importance of Northern Indiana Public Service Company's announcement late last month that it intends to phase out all its coal-fired generation over the next 10 years.
In state rankings, Indiana has long been the second- or third-largest coal consumer in the nation, depending on whether you count total coal consumption or just coal use for electricity generation. As recently as 2013, the state as a whole and NIPSCO individually relied on coal for 90% of electricity generation, well above the Midwest regional average of 75% (as measured in the Midcontinent ISO grid region to which NIPSCO belongs).
NIPSCO's commitment to coal-fired electricity has fallen somewhat since 2013, but its general reliance on coal—and its ambivalence toward renewable energy, particularly wind and solar power—remained strong. This was evident in the company's 2016 integrated resource plan (IRP) even as the company was beginning to plan for the retirement of a portion of its coal generation. In that report, NIPSCO noted that even though "renewable energy has evolved a great deal in recent years … today's sources such as wind and solar lack the same level of reliability offered by natural gas or coal-fired generation."
In the short term, the company concluded, "we expect [renewable energy] to serve as a supplemental supply of power."
Fast forward three years and everything has been turned upside down. In its latest IRP, filed with Indiana regulators on Nov. 1, NIPSCO proposes going coal free by 2028, with the bulk of its coal-fired generation, the four-unit, 1,600-megawatt (MW) R.M. Schahfer plant, to be retired by 2023. This move would cut the utility's coal-fired portion of its generating capacity to just 17%. The remaining coal-fired capacity, the 540MW Michigan City plant ,would be retired in 2028.
One slice of a traditionally status-quo state is embracing a new power-generation paradigm.
To replace its coal capacity, NIPSCO is not planning to turn to natural gas, as it was in its 2016 IRP. Instead, the utility will make a major investment in wind, solar and battery storage technology. The scope of the policy change that has occurred is captured in the following passage from the company's latest IRP filing:
"Analysis shows that the most viable path for customers involves accelerating the retirement of a majority of NIPSCO's remaining coal-fired generation in the next five years and all coal within the next 10 years. Replacement options point toward lower-cost renewable energy resource as wind, solar and battery storage technology."
THAT THIS SHIFT HAPPENED OVER THE COURSE OF JUST THREE YEARS is remarkable. In 2016, NIPSCO, while saying that renewables would be a "supplemental" source of its future power supplies, still largely planned to ignore solar and wind development, projecting that they would account for less than 1% each of its resource mix through 2037. That plan was gas-dependent, and also forecast that roughly 1,200MW of the utility's coal-fired capacity would still be operating in 2034.
Now, far from making them supplemental, the Indiana utility will be relying on renewables for much of its power needs. Specifically, the company's preferred resource portfolio calls for the addition of more than 1,000MW of solar by 2023, rising to 1,348MW by 2028. In addition, the company plans to add 92MW of solar-plus-storage capacity. This would transform the utility's resource supply mix, from today's reliance on 65% coal-fired power to 53% renewables (solar, wind and storage) by 2023 and 65% in 2028, when coal's contribution would fall to zero.
The figure below (taken from NIPSCO's IRP) shows results from the company's request for proposals for new capacity resources earlier this year and underscores the market's transition.
In all, NIPSCO received proposals for more than 13,000MW of capacity, more than half of which was renewables. In contrast, only 772MW of coal-fired capacity was offered (and that was in the form of power purchase agreements from existing plants in MISO, not new construction). More megawatts of storage were offered in response to the NIPSCO RFP than from coal, a notable wrinkle, given that storage is still in the early-entrant stage of market development.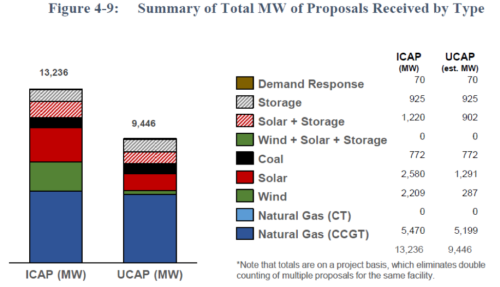 Source: NIPSCO 2018 IRP
Transitions are never linear. Innovators and early adopters often tough it out through years of relative status quo behavior. Only then do things like what is happening in northern Indiana happen as a coal-dominated utility in a coal-heavy state turns its back and moves on to cleaner, cheaper options.
[email protected] is an IEEFA editor.
RELATED ITEMS:
IEEFA U.S.: Coal inventories are down at utilities, yes, but that doesn't mean they'll be replenished
IEEFA U.S.: Two of Duke Energy's plants in North Carolina reflect national trend in baseload slippage for coal
IEEFA update: Another Texas coal-plant closing, another market signal