Industry continues to struggle against increasingly competitive market forces
Some energy pundits have spoken in recent times of an impending U.S. coal renaissance.
The Heritage Foundation trumpeted coal's "Colossal Comeback" in 2017, and a Wall Street Journal reporter in 2018 wrote of its global "resilience." Industry executives three years ago credited the newly-elected Trump administration with paving the way for fresh investments in new mines. The exuberance trickled down to state governments, where coal-state governors and legislators enthused as recently as last year about coal's nascent rebound.
That noise has now largely died down.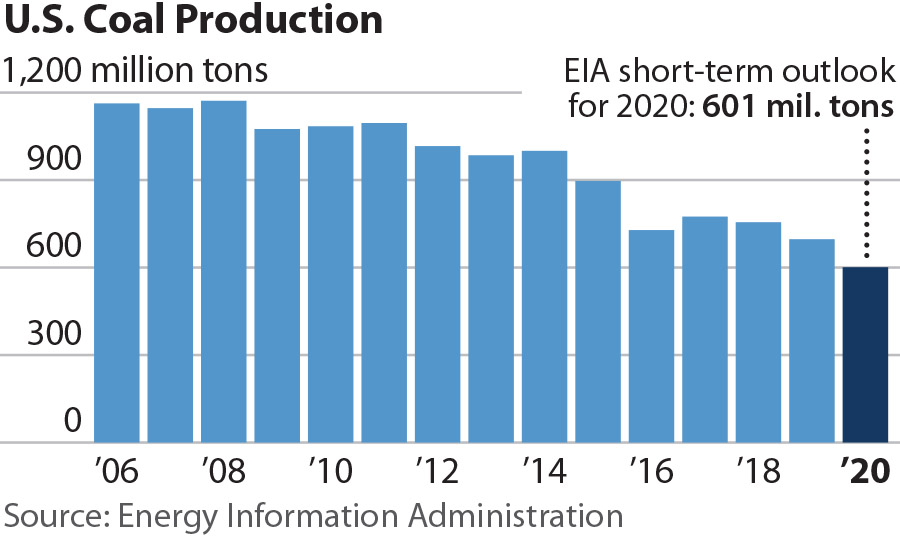 IN 2019, U.S. COAL PRODUCTION FELL TO A 40-YEAR LOW. Coal-fired power plants continued to close, including the 2,225-megawatt (MW) Navajo Generating Station in Arizona and the 2,700MW Bruce Mansfield station in Pennsylvania. Even exports, touted by many in the industry as an option for future growth, are falling, down 17 percent through the end of the third quarter, and new coal export projects remain a dim hope, weighed down by local opposition and, more important, low prices. While coal struggled throughout 2019, renewable power generation continued its ascent, for the first time surpassing coal (see the chart here), a trend led by new wind and solar installations, while cheaper-to-operate gas-fired power plants continued to take market share from coal.
At least six U.S. coal companies declared bankruptcy in 2019, including three of the largest. Cloud Peak Energy, once the third-biggest coal producer in the country, shut its doors, selling its three Powder River Basin (PRB) mines at fire-sale prices to a small operator with a spotty track record. Blackjewel imploded, unexpectedly idling two big PRB mines less than two years after having taken them over. (See IEEFA's March report, Powder River Basin Is in Long-Term Decline for a more detailed look at the region's problems.)
Even Murray Energy, led by an avid Trump supporter, filed for Chapter 11 protection, and the company in late December announced the closure of Genesis Mine, its largest in western Kentucky. The shutdown of that mine, which produced some 2.4 million tons in 2018, signals more consolidation ahead in the region (See IEEFA's December report, Dim Future for Illinois Basin Coal).
Coal companies saw a spectacular collapse in their market value
The companies that remained solvent saw a spectacular collapse in their market value. At the beginning of 2019, Peabody Energy—the largest private-sector coal company in the world—had a total market value of $3.6 billion. Now, it is worth less than a billion dollars—a 73 percent drop in a year when the stock market as a whole rose by 29 percent. Alliance Resource Partners saw its market capitalization plummet by 40 percent, Arch Coal's fell by more than 28 percent, and CONSOL Energy's by 59 percent.
In some ways, the main challenge to the U.S. coal sector comes from electric utilities, which buy the vast majority of U.S. coal. Utilities continue to shift from coal to solar, wind and gas, all of which offer significant cost advantages. In 2019 alone, utilities shuttered 14 gigawatts (GW) of coal-fired generating capacity, according to the U.S. Energy Information Agency (EIA), following the shutdown of 15GW the year before.
BY ALL INDICATIONS, THE PAIN WILL CONTINUE, with the EIA projecting that coal companies will cut production by an additional 100 million tons this year, to about 600 million tons.
The new year is barely a week old, and already two units at the Colstrip Generating Station in Montana have shut down. That's just a prelude of things to come: All told, IEEFA currently estimates that 8.5GW of coal-fired power will shut down by the end of 2020—a forecast that may very well prove to be understated.
Far from staging a comeback, U.S. coal continues its slide, and industry proponents cannot argue with any credibility that its troubles are policy-driven. The so-called "war on coal" is being waged by the market itself—and the market is winning.
Seth Feaster ([email protected]) is an IEEFA data analyst.
Clark Williams-Derry ([email protected]) is an IEEFA energy finance analyst.
RELATED POSTS:
IEEFA report: Dim future for Illinois Basin coal
IEEFA report: Coal-fired power generation collapsing across Southeast U.S., longtime bastion of the industry
IEEFA report: Powder River Basin coal industry is in long-term decline