Regulators in North Carolina should follow suit, require changes to Duke Energy's inadequate IRP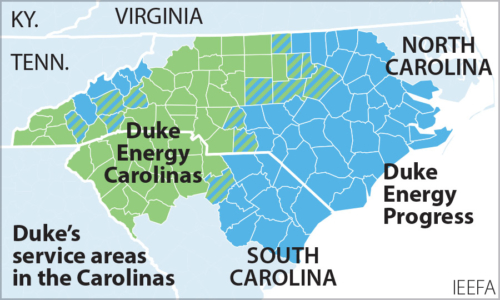 July 8, 2021 (IEEFA) ⎼ South Carolina regulators last month rejected Duke Energy's integrated resource plan (IRP), directing the utility to resubmit its proposal after incorporating nearly a dozen significant changes and new analyses. Many of these changes had been proposed by a broad group of participants in the IRP process and were recommended in a series of IEEFA reports that took issue with several aspects of the company's plans.
Among the changes Duke must incorporate into the modified IRP that must be filed with South Carolina regulators are:
Additional load forecasts, including one examining a low-growth future;

Third-party solar power purchase agreements priced at $38 per megawatt-hour (MWh) as an option for future energy needs;

Battery storage cost figures developed by the National Renewable Energy Laboratory (NREL) in its annual technology baseline report; and

Expanding the amount of solar that could be added in any given year to 750 megawatts.
These requirements should significantly improve Duke's filing. 
Requiring the low-growth forecast will force the company to explain its consistently high forecasts for future growth, particularly in its residential segment, which the company's initial IRP projected would account for the bulk of its demand growth through 2035.
Why should residential demand growth be any different in next 10-15 years?
As IEEFA's analysis showed, the company projected its residential energy demand would grow at an annual rate of more than 1% through 2035—even though residential demand was flat from 2010-2019. That projected demand growth led directly to Duke's forecast that it would need to build new generation resources, particularly gas-fired combined cycle and combustion turbine units. 
Duke now will have to address this discrepancy and, more importantly, give regulators the information they need to question the utility's assumptions. If there was no residential growth in the past 10 years, despite steadily rising customer numbers and a growing regional economy, why should the next 10 to 15 years be any different? 
Duke's initial IRP also essentially dismissed battery storage as an option, using modeling that didn't even recognize the viability of this rapidly expanding technology. Now, using the low-cost number calculated by NREL, battery storage will at least be able to compete in the new model runs conducted by the utility.
Similarly, the initial Duke IRPs capped the amount of solar and solar-plus-storage that could be added to its system at just 500 megawatts (MW) annually, for no apparent reason other than not wanting to expose its utility-owned generation to competition from lower-cost providers. As the South Carolina commission order noted, the utility has previously topped this "limitation," installing 718MW and 744MW in 2015 and 2017, respectively, across its Carolina service territories.
Duke's artificial limitation is also at odds with current trends in the industry, where utilities across the country are routinely adding significantly more than that annually.
Duke's limits on solar + storage are at odds with industry trends
For example, Northern Indiana Public Service Company, a utility with fewer than 500,000 customers—compared to the 4 million Duke electric customers in North and South Carolina—has plans to add more than 900MW of solar and 135MW of battery storage in the next two years. At the larger end of the spectrum, Florida Power and Light is looking to add roughly 1,000MW of solar capacity every year in its service territory through 2030.
Expanding the amount of solar that can be added to 750MW would almost certainly reduce the utility's generation needs toward the end of the IRP planning period, when Duke initially had projected it would need new combined cycle gas turbines.
The South Carolina commission's mandate for Duke to model solar costs at $38/MWh will boost solar's competitiveness against gas. And even that price, while significantly below Duke's own internal cost, is likely significantly higher than current regional market options. In a recent request for proposals by Georgia Power, for example, the utility secured 970MW of new solar capacity for 30 years at an average cost of roughly $30/MWh.
Looking longer term, the South Carolina commission directed Duke to include a more in-depth analysis of the risks associated with securing future gas supplies, particularly if those supplies rely on new pipeline projects. IEEFA also highlighted this risk, noting that Duke simply "assumed" any needed new pipelines and gas supplies would be available when needed. Given the furor over the Atlantic Coast Pipeline (backed by Duke but subsequently canceled after years of delay and billions of dollars in lost investment), such an assumption was clearly not prudent. The commission agreed, finding that in all future IRP updates Duke must include an "assessment of the risks of natural gas transportation and delivery … and quantitatively address the potential impacts of transport and delivery risks of natural gas availability and pricing."
North Carolina regulators appear to be getting the message
The South Carolina decision on Duke's proposal follows an earlier ruling by the state's regulators against Dominion Energy's initial IRP filing. Dominion, which owns the former South Carolina Electric & Gas (SCE&G), was criticized for largely ignoring renewable energy options in its initial submission while planning to keep its three coal plants in the state open. Dominion's revised IRP, in contrast, proposed a significant increase in renewable energy generation and the closure of two of the three coal plants—the 684MW Wateree Station and the 610MW Williams Station, by 2028. Dominion said the third plant, the 415MW Cope Station, will be converted fully from coal to gas by 2030.
North Carolina's regulators, who have not yet ruled on Duke's 2020 IRP filings, appear to be getting the message. The North Carolina Utilities Commission (NCUC) released an order last week noting that it "has identified several topics of interest … that … warrant additional exploration and further consideration" prior to ruling on the utility's pending IRP filings. North Carolina's commissioners would do well by following the path taken by their colleagues to the south: Acknowledge that Duke's proposals are too reliant on a massive gas-fired generation buildout and require the utility to revise, and improve, its pending resource plan with more realistic estimates regarding the rapidly expanding solar, offshore wind and battery storage segments.
Dennis Wamsted ([email protected]) is an IEEFA editor/analyst.
Related items:
IEEFA series: Key Shortcomings in Duke's North Carolina IRPs, An Issue-By-Issue Analysis