Weak demand and low prices are likely creating steep losses for NTEC
U.S. coal exports to Asia—once heralded as the saving grace for struggling coal producers in the western United States—are facing new strains from low prices and weak demand in the wake of the global COVID-19 crisis.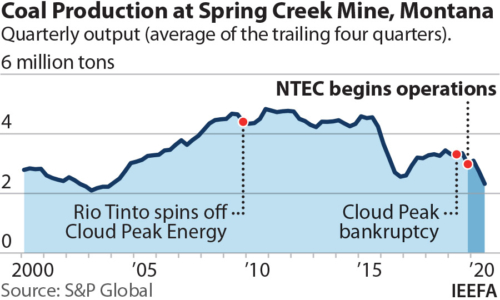 In its third-quarter financial statement released earlier this month, Westshore Terminals in British Columbia, the primary terminal for U.S. thermal coal bound for the Pacific Rim of Asia, reported a 47% quarter-over-quarter drop in thermal coal exports. Quarterly thermal coal shipments from the terminal fell to their lowest level since 2016, when global coal markets were overwhelmed by a massive supply glut that sent seaborne coal prices crashing.
Even though the Westshore terminal is in Canada, virtually all of its shipments of thermal coal—the type burned in power plants—come from U.S. mines, mostly located in Montana. Data from the U.S. Mine Safety and Health Administration suggest that Montana's Spring Creek mine, owned by the Navajo Transitional Energy Company (NTEC), bore the brunt of the decline. Coal production at Spring Creek totaled 2.2 million tons during the third quarter of 2020, down from about 3.9 million tons during the year-ago quarter. On an annualized basis, Spring Creek production has now fallen to its lowest level since 2003 (See Figure 1).
Meanwhile, production at the Signal Peak mine, the other major U.S. thermal coal exporter that ships through Westshore, held roughly steady compared to the year-ago quarter. (Signal Peak has been in the news for other reasons, having to do with a fraud and embezzlement scheme perpetrated by former executives. Signal Peak is partially owned by FirstEnergy, also in the news for fraud allegations.) Westshore doesn't disclose its customer volumes, but Signal Peak's relatively stable production during the quarter suggests that NTEC's Spring Creek mine accounted for the bulk of the decline in thermal coal exports through Westshore.
In a related wrinkle, Westshore reported that it took in "$2.6 million [Canadian] of customer shortfall payments" from July through September. This means that at least one of the terminal's shippers is paying penalties for shipping less coal than promised. 
Cloud Peak paid twice as much for rail transportation as Westshore charges to ship a ton of coal
If last quarter's shortfall payments are indeed coming from NTEC, the company is probably paying even more in penalties to BNSF, the rail company that moves Spring Creek coal to Westshore. (Documents from the 2019 bankruptcy filing of Cloud Peak Energy, the previous owner of the mine, suggest the company paid a little over $25 per ton in rail fees, more than twice as much as Westshore charges to ship a ton of coal.)
Cloud Peak shelled out millions of dollars in such payments to both BNSF and Westshore during times of low international prices, and—ironically enough—frequently shipped coal at a loss to avoid even steeper losses from contractual penalties. 
NTEC touted its purchase in 2019 of Powder River Basin mines as a "prudent investment," pointing to a study (commissioned by the company itself) arguing that Spring Creek exports held the "potential for high profitability." Yet Cloud Peak had also had made big bets on Spring Creek exports—and those bets helped cement the company's financial collapse. 
Now, NTEC's gamble on coal exports is backfiring—just as it backfired on Cloud Peak.
This will only worsen difficulties for NTEC, which has recently agreed to an ill-advised expansion of its stake in the aging coal-fired Four Corners power plant in New Mexico and whose core business—coal production for the domestic electricity industry—is in severe decline, and not just because of COVID but because utility companies continue to aggressively abandon coal for cheaper and more modern forms of generation.

Related items:
IEEFA U.S.: Coal plants close as renewable energy construction rises
IEEFA U.S.: Bankruptcy of Oakland project marks a bellwether moment for U.S. coal export ambitions
IEEFA U.S.: As utility company exits Four Corners Power Plant, NTEC seeks to keep it open