HB1414 means two aging coal plants likely to stay open, a setback for consumers and businesses
April 8, 2020 (IEEFA U.S.) – Hoosiers could be on the hook for an additional $128 million as a result of House Bill 1414 which was passed by the Indiana General Assembly in March, according to a report released today by the Institute for Energy Economics and Financial Analysis (IEEFA), an Ohio-based energy think tank.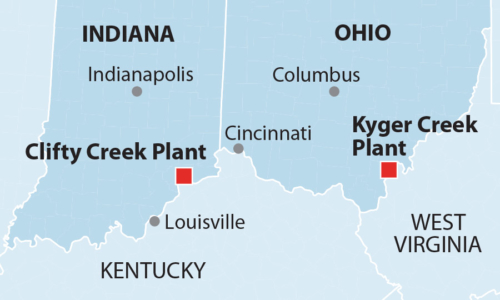 State legislators and Gov. Holcomb approved the bill with the explicit purpose of preserving the status quo for another year, pending recommendations from the recently-created 21st Century Energy Policy Task Force, slated for review by the legislature and the governor in 2021.
The bill will directly affect two aging coal plants, Kyger Creek  in Ohio and Clifty Creek in Indiana, which are owned by the Ohio Valley Electric Corporation (OVEC). The plants were built 65 years ago to provide power to the now-closed Portsmouth Uranium Enrichment Facility.
According to the IEEFA report, the plants are not needed for grid reliability and Indiana customers of I&M and Vectren could pay more than $128 million above market power costs to keep the two plants in service between 2020 and 2026. A longer bailout would be even more expensive.
"Both OVEC plants are uneconomic, with total costs far exceeding the current and expected future costs of obtaining power in the PJM and MISO markets," said report author David Schlissel, IEEFA's director of resource planning analysis.
The bill has been under fire as a thinly veiled attempt to bail out the Indiana coal industry and slow the transition away from coal-fired generation by the state's electric utility sector. In particular, HB 1414 was criticized for imposing regulatory roadblocks on the retirement of inefficient and expensive coal-fired plants.
"The bill requires utilities to follow power-plant planning and operating practices that extend the use of coal and thereby increase significantly both utility costs and customer rates," according to the report.
After sometimes acrimonious debate, HB 1414 narrowly passed the Indiana House, was watered down by the Senate and eventually signed into law by Gov. Eric Holcomb on March 21.
The bill has been criticized primarily for two reasons:
The Clifty Creek and Kyger Creek plants are old and uneconomic coal-fired power plants that should be retired as soon as possible and not afforded special treatment in order to extend their lives; and
Contrary to the public claim of HB 1414's Senate sponsor Sen. Mark Messmer central to the bill's approval, the two legacy generation resources definitely have "the potential to raise rates" for the retail customers of I&M and Vectren utility companies.
Market conditions, including low natural gas prices and increasing competition from declining cost renewable resources, will continue to undermine the viability of the plants for years to come.
"A more prudent use of state resources would be to retire the two plants, encourage development of renewable resources and provide fiscal support to local governments during a multi-year transition period, as well as support for workers who might be laid off in the process," Schlissel said.
David Schlissel ([email protected]) is IEEFA's director of resource planning analysis
Full report: It's Time to Retire, Not Bail Out, OVEC's Aging and Expensive Coal Plants
Media contact: Vivienne Heston ([email protected]) +1 (914) 439-8921
About IEEFA
The Institute for Energy Economics and Financial Analysis (IEEFA) conducts global research and analyses on financial and economic issues related to energy and the environment. The institute's mission is to accelerate the transition to a diverse, sustainable and profitable energy economy.