Karnataka surpasses Tamil Nadu; Policies encouraging less reliance on imported fuel drive uptake of solar and wind; 'Clear and rising risk' in traditional thermal sector
July 24, 2018 (IEEFA) — The Indian state of Karnataka has become the new national leader in renewable energy generation, concludes a report published today by the Institute for Energy Economics and Financial Analysis.
Karnataka, which lies along the southwest coast of India and has a population of more than 60 million, had a total of 12.3 gigawatts (GW) of renewable capacity installed as of March—after having added 5 GW in 2017/18 alone, the report finds.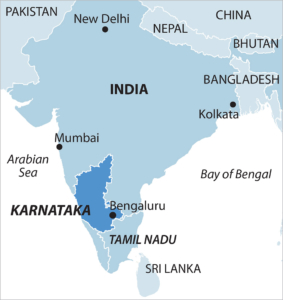 The gains helped Karnataka's renewables sector overtake that of the neighboring state of Tamil Nadu, which had long been India's top renewables market.
The report — "Karnataka's Electricity Sector Transformation" — describes a trend driven by state and national energy policies that have encouraged less reliance on imported energy and how declining costs have helped build momentum around the uptake of renewables, especially solar.
"Karnataka's progressive leadership offers a positive role model of electricity system transformation for the rest of India," wrote the report's authors, Tim Buckley, IEEFA's director of energy finance studies, Australasia, and Kashish Shah, an IEEFA research associate. "As other states follow Karnataka's lead, India is set to take its place as a global leader in decarbonization. The merits of adopting increasingly low-cost technology innovation and more sustainable development provides India with an alternative path to the now outdated plan of increased reliance on expensive fossil fuel imports."
The report notes that recent solar tenders in Karnataka have seen near record low bids of Rs2.82-3.06 per kilowatt-hour (kWh)(US$41-44/MWh), materially less than the average Rs3-5/kWh for domestic thermal power tariffs and the Rs5-6/kWh tariffs required for imported coal fired power.
And it points out that in June, Karnataka introduced reverse auctions for wind-powered electricity, with an upper cap of Rs3.45/kWh, following the success of similar auctions in Gujarat and Tamil Nadu in 2017, when tariffs fell by as much as 50% to as low as Rs2.43/kWh.
In a "likely pathway" for Karnataka based on IEEFA modelling through 2028, the report's findings include the following:
Karnataka is set to move from being a net importer of electricity to having a net balance, and it could become a net exporter, a possibility currently constrained only by insufficient interstate grid capacity.
Renewables will account for 23 GW or 60% of capacity (43% of generation), up from 12.3 GW or 46% in 2017/18.]
Hydro, which accounts for 3.6 GW or 13% of current capacity, continues to provide much-needed dispatchable energy to balance the state's growing, but variable wind and solar.
Thermal power's market share, currently at 10 GW (38% of capacity and 49% of generation), will remain steady, but "needs to better incorporate more flexible, peaking capacity."
The report notes the "clear and rising" financial distress of the state's thermal power sector, making several points emphasizing that trend, including: 
Imported fuel costs have risen by almost US$300 million at Karnataka's coal-fired power plants in the last two years.
Interstate rail costs of as much as US$31/tonne (t) pose a significant economic challenge to the state's coal-fired power sector.
Capacity factors as low as 35% suggest the state's coal-fired generation is unsustainable.
Building baseload gas-fired power plants in the state is not a financially viable option.
The report notes also that Karnataka has been a leader in India's service-sector-driven growth over the last decade and that its contribution to India's GDP of as much as 10% makes it crucial to the country's sustained growth prospects.
It praises Karnataka for its "prudent energy policies and commitment to comply with renewable purchase obligations enforced by the central government," and says its "fully subsidised open-access model for solar power has allowed businesses and developers to mitigate payment and offtake related risks with cheaper and more reliable power supplies while overcoming the barriers posed by loss-making state-owned distribution companies."
Full report: "Karnataka's Electricity SectorTransformation"
Media contacts:
(India/Australia) Tim Buckley, Australia [email protected] +61 408 102 127
(U.S.) Karl Cates [email protected]  917 439 8225
About IEEFA:

The Institute for Energy Economics and Financial Analysis (IEEFA) conducts research and analyses on financial and economic issues related to energy and the environment. The Institute's mission is to accelerate the transition to a diverse, sustainable and profitable energy economy.