Extreme weather risks are likely here to stay and planning ahead is necessary for Indonesia
In mid-February, a catastrophic power outage in Texas left more than four million households stranded for days without electricity amidst freezing weather. More than 46,000 megawatts (MW) of power capacity went offline under the extreme cold weather event, putting pressure on the power grid system and resulting in broad-based failure. Gas supplies – which provide 60% of the state power in winter – proved to be particularly vulnerable with many wellheads and pipelines frozen.
The story of system failure resulting from the lack of "winterization equipment" actually goes far beyond the headlines focused on reduced gas supplies, coal and nuclear power plant shutdowns, and frozen wind turbines. The Texas grid failure is a stark reminder of how extreme weather events are becoming more destructive, testing power infrastructure resilience to their limit and highlights the way that outdated power system management conventions are no longer a fit for our interconnected lives.  When the power outages cascaded through the Electricity Reliability Council of Texas (ERCOT) grid, power prices surged and water systems were left vulnerable to freezing temperatures, robbing some citizens of water and affordable power.
The trend shows that extreme weather is here to stay
These are outcomes that have obvious resonance in South East Asia. Late last year, Super Typhoon Rolly in the Philippines left hundreds of thousands of people without power, damaging infrastructure and lifeline crops with costs estimated at US$367 million or higher. While no stranger to typhoons, South East Asia's island nations are all grappling with the reality that the storms are becoming more intense and unpredictable. It comes as no surprise that the Philippines national meteorological agency has declared that the stronger typhoons are likely attributed to the warming of the sea surface and the atmosphere.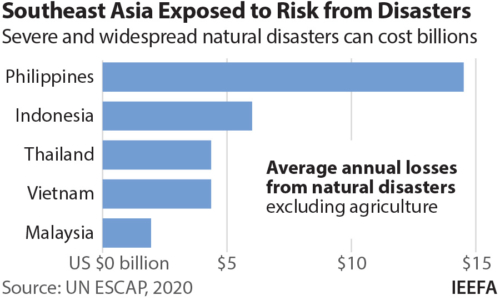 Closer to home, Indonesia started the new year with multiple severe floods in the islands of Kalimantan and Java. The intense floods caused a disruption to PLN's coal supply chain that left around 12 gigawatts (GW) of PLN's coal fleet with less than 10 days of supply. It is tempting to claim that all these occurrences are 'unexpected weather events' or 'uncommon heavy rain'. However, the trend shows that extreme weather is here to stay, and policymakers should heed the warning signs and adopt new planning disciplines to ensure that Indonesia is better prepared to make cost-effective investments before these high-risk events threaten long-term growth goals.
Three key insights from the Texas energy crisis can be useful for Indonesian planners:
FIRST, DIVERSIFIED ENERGY SOURCES MATTERS. The Texas power grid is based on centralized thermal power generation, which in winter relies on gas, coal, and nuclear for 80% of its power. While installation of new wind capacity has picked up in recent years, due to seasonality, wind has historically contributed less to the Texas power mix during winter.
In Indonesia, centralized thermal power generation is even more concentrated, with coal power dominating more than half of Indonesia's electricity mix. A sudden interruption to the coal supply chain could leave the key grids at risk of failure.
In fact, this just happened last month. A number of PLN coal power plants in Java island reported coal reserve shortages, triggering a warning to the public from a Ministry official about a possible rotating blackout. What caused this risk to PLN's most important grid? Unusual severe flooding in key coal-producing provinces, such as South and East Kalimantan, was cited by MEMR as the cause of the coal supply chain problems. Flooding in those provinces put the system at risk because more than 80% of Java's coal fleet is supplied by coal from three key provinces: South Sumatra, South and East Kalimantan. This supply risk translated into a situation where PLN's normal coal reserves fell from two weeks of supply to just six days at some plants.
A sudden interruption to Indonesia's coal supply chain could lead to key grids' failure
Over-reliance on a single commodity fuel such as coal in Indonesia or gas in Texas increases fuel supply risk for the overall power system. One obvious solution to this problem would be to increase the share of distributed-power generation from multiple energy sources. Increased system diversity is recognized by global power analysts as one of the ways to increase grid resiliency in the face of risks to system stability.
SECOND, EVEN "RELIABLE" BASELOAD POWER CAN FAIL UNDER THE STRAIN OF EXTREME WEATHER. With gas pipelines frozen and wind turbines slowed by ice, multiple system failures in Texas were largely attributed to the insufficient preparedness of the utility and grid operator in handling extreme weather risk in their system.
Extreme weather risk due to well-documented climate change trends needs to be taken seriously by all energy players. Indonesian policymakers should take steps now to anticipate similar adverse-weather risks that can disrupt Indonesia's energy and power infrastructure. Weather-related risks from storms, floods, and fires need to be studied in the context of disruption to critical land and marine transportation routes, transmission and distribution network outages. These interconnected risks need to be studied more rigorously as part of any energy system operational risk assessment to identify new energy system vulnerabilities.
THIRD, GRID INVESTMENT AND INTERCONNECTION MUST BE A HIGHER PRIORITY. The standout risk of the Texas power system is due to its isolation from neighboring regional grids. Unlike other regions where investment in interconnection and power trading are well established, Texas has limited options to stabilize their system through interconnection.
Indonesia has significant potential to tap into new renewable energy sources
As an island nation with wide geographical spread, Indonesia has often studied the benefits of interconnection between key grids without taking further action. The benefits from targeted investment in interconnection are now rising, notably considering the current excess capacity in the Java grids while potential demand exists in other grid systems. Indonesia has significant potential to tap into new renewable energy sources that are often scattered in more remote locations with limited demand. This is where enhanced grid interconnectivity can become a catalyst for more resilient power that both PLN and MEMR should consider.
Governments all over the world are questioning grid operators about steps they have taken to stress-test critical power infrastructure that is vulnerable to fast-moving weather risks. 'Surely, we cannot plan for everything?', some may say, but the 'unexpected' should now become the expected, and Indonesia would be wise to start planning for its power grid resilience ahead of time. It is time for leading business owners and top policymakers in Indonesia to start managing climate risk in a more business-like way. It is time to put a number to it. Climate risk is after all an investment risk, but if we fail to act, it is an existential risk.
Putra Adhiguna and Elrika Hamdi are Energy Finance Analysts, IEEFA. 
This commentary first appeared in The Jakarta Post.
Related items:
Lessons from the Texas energy crisis for emerging LNG importers in Asia
Switching coal plants to PLN's biomass cofiring plan is no magic bullet
Neglecting renewables could cost Indonesia's energy edge, independence