More Big Solar and Wind Projects; Fewer Coal Projects of Any Size
Policy change in China is driving a surge in renewable generation, a flattening of carbon dioxide emissions and a downward trend in coal permitting and construction.
While coal still dominates China's electricity-generation sector, air pollution and related public health concerns alongside mounting worries about global climate change have driven renewables—particularly solar and wind generation—to grow more rapidly than other electricity-generation sectors over the past several years.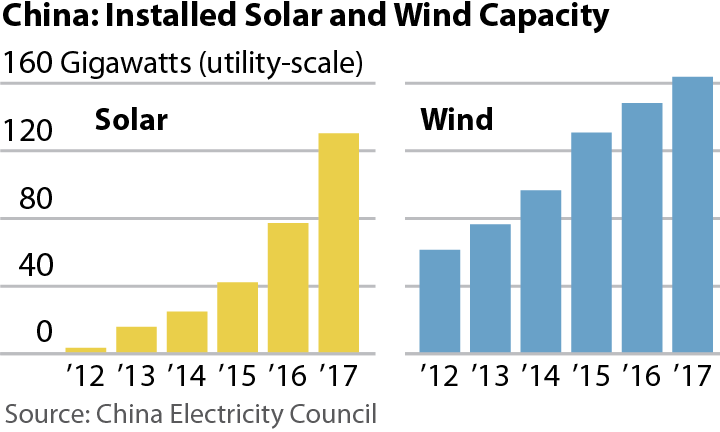 Since 2012, total installed solar photovoltaic generation has increased from less than 10 gigawatts to about 130 gigawatts, marked by a 50-gigawatt increase from 2016 to 2017, according to Calvin Quek, an energy analyst with Greenpeace who was among several China experts who spoke at IEEFA's annual conference last week in New York. As solar has surged, installed wind capacity in China has grown from just over 60 gigawatts to slightly more than 160.
These trends reflect what Quek characterized as "a complete sea change" in China, where the amount of solar generation now installed already exceeds the goal the county had set for 2020 (which marks the end of its current five-year plan, a recurring policy document that is updated every five years). Chinese wind generation has yet to achieve the national target of 210-250 gigawatts by 2020, but recent annual growth of 20 percent or more will put it well beyond that mark over the next several years.
Perhaps more important, and a clear indicator of a shift at work across the Chinese energy economy, Quek noted that both the country's overall energy demand and its carbon dioxide emissions have peaked over the past few years after a massive run-up from 2000-2010.
ANOTHER NUMBER OF NOTE IN CHINA is its national coal-fleet capacity factor, which was 47.5 percent in 2016 and 48 percent in 2017, meaning that the fleet generated less than half its potential output. The national government has stepped in as a result and suspended or cancelled projects previously approved at local and provincial levels. As in the U.S., large baseload plants are an important revenue source for localities in China, a key factor in a surge in coal plant permitting in 2015.
Since 2012, total installed solar photovoltaic generation has increased from less than 10 gigawatts to about 130 gigawatts.
Aiqun Yu, an analyst with CoalSwarm, a think tank that tracks coal-fired electricity generation globally, said that in just the past two years, the Chinese government has essentially cancelled or suspended some 444 gigawatts of new coal-fired generation capacity. The program has been enforced rigorously, she said, and to the point that several completed coal plants have been barred from hooking up to the transmission grid, effectively placing them in mothball status. The policy has pushed down the amount of new coal capacity coming online from 60 gigawatts in 2015 to 34 gigawatts in 2017—the lowest number in more than a decade.
Another counterintuitive but striking statistic: The number of Chinese coal plant retirements remains relatively low, understandable given that virtually all of the country's existing capacity is less than 30 years old. Since 2014, about 25 gigawatts of coal-fired capacity has been retired, according to CoalSwarm data. By comparison, almost 50 gigawatts have been retired in the U.S. over that same period, though the amount of coal capacity in the U.S. amounts to only a third of China's roughly 936 gigawatts. That said, China is taking its smaller, generally less efficient units—mostly those with a capacity of less than 200 megawatts—off-line, according to CoalSwarm research, a policy that will only increase the sector's poor capacity factors.
Melissa Brown, an IEEFA Asia energy-sector analyst, said that while growth across China's renewable sector is "very, very significant," she offered a cautionary note on the country's electricity-generation transition.
"This is China," Brown said, "and it is never as simple as it seems."
Dennis Wamsted is an IEEFA editor.
RELATED ITEMS:
IEEFA Update: A Tipping Point Is Coming, and Fast
IEEFA Report: Winners and Losers Among Big Utilities as Renewables Disrupt Markets Across Asia, Europe, the U.S., and Africa