Birchwood plant shifts from coal showcase to solar-plus-storage resource
The Birchwood coal facility in Virginia is emblematic of the rapid transition from coal to renewable energy underway in the U.S. Four years ago, General Electric, which owns half of the 242-megawatt (MW) unit, planned to make the facility a showcase of its digital technologies, promising efficiency improvements, reduced emissions and lower costs. Earlier this month, the plant's other half-owner, J‑Power USA, said it would build a 50MW solar farm coupled with a 190MW battery storage unit at the now-closed coal plant.
The speed of coal's decline was largely unanticipated
GE's plans for Birchwood, which it had once dubbed the GE Steam Plant Services Innovation Center, were rolled out in 2017, when coal's share of U.S. electricity generation was already falling. But the speed of the decline was still largely unanticipated. "In the U.S., coal will likely provide 20% of electricity for the next 20 years," the company predicted when announcing the new innovation showcase. Last year, coal's share of U.S. electricity generation fell to 19.6%.
In 2017, GE said the improvements it was planning for the facility would have a beneficial impact on efficiency, flexibility and availability, while also enabling it to cut emissions, as well as outage and maintenance costs.
As Terry Schoenborn, GE Power Services head of operations and maintenance, explained: "Let's put all of the digital technologies that we have on this plant to make it the most efficient, reduce O&M costs, drive heat rate, everything that we can do in our digital arsenal, let's put it in this plant and really demonstrate the full capabilities and breadth of the company."
None of that happened.
The unit's annual capacity factor, already a low 19.5% in 2017, tumbled to 2.3% in 2019 and 3.6% in 2020. Its heat rate (a key measure of efficiency) soared and costs skyrocketed. The GE innovations, whatever they were, clearly weren't enough for the plant to remain economically competitive. The owners announced last year that they would close the facility in 2021.
J-Power's decision to use the closed facility for a new solar-plus-storage facility points to the other half of the ongoing transition. Coal is being pushed out of the market. Increasingly, wind, solar and battery storage are the resources doing the pushing.
The following chart illustrates the ongoing transition. The renewable chart shows the clear upward trend in market share in the first three months of the year in 2019, 2020 and 2021. Two years ago, there were no days during the quarter when the market share of wind and solar was above 15%; this year, wind and solar topped that level on 29 days.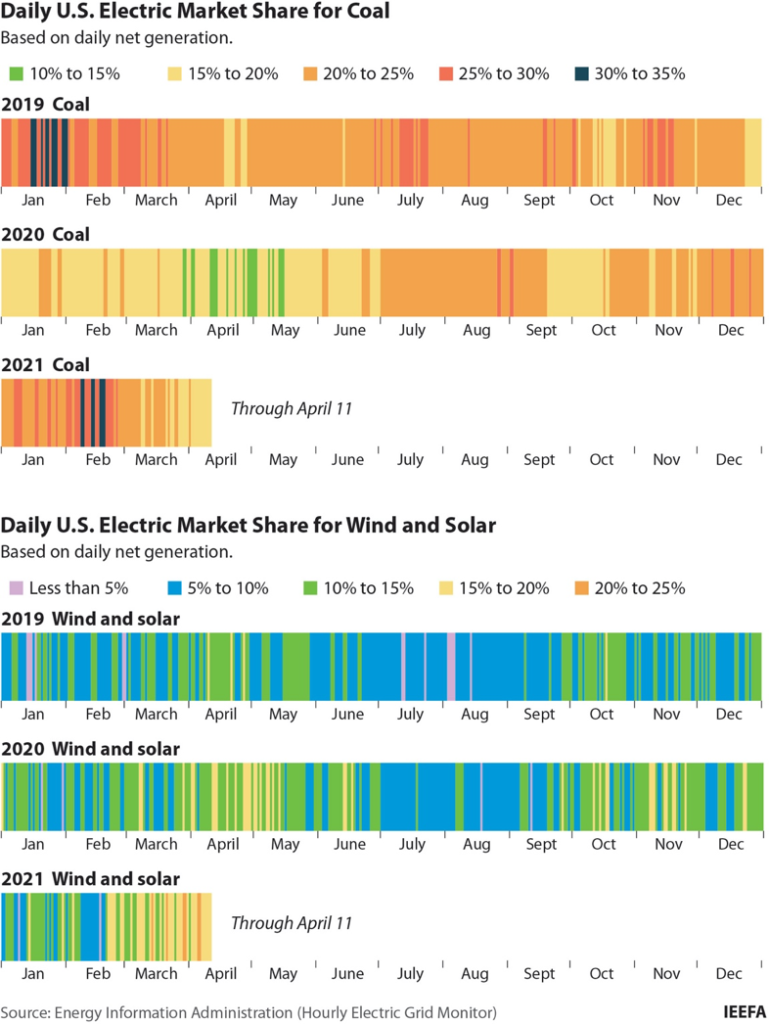 The two renewable resources accounted for 11.1% of total electricity generation in 2020, rising above 10% for the first time and up more than 3% since 2017. That percentage will continue its quick upward movement in the next two to three years, with roughly 80,000MW of utility-scale wind and solar now under construction or in the advanced planning stage. Given expectations for continued low- to no‑growth in electricity consumption, that additional no-fuel-cost generation will take market share from coal and/or gas as it comes online. A similar sharp surge is under way in the battery storage sector, with estimates showing as much as 20,000MW of utility-scale set for commercialization by 2025.
The redevelopment project will be J-Power's third solar facility in the U.S.; the company, a subsidiary of Japan's Electric Power Development Co., no longer owns any operating coal plants in the United States.
Mark Condon, president and CEO of J-Power USA characterized the shift at Birchwood as "an exciting opportunity…This project is part of J-Power USA's plan to increase our renewable portfolio and continue our efforts to build a cleaner sustainable energy future."
Expect more of this—much more—in the months and years to come.
Dennis Wamsted ([email protected]) is an IEEFA analyst/editor.
Related items:
IEEFA U.S.: Wind, solar transition in full view in Texas in March
IEEFA: U.S. Power Sector Outlook 2021
IEEFA U.S.: Coal plants close as renewable energy construction rises