Despite some glaring anomalies, much of the world is finally heading in the right direction
It could be easy to become disheartened. Australia is still not focusing on the climate science and need for a rapid decarbonisation of the economy.
Australia is still not focusing on the need for a rapid decarbonisation of the economy
Instead, the Federal government is bizarrely trying to provide new capacity payment subsidies to extend the life of antiquated coal plants, is providing subsidies in the tens of millions for new gas exploration when companies themselves are reluctant to invest, is approving new coal and has developments, and is overturning bi-partisan support for an ongoing ban on nuclear power.
When Australian politicians continually fail to lead, it is however reassuring to know that countries around the world are responding to the overwhelmingly obvious signs that extreme weather events are becoming more frequent and more extreme with deleterious effects on economies and communities, by pledging to decarbonise.
Global corporate and financial institutions are likewise responding by curtailing finance to new fossil fuel projects, with Australian institutions following suit, given Australia is a very trade-exposed economy and its financial system is exceptionally linked to international markets.
And it is reassuring to know that while the Federal government continues its decade-long energy policy chaos, Australian consumers are also taking energy security into their own hands.
Industry highs
It looks like 2021 will be another record year for rooftop solar installations of over 3.5 gigawatts (GW) according to the Clean Energy Regulator, building on the 40% growth in the total capacity of installs in 2020 of 3GW. The average system size being installed has trebled over the last decade to over 8 kilowatts (kW).
Households have taken the energy transition in hand
Australia is now well ahead of Green Energy Markets' forecast for rooftop solar to reach over 50GW by 2050, half of the total grid capacity. And behind-the-meter batteries and batteries-on-wheels will rapidly follow.
This world leadership know-how is something Australia should be shouting about, and exporting to assist our neighbours.
While households have taken the energy transition in hand, Australia's key trading partners have also belatedly understood the need for an accelerating global effort to respond to the global climate crisis.
Global policy shifts and their impact on Australia
China has pledged to peak emissions by 2030. Its key power and steel sectors have committed to play a leading role in peaking by 2025, with the steel emissions reduction plan proposing an audacious 30% cut from 2025 to 2030.
This implies a dramatic policy shift of huge importance for Australia given China is the top importer of iron ore and coking coal, two of Australia's largest exports.
And Japan's new energy plan for 2030 was approved in July 2021, consistent with Prime Minister Suga's surprise pledge in April to cut country emissions by 46% by 2030. The plan confirms the Ministry of Economy, Trade and Industry's (METI) endorsement of the ambition outlaid by Japanese firm JERA in late 2020 to shift its entire coal power fleet to 100% green ammonia by 2040, with a 20% co-firing interim step set for 2030.
Japan's new electricity plan has profound implications for Australian fossil fuel exports given it calls for a 46% reduction in thermal coal use this decade, and an even more dramatic 51% reduction in LNG use.
Japan's new electricity plan has profound implications for Australian fossil fuel exports
South Korea has likewise committed to net zero emissions by 2050, and President Moon Jae-in has set an interim 2030 country target to cut emissions by 40%.
South Korea is on track to install over 4GW of solar in 2021, equal to its 4.1GW record of 2020. And in May 2021, it announced the world's largest (to-date) proposed floating offshore wind project of an enormous 6GW capacity costing A$40bn.
The European Union push to bring in the Carbon Border Adjustment Mechanism starting from 2023 continues to gain momentum, with growing expectation that other key Australian trade partners will join suit.
Meanwhile, the EU emissions trading scheme is going from strength to strength, with carbon emissions pricing now consistently exceeding €50/t in 2021.
The return of the U.S. to climate leadership is building momentum with every week in 2021.
In April 2021 President Biden confirmed his target to make the U.S. electricity grid carbon free by 2035, an amazingly ambitious target that would require not only a total coal power exit but also the likely closure of 500GW of gas-fired power capacity (diametrically opposite to Australia's 'gaslit recovery').
And in August 2021 President Biden announced the U.S. target for a 50% share of new car sales to be electric vehicles by 2030 as key to the reintroduction of long-term fuel efficiency and emissions standards for the sector.
Gathering momentum
In August 2021 Prime Minister Modi announced a National Hydrogen Mission as part of India's target of energy independence from fossil fuel imports by 2047.
The global financial industry has also pivoted phenomenally in 2021 with Brookfield's Mark Carney chairing the industry-led and UN-convened Financial Alliance for Net Zero, pledging a 1.5°C alignment as part of its net zero emissions by 2050 target, with interim targets. This shifts the goal posts profoundly versus the less than 2.0°C Paris alignment previously pledged.
The global financial industry has also pivoted phenomenally in 2021
The International Energy Agency (IEA) followed this up in May 2021 with its Net Zero by 2050 roadmap, confirming the 1.5°C pledge means there can be no new greenfield coal, oil or gas developments globally with immediate effect.
The global financial pivot to accept the climate science is clear.
By July 2021, the Financial Alliance for Net Zero representing firms with a collective US$70 trillion of assets grew 25% to US$88 trillion.
BlackRock founder Larry Fink's "seismic reallocation of capital" forecast is coming home at amazing speed, with environmental, social and governance (ESG) investment flowing into funds at record highs.
Australian corporates that fail to heed this global trend are clearly now on notice, irrespective of what new fossil fuel subsidies the Federal Government proposes.
Possibly the most significant announcement this year has come from India's Reliance Industries.
As the largest oil and gas firm in India, this has seismic implications
As the richest man in Asia, the chairman of Reliance Industries Mr Ambani's pledge of net zero emissions by 2035 and his target to invest US$10bn in zero emissions manufacturing facilities across India in the next three years looks likely to propel India onto the centre stage globally, being 100% aligned with Prime Minister Modi's dual 450GW of renewables by 2030 and Self-Reliant India targets.
As the largest oil and gas firm in India, this has seismic implications of its own.
Down under but not down beaten
Notwithstanding federal political intransigence in refusing to accept the climate science or in seizing growing opportunities for investment, employment and exports, Australia still stands to become a renewable energy superpower as predicted by famed economist Ross Garnaut.
Not a week passes without a global energy giant announcing plans for world-leading zero emissions industry development in Australia, be that by BP in wind, solar and green hydrogen or Rio Tinto's majority-held Tomago Aluminium's ambition to switch to a predominantly renewable power supply by 2029.
Australian chair of Fortescue Metals Group announced he was going all-in on decarbonisation
Australian billionaire and chair of Fortescue Metals Group Andrew Forrest announced in 2020 he was going all-in on decarbonisation, devoting the next decade of his life to green hydrogen with plans to build up to 1,000GW of renewable infrastructure.
A briefing in July 2021 by Fortescue CEO Elizabeth Gaines confirmed the company now employs 400 staff on their decarbonisation projects globally, and the firm is set to quadruple annual investment in green hydrogen to some US$600m in the current year.
Announcing memorandums of understanding and proposals stretching from Russia to Brazil, Papua New Guinea to New Zealand, and Tasmania's Bell Bay to West Australia's Pilbara, Fortescue does seem to be moving at light speed to capture a world-leading stake in the green hydrogen supply chain, forecasting it will be the largest seaborne-traded energy commodity in the world by 2050.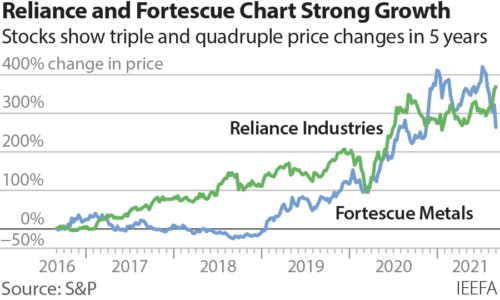 Global progress
The world is belatedly accepting the climate science and recognising a global effort is required to solve this global, existential threat.
Australia's key global trading partners are rapidly ratcheting up their pledges of combined action
And despite the political denialism of this 'down under', all of Australia's key global trading partners are rapidly ratcheting up their pledges of combined action.
Global financial institutions are aligning as well, acknowledging the growing stranded asset risks of continued investment in new fossil fuels, as well as realising there is a massive new investment opportunity globally to deliver on the solutions required.
With the richest man in India vying with the richest man in Australia to lead this global pivot, IEEFA is increasingly confident the weight of money globally has pivoted in 2021.
Belatedly, but decisively.
The Australia government must catch up.
By Tim Buckley, Energy Finance Analyst IEEFA 
This article first appeared in Smart Energy Magazine
Related articles: