Cautionary Tales from Illinois, Indiana, and Mississippi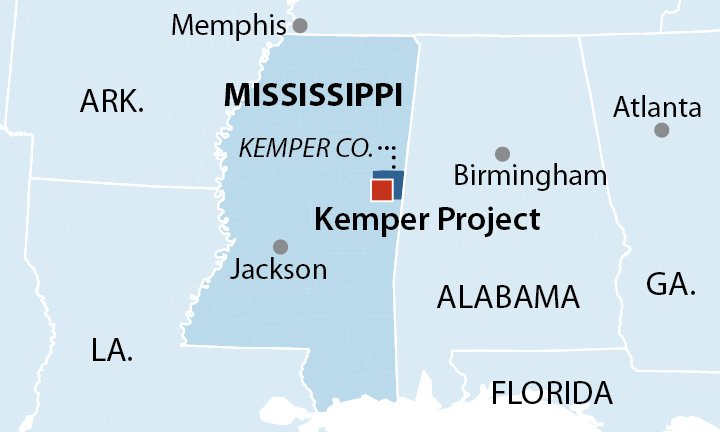 The history of coal-gasification experimentation for electricity production doesn't bode very well for further efforts along those lines.
In fact, it serves as a warning, specifically for stakeholders in a well-known aging coal-fired plant now being talked about in some circles as a candidate for just such an experiment.
That supposed contender for coal gasification is the Navajo Generation Station, or NGS, the biggest coal-fired plant west of the Mississippi and one scheduled by its owners for retirement in 2019. NGS is almost a half-century old and was built in a time when coal was the major component of U.S. electricity generation. Today coal is being fast-supplanted by natural gas and wind.
Last July, Mississippi Power Company, owner of the Kemper Generating Station in Mississippi—which was conceived of and built as a coal-gasification plant—announced, at the direction of state regulators, that the plant has failed to realize its original purpose and would be powered solely by natural gas.
Southern Company, the parent company of Kemper owner Mississippi Power, has had to inject $1 billion into the subsidiary to help it pay off loans on Kemper, which had become a multi-billion-dollar boondoggle. The Liberty Fuels mine that fed Kemper began laying its work force off last August. "After years of delays and billions of dollars in cost overruns," as Bloomberg News put it, state regulators called an end to the original experiment and said that out of respect for ratepayers it would not go along with it anymore, and the coal-gasification dream in Mississippi was officially dead.
KEMPER WAS A TRAIN WRECK FROM THE BEGINNING, much like the other power plant built in the U.S. in recent years on coal-gasification technology. Like Kemper, the Edwardsport IGCC Power Plant in Indiana, owned by Duke Energy, has failed to operate reliably, and that plant has been extremely expensive to build and to operate. Although Edwardsport was originally "heralded by Duke Energy as a technological marvel and a producer of reliable, low-cost energy" the reality has been very different, and has been an economic disaster for the Duke's Indiana customers.
'If the 'clean coal' integrated gasification combined cycle (IGCC) technology promoted at home and abroad by the U.S. utility industry sounds too good to be true, it's because it is.'
Both projects were essentially ratepayer-subsidized high-cost tests of technology that to some people looked good on paper but that have not worked out well at either plant. And both of the companies behind the projects were warned in advance about the risks of pursuing such untested technologies but pushed ahead anyway, expecting to profit while their customers picked up cost overruns.
The Department of Energy three years ago acknowledged that large-scale, affordable, technologically-viable coal-gasification was a pipe dream when it pulled the plug on an Illinois gasification project called FutureGen after sinking more than $200 million into it.
My colleague David Schlissel, an energy-industry expert, has published IEEFA research and commentaries over the past two years explaining the folly in clean-coal pursuits.
"If the 'clean coal' integrated gasification combined cycle (IGCC) technology promoted at home and abroad by the U.S. utility industry sounds too good to be true, it's because it is," Schlissel wrote in an IEEFA commentary published last year.
Schlissel notes that "clean coal" pitches never live up to their hype, they don't work as advertised, they take far longer to build then promised, and they always have huge cost overruns.
Nonetheless, the coal industry continues to whisper sweet, disingenuous nothings into the ears of decision makers at the Department of Energy, who are now investing $61.6 million in public money in 13 experimental "clean coal" projects around the country. It is more a political than a business decision, however, coming at the direction of an administration with a stated pro-coal agenda. Because such plans are not based in the true economics of energy markets, they are not  likely to come to fruition.
These lessons are pertinent now in the Navajo Country of northwest Arizona, where back-room discussions are occurring over how to keep NGS going as a "clean coal" project, an option that would be doomed from the outset and that would ignore more sensible post-coal economic development opportunities on tribal lands.
Karl Cates is IEEFA's editor.
RELATED POSTS:
IEEFA Update: In Campaign to Prop Up Navajo Generating Station, Peabody Energy Seeks a Victory Again at Somebody Else's Expense
IEEFA Update: Will Southern Company Refund Mississippi Ratepayers for Failed $7.5 Billion Kemper 'Clean Coal' Experiment?