Cash results disappoint, raising questions about dividends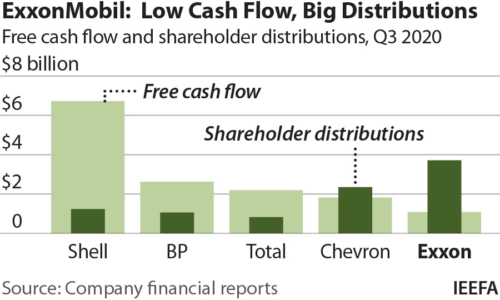 ExxonMobil today posted third quarter cash results that were significantly worse than those of its four peers, Shell, Total, BP and Chevron. These disappointing results challenge the company's repeated claims that the fundamentals of the oil and gas industry have not changed. 
"ExxonMobil needs a business model that manages decline, generates stable profits and contributes to a solution to the world's climate and energy challenges," said Tom Sanzillo of the Institute for Energy Economics and Financial Analysis (IEEFA). "The constant refrain that 'industry fundamentals are solid' is just wrong."
ExxonMobil has responded to low oil prices by cutting staff and slashing capital spending. At the beginning of 2020, the company projected that it would spend $33 billion on capital projects during the year, but has now trimmed that projection to $23 billion. ExxonMobil expects to reduce capex still further next year, to $16-19 billion. 
Despite cuts in capital spending, ExxonMobil's $1.1 billion in free cash flow trailed its peers, and failed to cover the company's $3.7 billion dividend payments. The resulting $2.6 billion cash shortfall was also the worst among ExxonMobil competitors. Chevron posted a shortfall of $0.5 billion, while Shell, BP, and Total, produced sufficient free cash flow to fund their dividends. 
In announcing its third consecutive quarterly loss, ExxonMobil also announced it would not raise its dividend for the first time in nearly 40 years. Yet the company's free cash flows have now failed to cover dividends for seven consecutive quarters. This poor cash performance raises troubling questions about whether it is prudent for ExxonMobil to sustain its current level of dividends.  
Kathy Hipple ([email protected]) is an IEEFA financial analyst.
Clark Williams-Derry ([email protected]) is an IEEFA energy finance analyst.
Tom Sanzillo ([email protected]) is IEEFA's director of finance.
Seth Feaster ([email protected]) is an IEEFA energy data analyst.
Recent items:
IEEFA update: ExxonMobil says the long-term fundamentals have not changed. Really?
IEEFA report: Leader To Laggard ExxonMobil's Financial Troubles Intensify
IEEFA brief: Beyond Their Means: Oil Majors Pay More to Shareholders Than They Earn by Selling Oil and Gas