UBS: 'An Aggressive Decline in Coal to 23% in 2025 and 18% by 2030.'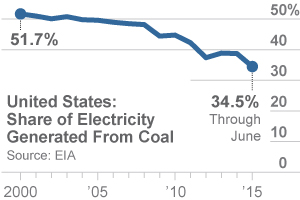 It may not have generated colossal headlines but a UBS report that came out this week carries tremendous implications in its suggestion that coal generation's share of electricity markets will drop to 18 percent by 2030.
This shift is driven by economics—not policy initiatives (like a carbon tax), although the regulatory climate in U.S. is playing a big part. U.S. coal producers will mine about 800 million tons of coal this year for electricity production, roughly in the low- to mid-30 percent range of market share. That means, by 2030, thR U.S. coal-production market will have shrunk to 400 million tons per year.
"Still quite bearish once we run our numbers," reports Julien Dumoulin-Smith, the analyst-author of the report. For the wonkish among you:

"We emphasize that we could be under-estimating the degree of change if renewables accelerate faster than expected. Over the explicit CPP period, we expect more declines in dispatch rather than outright retirements given no forcing mechanism (will be increasingly viewed as marginal mid-merit and seasonal peaking capacity, supporting our thesis that more coal-to-gas conversions have yet to take place). In fact our numbers show coal consumed by the power sector will decline by 22% by 2020 (vs. 853mn tons in 2014); and out to 2030, consumption could decline by 49% compared to 2014 levels."
And this searing line from the report's summary:
"We estimate an aggressive decline in coal to 23% in 2025 and 18% by 2030 (vs. 37% in 2014)."
THE NEXT ROUND OF STOCK AND INDUSTRY ANALYSIS COMING OUT OF WALL STREET MAY WELL BE A RECOVERY STORY—THE NEW STORYLINE FOR COAL. At IEEFA, we've been talking about how the recent blizzard of bankruptcies and distressed sales will likely to lead to overvaluations and more problems down the road for overly optimistic coal producers. We see some emerging examples now in CONSOL Energy and Murray Energy, both having disclosed clear-cut problems with their newly tooled plans. We continue to watch simultaneously for signs of life and further deterioration. The number of bankruptcies across the industry now tops 40 since 2012, and more are likely.
Meantime, the markets are adjusting. The large-scale displacement of coal (it had 50 percent of electricity-generation market share in 2003) is taking place as other energy investments are moving forward and filling the energy and finance voids left by the diminishment of coal.
Three realities of energy markets today:
U.S. coal prices are at unsustainably low levels, and there aren't many buyers.
Other forms of energy are just as reliable, maybe more so.
Other forms of energy are more abundant, including not just natural solar and wind energy too.
That's to say nothing of coal companies making questionable assertions to the Securities and Exchange Commission about their minable reserves. As price scenarios emerge more clearly and as industry cost cuts continue but prove to be insufficient, more and more coal becomes unmineable.
Tom Sanzillo is IEEFA's director of finance.