Black Hills integrated resource plan shows futility of state's pro-coal legislation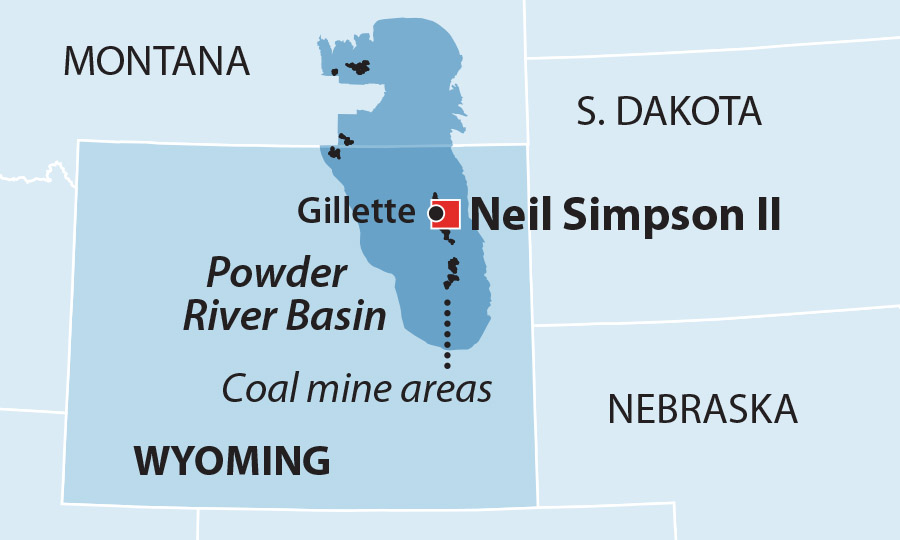 Wyoming politicians have worked feverishly over the last couple of years to protect the state's struggling coal industry, but economic reality can't be legislated away.
That simple fact is readily apparent in the integrated resource plan (IRP) filed last month by Black Hills Corporation, which owns two small investor-owned utilities that do business in the state, Black Hills Power and Cheyenne Light, Fuel & Power.
Black Hills, the larger of the two utilities but still with only 73,700 customers, said it would need to add 40 megawatts (MW) of capacity in the near term. To fill this gap, the utility said the preferred least-cost option was to add 100 MW of new renewable energy generation. In tandem with those new resources, the utility proposed converting its Neil Simpson II coal plant to run on gas in 2025 to extend its operating life and prevent an even larger shortfall in the company's generation capacity.
Neil Simpson II is an 80 MW unit wholly owned by Black Hills that entered commercial service in 1995. It has been a strong performer, with an average capacity factor of more than 87% for the past seven years, including above 90% in the last three years. Nonetheless, Black Hills says the plant was only built with a design life of 30 years, meaning the utility faces a 2025 decision for the plant's future operation.
Recent Wyoming legislation would prevent investor-owned utilities from retiring coal-fired plants
This is where things get interesting, as recent Wyoming legislation is aimed at preventing investor-owned utilities from retiring their coal-fired generation. In particular, Senate Bill 159, which took effect in July 2019, requires utilities to make "a good faith effort" to sell their coal plants before retiring them, or risk having the commission disallow cost recovery for newly built facilities to replace them. 
Another measure, House Bill 166, prevents state regulators from approving a utility coal plant retirement proposal until the company proves the action will save customers money, not undercut reliability, and retain sufficient dispatchable capacity to meet demand. All of that could be done, of course, but the process likely would be long, contentious and costly—all regulatory adjectives that utilities strive to avoid.
Given those hurdles, it is not surprising that Black Hills chose not to propose retiring Neil Simpson II. But despite the state's political posturing, Neil Simpson II's days as a coal plant appear to be numbered.
Black Hills' IRP shows convincingly that converting the coal plant to gas would be by far the cheapest option for the utility to meet its customers' future needs. Keeping the coal plant running would require a significant investment, the company said, projecting those capital costs at more than $2,000 per kilowatt (kW). On the other hand, converting the facility to run on gas would be an order of magnitude cheaper, with capital costs for the conversion estimated at $102/kW.
It is hard to argue with those numbers.
Carbon capture would impose an enormous economic burden on Wyoming ratepayers
A related analysis included in the IRP for both utilities estimates the price of retrofitting a coal plant in each company's service territory with carbon capture equipment. This was done to meet the requirements of yet another piece of Wyoming legislation, House Bill 200, which directs state regulators to develop a carbon capture portfolio standard that would require utilities to generate at least some of their electricity with CCS-retrofit coal plants.
While the standards are still a work in progress, Wyoming regulators would be well-advised to closely review the analytical work submitted by Black Hills. An analysis by Black & Veatch shows that carbon capture would impose an enormous economic burden on the utility's Wyoming ratepayers.
Again, looking at Black Hills and the Neil Simpson II plant, the utility estimates that the capital costs of adding carbon capture to the facility would total $6,256/kW. The cost to retrofit Cheyenne Light's sole coal plant, the 91-MW Wygen II unit, was estimated at $4,206/kW. Importantly, these are just the estimated costs for the carbon capture equipment.
"No incremental costs associated with the compression, transportation, sale, use, or sequestrations of the captured carbon were analyzed," the company noted.
Using these costs estimates yielded a predictable result when Black Hills analyzed the various scenarios for meeting its future capacity needs. "Black Hills Power included the option to add carbon capture to Neil Simpson II in all scenarios. This option was not selected by the capacity expansion model as the most economic resource for customers in any scenario."
In more direct language: CCS retrofits on coal plants are simply not economic, and no amount of legislation is going to change that.
Dennis Wamsted ([email protected]) is an IEEFA energy analyst.
Related Items:
IEEFA U.S.: Coal-fired carbon capture projects are waste of tax dollars, June 2021
U.S. Power Sector Outlook 2021, March 2021
IEEFA U.S.: Mothballing of Petra Nova carbon capture project shows likely fate of other coal-fired CCS initiatives, August 2020