Executive Summary
A cross-section of 29 fracking-focused oil and gas companies reported meagre cash returns in the second quarter of 2019.
Only 11 of the 29 companies reported positive free cash flows. All told, these publicly traded firms generated just $26 million in aggregate free cash flows—far too modest to make a significant dent in the more than $100 billion in long-term debt owed by these companies, let alone reward equity investors who have been waiting for a decade for robust and sustainable results.
Yet, as disappointing as these numbers were, they represented the highest quarterly cash flows for oil and gas producers in years.
Free cash flow is a crucial gauge of financial health. The free cash flow measure is defined as a company's operating cash flows—the amount of cash generated by its core business—minus capital spending. Positive free cash flows give companies financial resources to pay down debt and reward stockholders. Negative free cash flows, in contrast, force companies to fund their operations by dipping into cash reserves, selling assets, or raising new money from capital markets.
Last quarter's cash performance—just a hair over breaking even—would count as a bitter disappointment in virtually any other sector of the economy. But for an industry that has posted negative cash flows for a decade, these mediocre results represent a financial high-water mark.
Image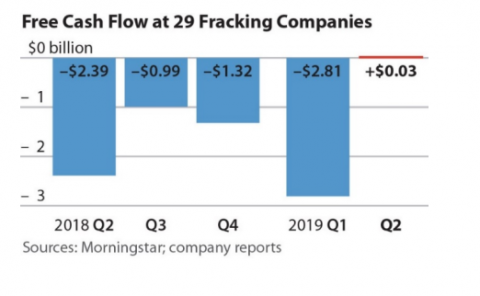 Please view full report PDF for references and sources.